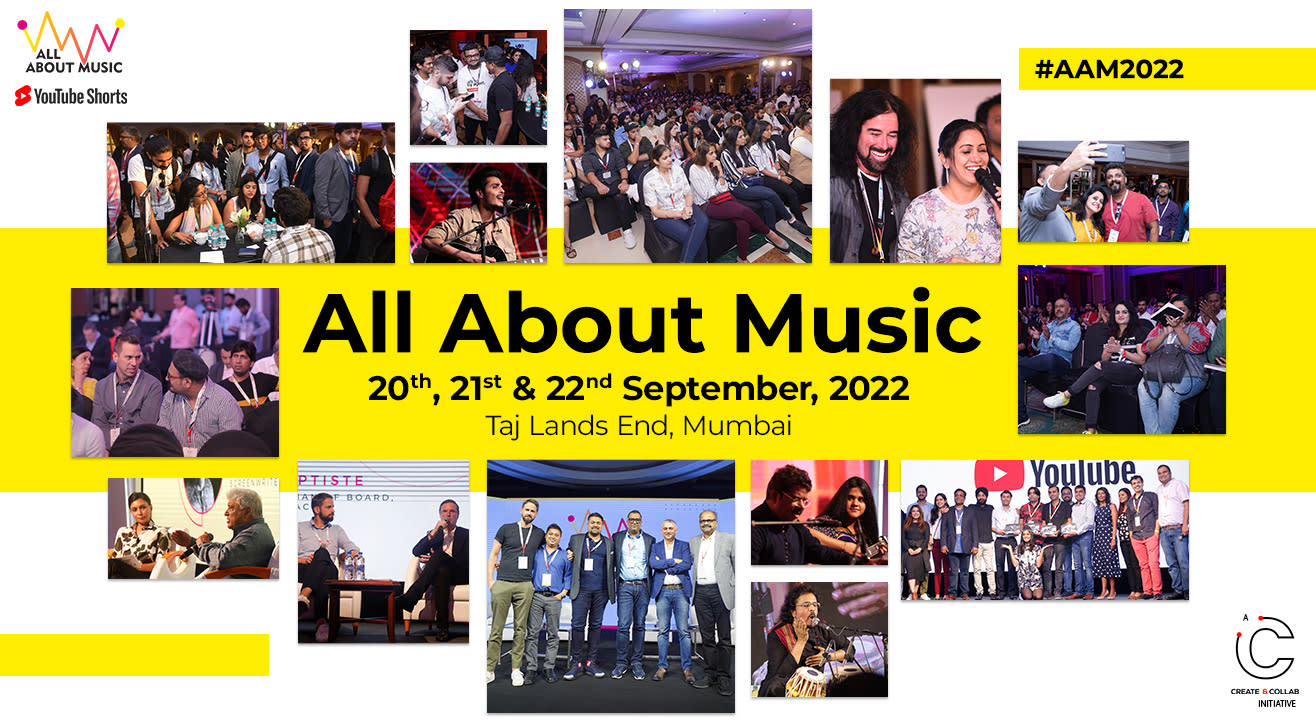 September 20 | 10AM - September 22 | 8PM
Step out and enjoy this event
Invite your friends
and enjoy a shared experience
September 20 | 10AM - September 22 | 8PM
Step out and enjoy this event
Invite your friends
and enjoy a shared experience
Invite your friends
and enjoy a shared experience
TICKETS AVAILABLE AT VENUE
A global gateway into the Indian music market, All About Music was launched in 2017. India's biggest B2B conference dedicated to music has completed five sold out editions by bringing together industry experts and stakeholders from every vertical of the music business.
In the 6th edition, All About Music pays tribute to the robust creator economy and its impact on the evolving Indian music industry.
Dates: 20th, 21st & 22nd September 2022
What Can You Expect at All About Music this Year:
Insightful Keynotes & Exclusive Panel Discussions
Informative Masterclasses & Workshops
Inspiring Success Stories & In Conversations
Networking Opportunities at Connect Corner
Opportunities for Artiste to Pitch their original music & Showcase Talent
Exhibition Booths
Note: All ticket prices are exclusive of GST
Instructions
FAQ's About The Event:
Q: How many people can attend the event on one ticket?
A: Each ticket allows a single individual to join the event for three days.
Q: Are there any discounts available for bulk bookings?
A: Discounts on bulk bookings of 10 tickets or more are available.
Contact ticketing@allaboutmusic.in to know more.
Q: When will the event schedule be released?
A: The event schedule will be released closer to the event. Day-wise schedule will be accessible by existing ticket holders only.
Terms and Conditions:
1) Show details and the lineup are subject to change as per the organizers discretion.
2) No refunds on purchased tickets are possible, even in case of any rescheduling.
3) For any ticketing related queries please contact mail us at ticketing@allaboutmusic.in
4) Age Limit for the event is 18 & above
5) Attendees are prohibited from recording the event in part or whole.
6) Show/format details and the lineup/schedule are subject to change as per the organizer's discretion.
7) Tickets are non transferable.
8) The ticket holder grants the organizer the right to use all or any part of the event's recording for promotional purposes in perpetuity.
9) Any misbehavior within the comments/chat/networking section or use of profanity towards the artist, speakers, hosts or attendees will not be tolerated.
10) We are committed to a respectful, safe environment free from harassment, violence, discrimination, bullying, abuse, and solicitation. All parties, artists and attendees are to be treated with respect and dignity. Participation in activities or behaviors that discriminate on the grounds of race, colour, place of origin, gender, age, marital status, religious beliefs, citizenship, mental and physical abilities, sexual orientation, or any other prohibited grounds within applicable law will not be tolerated.
11) Artist/Speaker/Conductor details and their description: Will be given later not as an early bird information
Band Stand
BJ Road, Mount Mary, Bandra West, Mumbai, Maharashtra 400050, India
GET DIRECTIONS
September 20 | 10AM - September 22 | 8PM
Step out and enjoy this event
Invite your friends
and enjoy a shared experience