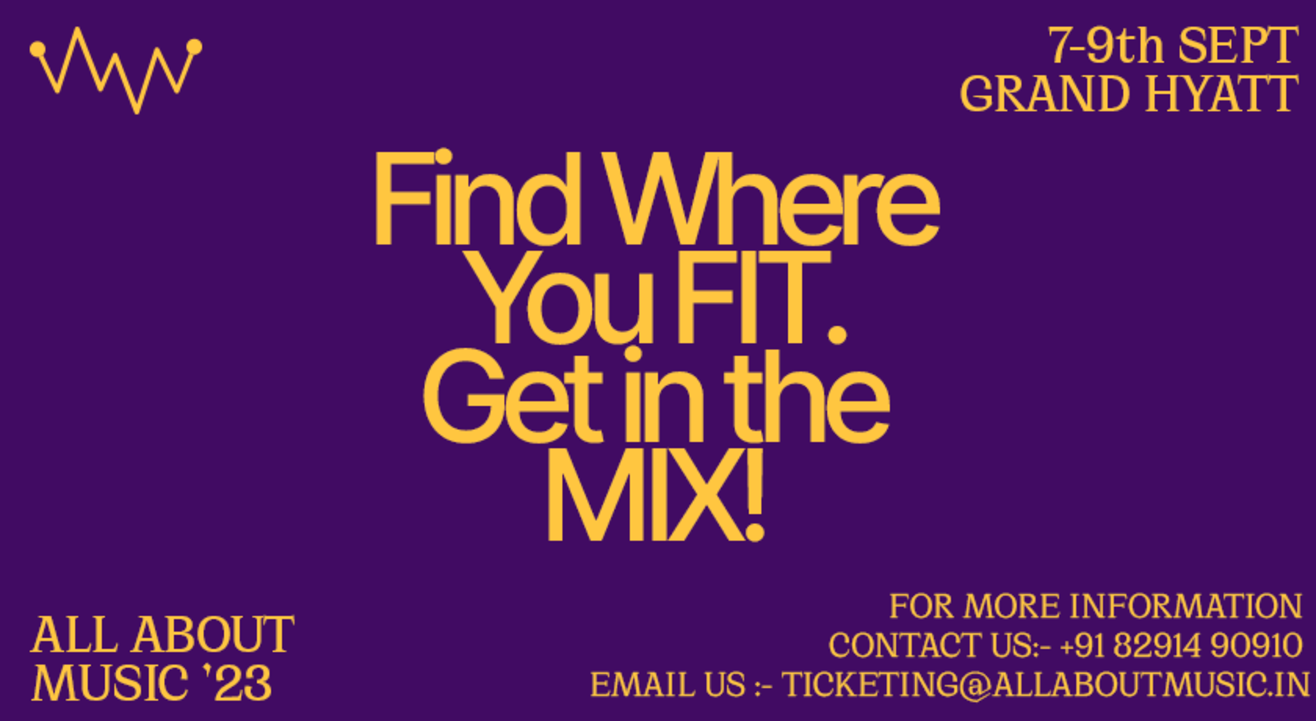 September 07 - September 09 | 10AM Onwards
Grand Hyatt Mumbai Hotel & Residences, Mumbai
₹2500 Onwards (Exclusive of GST)
Sorry, this show is already over but head here for other fun events!
Invite your friends
and enjoy a shared experience
September 07 - September 09 | 10AM Onwards
Grand Hyatt Mumbai Hotel & Residences, Mumbai
₹2500 Onwards (Exclusive of GST)
Sorry, this show is already over but head here for other fun events!
Invite your friends
and enjoy a shared experience
Invite your friends
and enjoy a shared experience
A global gateway into the Indian music market, All About Music was launched in 2017. India's biggest B2B conference dedicated to music has completed six sold out editions by bringing together industry experts and stakeholders from every vertical of the music business.
In the 7th edition, All About Music pays tribute to the robust creator economy and its impact on the evolving Indian music industry.
Date and Time: 7th, 8th & 9th September 2023, 10AM – 8PM
FAQ's About The Event:
Q: How many people can attend the event on one ticket?
A: Each ticket allows a single individual to join the event for three days.
Q: Are there any discounts available for bulk bookings?
A: Discounts on bulk bookings of 10 tickets or more are available.
Contact ticketing@allaboutmusic.in to know more.
Q: When will the event schedule be released?
A: The event schedule will be released closer to the event. Day-wise schedule will be accessible by existing ticket holders only.
Terms and Conditions :
Terms & Conditions_ AAM23
Hear from these industry stalwarts at AAM!
Aayushman Sinha
Founder & CEO - Represent


Aayushman Sinha, is an entrepreneur deeply engaged in Media & Entertainment. He started his journey as a marketer and artist manager at 18, eventually founding 4 successful startups. Sinha's mission is to nurture pop culture in India, pushing beyond Bollywood for a richer pop ecosystem. As one of India's Youngest Artist Managers, he's active in the music industry, aiming to transform India into a music exporter. Through "Represent", his venture, he shapes India's most exciting artists and advises major brands on music strategy. They even collaborate with Coca-Cola, integrating music nationwide. From a young age, Aayushman led marketing for music concerts, expanding live entertainment in Mumbai. Co-founding BlackCab, a top marketing agency, he now partners with over 60 marketers, servicing major brands. Aiming for innovative marketing solutions, he also co-founded RADAR, India's leading AR Content Solutions Agency.



Abhinav Agrawal
Founder & Director - Anahad Foundation


Abhinav Agrawal stands as a multifaceted ethnomusicologist, musician, and social entrepreneur, deeply committed to the revival of India's folk music industry. Founding Anahad Foundation, a non-profit organisation, he champions self-sustaining models that empower folk musicians, fostering both livelihoods and a sense of dignity. With a footprint extending to over 7000 folk musicians nationwide, his goal is to establish a folk music industry that thrives under the leadership of musicians themselves. His profound passion for Indian music and an expansive grasp of the music landscape led him to leverage music for awareness and values-driven pursuits. His proficiency spans identifying and helping artists, producers, and songwriters, coupled with mastery in recording, engineering, and multimedia production. Abhinav's impactful journey has garnered noteworthy recognition, including a prominent spot in Forbes' esteemed 30 under 30 list and a distinguished Ashoka Fellowship.



Abhishek Baisla aka MC SQUARE
Artist


MC SQUARE is an Indian rapper, lyricist, composer, and choreographer, winner of rap/hip-hop reality show 'MTV Hustle 2.0' in 2022. According to him the real RAP is rhythm and poetry. For him, deep and meaningful lyrics help in setting connections between rap, hip hop, modern culture and Indian traditional cultural values; this is what's needed to make Indian cultural values popular among today's youth. His songs like, "Badmos Chora", "Aadha Gyaan" and "Naina Ki Talwar" have gained popularity and amassed love from the listeners.



Abhishek Patil
Head - A&R - Warner Music India


Abhishek, with extensive experience in the music industry shapes India's pop music scene. He started curating for airlines, moved to music production, excelled in A&R at Sony Music India, nurturing talents like The Yellow Diary, Vayu, Qaran, Amaal Mallik, and many more. Collaborations like "Naagin," "Tera Zikr," "Haaye Oye" were massive hits. Now at Warner Music India, he's guiding artists like King, Sanjith Hegde, Harrdy Sandhu, Aastha Gill, aiming to elevate Indian music globally and discover the next Indian superstars.



Adarsh Nair
Chief Executive Officer, Airtel Digital Chief Product Officer, Airtel


Adarsh is the CEO of Airtel Digital and Chief Product Officer of Airtel. He joined Airtel after spending 16+ years in the United States where his most recent role was at Convoy Inc. as the Vice President of Product and Growth. At Convoy, he was responsible for building a digital marketplace for trucks and helped grow the company to a unicorn in under 2 years. He also held leadership positions at Microsoft, where he led the product group for media and browser technologies, overseeing a staggering 700M+ monthly active users. In addition, his tenure at McKinsey & Company involved aiding Fortune 100 companies in the realms of technology and retail, further enriching his diverse expertise. At Airtel, he oversees key businesses and strategies, impacting millions of customers and enterprises.



Aditi Vaze
Senior Clinical Psychologist - Trijog: Know Your Mind


Aditi Vaze is an experienced clinical psychologist with a strong background in psychometric assessments, counselling, teaching, and mental health development. Currently with IIT Bombay, conducting student evaluations, she also heads the position of the senior counsellor and Head of Learning and Development at Trijog- Know Your Mind. Her past roles include teaching at Cathedral & John Connon School, SNDT University Mumbai, and content development for educational initiatives and digital performance enhancement firms.



Akhila Shankar
Marketing Consultant and Co Host The Indian Music Charts Podcast


Akhila Shankar, an award-winning marketer in the Indian media and entertainment industry with a decade-long journey, has collaborated with leading brands, agencies, music labels, and artists. Notable achievements include pioneering digital concert IPs like live@saavn and marketing top podcasts like #NoFilterNeha. She co-led Saavn's rebranding to JioSaavn after merging with JioMusic, establishing the streaming services music marketing vertical. Akhila's global presence includes representing India's music industry at SXSW and Oya Festival. Recognitions encompass Exchange4Media's Content 40 under 40, Marketing 30 Under 30, and Social Samosa's Best Marketers. Akhila drives the success of podcasts like 'The Midnight Miracle' by Dave Chappelle, 'Barefoot Boys' by Konkona Sen, and 'How I Masaba' by Masaba Gupta. She also advises Skillbox and co-founded The Indian Music Charts Podcast.



Akshat Gupt
Co-founder & Chief Creative Officer - Kulfi Collective


Akshat Gupt is the Co-Founder and CCO of Kulfi Collective, a media network that makes content for the youth. He initially started by making films and joined his brother to create Supari Studios. He has made over 300 projects for brands like Redbull and Disney+ Hotstar. Akshat Gupt won a Webby Award making him one if the youngest creators to win a Webby award. He also was on Forbes Asia's Under 30 list in 2016. Akshat Gupt loves pushing creative boundaries for content and storytelling.



Alfonso Perez-Soto
President, Emerging Markets - Warner Music


Alfonso Perez-Soto is the President of Emerging Markets at Warner Music. He oversees Sub-Saharan Africa, the Middle East, North Africa, India, South Asia, the Eastern Mediterranean, and Eastern Europe. These areas have around 40% of the world's population and are adopting digital music services, benefiting artists and labels. Alfonso joined Warner Music in 2005, held various roles, and has been a key figure in the company.



Altaf Tadavi- MC Stan
Artist


Altaf Tadavi aka MC Stan gained fame through the reality TV show Bigg Boss Season 16. He made his mark in the Indian rapping scene after his rap battle video with Emiway Bantai, called Wata, went viral on YouTube. Inspired by Eminem's single "Stan," Altaf Tadavi adopted the name MC Stan for himself. He started singing qawwalis at 12 and later found himself inspired by American Hip-Hop sensation Eminem. MC Stan has released albums like Insaan and Tadipaar and collaborated with artists like Raftaar and Seedhe Maut. He even led the first-ever rap show inside the Bigg Boss house alongside guest rappers Ikka and Seedhe Maut. Some of his recent works include, "Regret", "Basti Ki Hasti", "Gender", etc.



Amarjit Batra
GM - SAMEA, MD - India - Spotify


Amar joined Spotify in 2018, after leading OLX India for 9+ years. At Spotify, he set up overall business in India, making it a beloved brand. He was recognized for his role in internet and e-commerce, awarded 'Marketer of the Year' and 'Digital Person of the Year'. With nearly two decades of experience, Amarjit is a seasoned entrepreneur and leader, known for his achievements in building and growing businesses.



Amit Gurbaxani
Journalist


Mumbai-based journalist Amit Gurbaxani specializes in Indian music industry reporting. A contributor to global outlets like Billboard and Music Ally, he also writes for Skillbox's blog. With 20+ years as a features writer, his work appears in Firstpost, India Today, Music Business Worldwide, Red Bull, Scroll, The Hindu, among others. Amit is renowned as an industry expert, moderating conferences, speaking, and guesting on music podcasts. He recently debuted his podcast, "The Indian Music Charts Podcast"..



Aneesha Kotwani
Founder & Owner - WAVLNGTH


Having spent 4 years in the UK immersing herself in the music scene, Aneesha is a Curator and Cultural Ambassador working across projects that promote exchange of talent; from India to the world and the world to India. Story-telling being her strong pursuit, she incorporates the same in her events, content and radio shows at WWFM & BBC Asian Network. With a decade of dedicated work, Aneesha has truly made her mark as a global music professional. Currently, she's gearing up to hit the road again for tours and playing a big role in artist management, especially for Kavya Trehan. Additionally, she's also the creative force behind curated events at Soho House Mumbai.



Anil Sharma
Film director


Renowned Indian filmmaker Anil Sharma is known for collaborating with legends like Amitabh Bachchan, Dharmendra, Rajnikanth, and Salman Khan. He has directed hits like "Bandhan Kuchchey Dhaagon Ka" and blockbuster "Gadar: Ek Prem Katha." His debut, "Shradhanjali," achieved remarkable success at just 21. "The Hero: Love Story of a Spy" further solidified his stature.



Anmol Kukreja
Founder & CEO - SKILLBOXES (INDIA) PRIVATE LIMITED


Anmol Kukreja, Co-Founder and CEO at SkillBox, is renowned for his cutting-edge technology in the Arts & Entertainment sector. He previously spearheaded mobile app development at Harman, starting in 2016, and gradually took charge of the entire mobile app development division. With over 11 years in the industry, he has led teams across diverse sectors like consumer entertainment, telecom, and healthcare. Anmol kick-started his career at Verizon, where he played a pivotal role in expanding their Fios and telecom business. He's known for amplifying platform growth, refining business tools, and enhancing operations for both business clients and consumers.



Anurag Hoon
CEO & Co-founder - Manzil Mystics


Anurag, the CEO & Founder of Manzil Mystics, a Delhi-based band and nonprofit, spreads the all-embracing messages of Kabir Das and Mahatma Gandhi through their songs. With a focus on education, gender, and livelihood, they empower low-income families using music. For 7 years, they have taught government school children to sing, write, and perform songs, boosting their confidence and skills. This enhances cognitive and emotional abilities, fostering empathy and a love for learning. Through our music-based fellowship, designed for low-income musicians, they have created inclusive spaces for self-expression and learning.



Anurag Tagat
Assistant Editor - Rolling Stone India


Anurag Tagat is the Assistant Editor at "Rolling Stone" India. Over the years of covering music in India, he's become a consistent contributor at A Humming Heart, The Hindu, Red Bull India, Vogue India, NCPA OnStage and several more. His work has appeared in Billboard, Variety, Vice India, Revolver, Rolling Stone Japan, India Today, The Caravan, HT Mint Lounge, Rock Street Journal and Askmen India.



Arivu
Musician


Arivu's music sparks change and his powerful songs ignite conversations on caste & gender equality, driving social justice. He has been a vocal advocate for caste equality, gender equality, and social justice through his music, using his platform to raise awareness about these issues and inspire positive change in society. Arivu's thought-provoking lyrics and powerful performances have resonated with millions of listeners, making him a prominent voice for change in the Indian rap scene.



Arjun Kolady
Head of Sales - India - Spotify


Arjun, with over 15 years in Indian digital advertising, excels in establishing global companies like Google, Facebook, and now Spotify. He specializes in kickstarting ventures and heads Spotify's ad strategy in India. After boosting digital and mobile prominence at Google and Facebook, Arjun aims to prioritize digital audio for Indian advertisers. He's dedicated to educating and inspiring brands about audio's potential.



Arushi Sethi
Co-Founder & CEO - Trijog: Know Your Mind


Arushi Sethi is a steadfast mental health advocate and a dynamic entrepreneur holding the position of Co-Founder & CEO at Trijog - Know Your Mind. Through this role, she has redefined the landscape of accessible, top-tier mental health care and overall well-being, making an indelible impact that extends globally. Arushi's influence is deeply felt, touching the lives of more than 25 million individuals. Trijog's remarkable reach spans 250 corporations spanning various industries, encompassing both the public and private sectors, as well as individuals. As a trailblazer in the mental health movement, Arushi Sethi and Trijog pose as beacons of hope, setting an unparalleled benchmark for global mental health care excellence.



Ashutosh Phatak
Founder of True School of Music and Pro Vice Chancellor of Institutional Impact at Vijaybhoomi University.
Ashu, a versatile Multi-instrumentalist and Producer, is a sought-after Composer in advertising and film circles, with 15 contemporary music albums. He has composed for 4,000+ commercials and 10 films, including critically acclaimed ones like "Tamanna," "Bombay Boys," "White Noise," and "Fire in the Blood." Ashu's recent success on OTT platforms includes music for "Mumbai Diaries'' and "The Empire." He is a popular live performer at prestigious festivals, and a founding partner of BlueFrog, revolutionizing independent music in India. In 2013, he Co-founded True School of Music, empowering aspiring musicians and industry professionals. His latest venture, SingShala, is a vocal learning app with AI-powered lessons, aiming to inspire and democratize vocal education. As Pro VC at Vijaybhoomi University, Ashu remains a driving force in India's music scene. Based in Pune, he enjoys the company of his dogs, Bowie and Prince.


Ashwiny Iyer Tiwari
Film Director, Producer & Writer - Earthsky Pictures


Ashwiny Iyer Tiwari is an Artist, Filmmaker, and Writer. She excelled in Applied Arts at Sophia Polytechnic, Mumbai, and spent a decade in advertising, winning awards for her insightful ideas. Interested in design, she supports young entrepreneurs and documents cultures. She co-founded Earthsky Pictures to create diverse content and nurture talent. She aims to enhance artists' creativity through conversations and follows a mindful path as a traveler and seeker of life.



Baba Sehgal
Artist


Baba Sehgal is a well-known name in Indian entertainment, celebrated as the country's first rapper. With a career spanning 35 years, he's been a singer, actor, TV host, director, and more. His hit album "Thanda Thanda Paani" in 1992 sold 5 million cassettes. From his debut "Dilruba" in 1990 to Bollywood and Telugu hits, his music journey is remarkable. He was the first Indian to air a music video on MTV Asia. Baba's performances blend music and comedy, delighting audiences with fun and laughter.



BHASKAR PAL
Senior Content Engineer - Dolby


Bhaskar Pal is a graduate from the Film and Television Institute of Pune, India, having specialised in Sound Recording and Sound Engineering. His experience spans over two decades in the media industry in various capacities as Sound Engineer, Sound-Designer, Audio-post supervisor, Acoustic Designer and trainer. He presently leads the content support team for Dolby in India, ME and Africa, and oversees content creation in Dolby Atmos immersive surround for music, gaming, broadcast and online digital (OTT) ecosystem. Bhaskar helps design ecosystem solutions including room design and setup for Atmos Studios, content creation workflows and conducts webinars, masterclasses and workshops across India, ME and Africa.



Bismil
Artist


"Bismil Ki Mehfil" weaves intricate emotions into beautiful melodies, evoking the aura of historical performances. Led by Bismil, the group's Sufi music enchants listeners. Each member's placement uplifts the collective, inspired by legends like Nusrat & Rahat Fateh Ali Khan. From humble beginnings to sold-out tours, they've reinvented cultural music for a new era.



Daler Mehndi
Artist


Daler Mehndi is the voice of over 250+ songs spanning over more than 13 languages. He is best known for taking the rhymes and essence of Punjab and combining it with euphoric pop hooks. His debut song, "Bolo Tara Ra" to peppy hits like "Ho Jayegi Balle Balle", "Tunak Tunak" and patriotic songs like "Vande Mataram" and "Rang de Basanti", he truly is known to be versatile singer and performer. He is loved and renowned for his power packed songs, contagious energy and vocals! He has also been awarded with The Bharat Samman Award, Zee Cinema Awards and numerous accolades!



David Loiterton
Partner - Primary Wave


David Loiterton has had extensive 30+ years of experience in the Asian music industry with BMG, Universal, Omnifone, Gracenote, and is now President at Indo-Pacific, Primary Wave. Collaborated with icons like INXS, Elton John, Sting, AC/DC, ABBA and more. Currently, he is investing in Asian music IP and crafting stories for TV & podcasts on music's cultural impact.



Dilraj Nandha
Music Head - Desi Melodies


With over 7 years in the Punjabi Music Industry, Dilraj has a strong track record in music acquisition, digital strategies, and revenue generation. He's worked with Sony Music India, Universal Music, and more, crafting deals that drive profits. Dilraj is skilled in negotiation, relationship building, and creative direction. A proactive leader, he excels in marketing and resource optimization, while also being a strong communicator and team player.



Divya Ravichandran
Founder & CEO - Skrap Waste Management Solutions


She stands as the visionary Founder & CEO of Skrap, an innovative sustainability startup dedicated to guiding businesses in the seamless adoption of zero waste solutions. A passionate advocate of sustainability, she embodies the ethos of low waste living and propels forward the cause of positive climate action. With an unwavering commitment, she personally embraces a zero-waste lifestyle, producing an astonishing annual landfill waste of fewer than 100 grams.



Dolly Rateshwar
Co-Founder & CEO- TDDP


Dolly has extensive work experience at Google, LinkedIn, and MySpace in India. She's also been a founding team member at Qyuki - a media startup by Shekhar Kapur, AR Rahman and Samir Bangara. Dolly has led the "New Avenues and Operations'' at the MIT Media Lab India Initiative where interdisciplinary efforts lead to futuristic innovation way ahead of time. She's also a Co-founder at Tesseract Imaging - a spin-off from MIT Media Lab India Initiative. She has focused her career on delivering social impact through "The Dharavi Dream Project's #AfterSchoolofHiphop"- an initiative to give hip-hop artists (under-served talent) of Asia's biggest slum a platform : to give a voice to celebrate and a stage to showcase their talent not only in Dharavi of Mumbai but Dharavi's of the world. She has recently launched the 1st ever quality recording studio in the hart of Dharavi called TDDP Studios.



Edwin Charles Albert
Head - Content & Partnerships - Airtel Digital


Edwin Charles Albert spearheads Content & Partnerships at Airtel Digital, overseeing an array of Airtel's engaging entertainment offerings, including Wynk, Airtel Xstream, DTH services, and the Airtel app. His role also encompasses driving Airtel's initiatives in the creator economy, such as the innovative Wynk Studio. This professional avenue allows him to seamlessly fuse his profound passion for cinema and music with the realm of business expansion.



Gitikka Ganju
Actor & Writer


Gitikka Ganju Dhar, an accomplished anchor made her film debut as actor in Aamir Khan Productions' "Laal Singh Chaddha," earning praise for her performance. She's also featured in OTT shows like "Aarya" and "Tanaav." Recognized by APJ Abdul Kalam for excellence in the field of anchoring, she was named a Nation Builder by India Today and has won accolades as Best Emcee India and WOW Live Artist of the Decade. Gitikka is known for hosting significant projects with Heads of State & global leaders and is in the EEMA Artist Committee. She's expanded into moderating and chat show hosting on stage.



Indi Chawla
Head of International Relations - THE MLC


Indi Chawla is the Head of International Relations at The MLC in London. With nearly three decades of experience in the music publishing industry, she's a seasoned pro. From her start as a Royalty Assistant to leading Warner Chappell's Global Copyright Team, she's driven efficiency and innovation. Her recent role at ICE and contributions to industry working groups underline her commitment to shaping music publishing practices.



Indira Rangarajan
National Content Director (Digital) - Radio Mirchi


With 17 years at Mirchi, Indira Rangarajan is an expert in digital audio and video content creation. Skilled in content development, music curation, and programming, she crafts playlists covering Bollywood, Independent, and Regional music. A networking pro, she nurtures industry relationships. Indira's achievements span TV shows like Mirchi Music Awards, video celebrity shows, and collaborations with talents like Karan Johar. She excels in client solutions, analytics-driven content, and innovative Bollywood promotions. She's also behind engaging audio storytelling shows with artists like Nawazuddin Siddiqui, available on the Mirchi Plus app.



Jataneel Banerjee
Relationship Manager, Asia - PRS for Music


Jataneel Banerjee is the relationship Manager Asia, PRS for Music. He is responsible for representing the interests of PRS for Music's members predominantly of Asian origin and providing business support to writers and music publishers. Jataneel also works to develop PRS for Music's relationships with the wider niche music sector in the UK with the aim of maximising revenues for writers and music publishers. Jataneel Banerjee has experience in copyright, royalties, licensing and business affairs. He holds a postgraduate degree in music composition from the prestigious Royal College of Music, London. Banerjee serves as the Artistic Director of the esteemed Grand Philharmonic Orchestra while simultaneously flourishing as a practicing composer. Jataneel also holds the position of the Artistic Director at the esteemed Grand Philharmonic Orchestra while simultaneously flourishing as a practicing composer.



Jay Mehta
Managing Director - Warner Music India & SAARC


Jay Mehta, Managing Director at Warner Music India and SAARC has led remarkable growth for the label, significantly bolstering the company's market position within the region. With his extensive background in music, Jay has played an instrumental role in elevating Warner Music India into a prominent music label in India. He is recognized as a trailblazer for his resolute efforts in steering the company's comprehensive growth.



Jovan Martins
Partner & Head of Comedy & Music- Collective Artists Network


Jovan Martins leads the comedy and music sectors at Collective Artists Network. His journey began in 2007 in event management, but his true excitement lay in the music and comedy realm. Shifting gears, he embraced talent management. Over 12 years, he's collaborated with exceptional artists, excelling by forming strong bonds with clients and adapting to the dynamic world of talent management. Now, he represents major names in both music and comedy.



Kabir Chandra
Head - Music Partnerships - Meta


As the Head of Music Partnerships at Meta India, Kabir Chandra has led the introduction of various music tools on Instagram and Facebook in India, including Music on Reels. With a diverse background that spans being an RJ, leading a music label's digital business, and overseeing music for a tech company in India, Kabir has played a vital role in shaping the digital landscape's progression in the country.



Karan Taurani
Senior Vice President - Elara Capital


Karan Taurani is the Senior Vice President at Elara Capital with over 15 years in institutional equity research. He focuses on media, entertainment, consumer, and internet sectors, advising domestic and FII funds. He is ranked #1 analyst in AsianMoney Poll 2021/2022 for Indian M&E sector and #10 for consumer sector in 2021. He has been a panellist at international and domestic events like AVIA Summit, E4M Sports Summit, World OTT Show, Big Cine Expo.



KR$NA
Artist - KRSNA Music


KR$NA is one of the top Hip Hop artists in India today. Widely considered a pioneer in the scene, he is credited with bringing 'lyrical rap' to the forefront. With a career spanning over a decade, KR$NA has cemented his status as one of the most sought-after artists in the hip hop industry in India. KR$NA has earned himself a dedicated and highly engaged fan base who are drawn to his witty writing and his 'die-hard' image. Since his debut album ""Sellout"" in 2014, KR$NA has continued to raise the bar with his unique style, and his collaborations with artists such as Karan Aujla, Badshah, Raftaar, Divine among others have only added to his acclaim.



Mansha Tandon
Head of Marketing - India - YouTube - Google


Mansha heads YouTube Marketing in India, overseeing various YouTube's slate of products. She has worked at PepsiCo, led Apple Music marketing, and joined YouTube in 2018. She is also a former fiction writer.



Mansoor Rahimat Khan
Founder and CEO- Beatoven.ai.


Mansoor Rahimat Khan is the Founder and CEO, Beatoven.ai. Beatoven.ai uses advanced AI music generation techniques to generate unique mood-based music to suit every part of your video. Mansoor is a renowned sitar virtuoso and music tech entrepreneur hailing from a prestigious 7-generation Indian classical music lineage, known for shaping the modern Indore-Dharwad Gharana of Sitar. He is Forbes 30 under 30 Asia awardee in consumer tech. Over the past decade, he's excelled in tech and product roles across startups, earning patents and publications in deep learning for audio. He was the Former product manager at a startup acquired for $600 million.



Mayur Jumani
Founder - Aux Media


Mayur, a versatile music producer, composer, and content creator, stands as a distinguished figure. His formal training from Berklee College of Music complements a notable repertoire of both commercial and Bollywood songs. Setting trends in India, Mayur pioneered the meme music culture, gaining recognition for his viral mashups and humorous parody musical videos. These creations have not only gained immense popularity but have also left a mark on social media's pop culture landscape. In addition to his musical endeavours, Mayur spearheads Aux Media, an audio production house. This venture collaborates with brands, marketing agencies, and production houses, crafting marketing assets for digital distribution and amplification. Through Aux, Mayur contributes to the creation of impactful branding materials for brands, movies, and songs.



Mehek Malhotra
Creative Director - Giggling Monkey Studio


Mehek Malhotra, Founder of the Giggling Monkey Studio, combines traditional and modern designs in her creations at the Giggling Monkey Studio. Her colorful and whimsical designs are recognized by TATA's '25 under 25' and Campus Diaries awards. She's also on Rolling Stone's 2023 "Women in Creativity List" and leads creativity at Canva India. Mehek collaborates with Google, Facebook, and Grammy-nominated musicians, showcasing her design and storytelling skills.



Mohit Suri
Film Director and Founder - EMI Records


Mohit Suri is a gifted Indian film Director hailing from the Bhatt family. His directorial prowess gave us cinematic hits like Murder 2, Aashiqui 2, Ek Villain, and Malang. Starting as a T-Series assistant, he swiftly transitioned to projects like Zeher, Kalyug, and more. His movie Murder 2 gained phenomenal success, paving the way for Aashiqui 2 and Ek Villain's triumphant stories. Beyond filmmaking, he has been a part of Nach Baliye Season 8's judging panel and initiated EMI Records India.



Nanni Singh
Chief Executive - ShowCase Events


With over 15 years of experience in events, primarily music related and Corporate, Nanni has been the Curator, Coordinator and Executor of the Kasauli Rhythm & Blues Music Festival, JadhavGADH Music Festival, Pune, Sounds from the dessert, Synthesis the Indian Muse, and many more. She organized music festivals, produced unique folk musicals, and promotes artists. She's skilled in curating and executing concepts, connected with artists nationwide, and currently heads EEMA Artists Committee. She also writes for Business World and is involved with NGOs.



Navjosh Singh
Head of A&R - Mass Appeal


Navjosh Singh, a celebrated journalist turned music executive, stands out as the founder of "hiphop-n-more.com", a highly regarded media outlet established in 2008. With an array of awards under its belt, Navjosh's work has earned recognition on esteemed publications including TIME, Rolling Stone, CNN, ESPN, and Billboard. His contributions have even been shared by icons such as Prince, Diddy, 50 Cent, Nicki Minaj, and The Weeknd, among others.



Nilesh Thomas
Dean - The True School of Music, Vijaybhoomi University


Nilesh is a seasoned sound engineer and educator with 20+ years in music, media, and education. He led academics at the International College of Music, teaming up with respected institutions like the University of Westminster, University of Wolverhampton, University of Hertfordshire, and Berklee College of Music. Nilesh aligns curricula with frameworks like the Malaysian Qualifications Framework and India's National Skills Qualifications Framework. He shaped India's first National Occupational Standards in Music, endorsed by the National Skill Development Corporation and the Media and Entertainment Skills Council. Certified as a Master Trainer for Sound Engineering, Apple Distinguished Educator, and Avid Certified Instructor, Nilesh is active in the International Society of Music Educators (ISME). He holds a master's in Music Technology and an undergrad degree in Electronics, earning respect in the field.



Nirmika Singh
Founder & CEO - MOX Asia


Nirmika Singh, Founder and CEO, Mox Asia, is a dynamic entrepreneur, accomplished poet, versatile lyricist, and visionary creative leader. In a recent stride, she unveiled MOX Asia, a pioneering talent agency and innovative creative firm. Her illustrious journey encompasses notable partnerships with renowned maestros like A.R. Rahman and Clinton Cerejo. Notably, her resonant #AurSuno Hindi poetry has garnered widespread acclaim. Adding to her impressive portfolio, Singh has also held the prestigious roles of Executive Editor and Digital Director at the iconic pop culture beacon, Rolling Stone India.



Nucleya
Artist


Nucleya stands out as India's one of the most influential and popular independent artist, responsible for shaping a distinct bass music style unique to the country. With his debut EP "Koocha Monster" in 2013, he's established himself as a leading Indian Dance Music Producer. His anthems define a new Indian generation - vibrant, bold, and unapologetically Indian. The Nucleya sound is now a genre of its own, inspiring producers to create desi bass music. Nucleya's influence is undeniable, as seen in his role in opening for international bass legends such as Skrillex, Major Lazer, Diplo, DJ Snake, and Flux Pavilion during their India tours.



Paul Smith
Managing Director - YouTube Music, APAC


Paul Smith is the Managing Director of YouTube Music APAC, responsible for running YouTube's Music business in the region. Prior to joining YouTube, Paul was the Global Head of International Licensing at Spotify, leading the licensing of digital content from the international community of rights holders around the world and playing a critical role in launching and introducing the service around the world. Smith has more than 25 years of global experience in the entertainment and technology industry, including leadership roles at Nokia, Microsoft, MixRadio and Universal Music.



Prasanna Patil
Vice President - Business Head Telecom and Music Business - Shemaroo Entertainment Ltd


He is an experienced business leader with 20+ years in Content, Media, and Tech, specializing in Telecom, Music, and Devotion. He drove Shemaroo's devotional growth through innovative B2B and consumer products. He has launched 10+ devotional music speakers, Shemaroo Bhakti/Ibaadat OTT Apps, and grew Shemaroo Bhakti YouTube to 10M subscribers. Led Shemaroo Music creation, acquisition, and distribution to 150+ stores worldwide. Prasanna has helped labels and creators with 360-degree distribution for wider reach and revenue. He has had Sales- marketing experience with major telecoms like AIRTEL, VODAFONE IDEA, TATA, Reliance, and 30+ global telecom firms.



Prateek Pandey
FOUNDER / CEO - Slick


Prateek Pandey is the Director and Founder of sLick, who holds over 15 years of experience in the electronic dance music industry. He has played a pivotal role in establishing India's underground electronic music subculture and has positioned sLick as a symbol of top-notch music. Initially based in Pune, Prateek's leadership has driven sLick's growth from local events to a presence in Tier 1, 2, and 3 cities. He has curated major festivals like Enchanted Valley Carnival and brought international events like DGTL, ELROW, Boiler Room, and Mix Mag Lab to India. Prateek's networking prowess has elevated Indian music artists globally.



Praveen Kaushal
A&R Head - Tips Industries Ltd


Praveen is currently the A&R Head at Tips Industries Limited. Before this, he has worked at several other notable music companies in India, including Saregama India Limited, Magnasound, and Music Today. Praveen has extensively contributed to the music industry for more than 18 years.



Rahul Muralidhar
Musician /drummer/producer


Rahul, born to a musician and war veteran in Chennai, defied odds to pursue drumming. Self-taught and passionate, he blends Indian and Western rhythms. He has played with renowned artists like Arijit Singh and A.R. Rahman. Now, he dives into drum production and content creation, exploring recording techniques and collecting drums and microphones.



Rahul N Ram
Bass Guitarist & Vocalist - Indian Ocean Band


Rahul N Ram is an Indian bass guitarist, social activist and music composer who plays for the band Indian Ocean. He is a member of 'Aisi Taisi Democracy.' He took a PhD degree (1986–90) in Environmental Toxicology from Cornell University, which he attended on an Andrew White scholarship. His doctoral research on environmental toxicology is what moved him to become an activist with the Narmada Bachao Andolan (1990–95). His stint with that activist group consumed five years of his life immediately after he took his doctorate from Cornell. He went to America to learn to play the Alto saxophone, which he intends to bring to the band's music.



Rahul Sinha
CEO & Founder - Under The Radar


Rahul is the visionary Founder of UnderTheRadar, talent management firm. With a background in brand management and a stint at Red Bull India, he reshaped the music industry's norms. From managing indie music and comedy stars at OML Entertainment to catalysing digital streaming's rise, he's been a great contributor. With UnderTheRadar he focused on nurturing unique talents. His expertise and dedication have also led him to manage the internet sensation Ritviz along with Anyasa - the first Indian artist repped by Anjunadeep, and rising talents like Dorwin John.



Raja Kumari
Artist, Founder - Godmother Records


Raja Kumari, an Indian-American artist, rapper, singer- songwriter blends her Indian roots and American upbringing in her music. With a background in classical Indian dance, she merges Eastern and Western rhythms prolifically. Her fearless and charismatic persona earns her immense love from her fans. She embodies a strong female character, "Raja Kumari," symbolizing the Daughter of God. Grammy-nominated and BMI Pop Award-winning, she owns the independent label Godmother Records.



Rakesh Nigam
CEO - IPRS


Mr. Rakesh Nigam's journey in the music industry is impressive. He transformed Copyrights into a 'Profit Centre' at Saregama India Ltd, increasing revenues from Rs 60 lacs to Rs 4 Crores in 4 years. He briefly worked with Universal Music before becoming CEO of The Indian Performing Right Society Ltd. (IPRS) in 2004. Under his leadership, IPRS's revenue grew from Rs 9 crores to over Rs 550 Crores, protecting creators' rights. He resolved issues, led fresh elections, and turned IPRS into a Copyright Society. His dedication turned IPRS into a powerhouse worth Rs 565 Crores, reshaping music copyrights in India.



Ram Prasad Sundar
Lead - Music Creative And Production, Netflix


He is the Lead Music Creative and Production, Netflix. Starting with composing radio jingles, Ram's career soared to Hollywood. Collaborations with industry giants like Hans Zimmer's Remote Control Productions, Ramin Djawdi, and Netflix followed. Ram now spearheads Netflix's Music Creative and Production as a Studio Executive, focusing on Indian Original Content.



Richard James Burgess
President & CEO - A2IM


Dr. Richard James Burgess MBE has produced, recorded, and performed on many gold, platinum, and multi-platinum albums. He was previously Head of Business at Smithsonian Folkways Recordings where he produced Jazz: The Smithsonian Anthology, chronicling the history of jazz and The Smithsonian Anthology of Hip-Hop and Rap. He is known for his pioneering work with synthesizers, computers, sampling, EDM, New Romantics, early house music, as the inventor of the SDSV drum synthesizer and for coining the music genre terms EDM and New Romantic. His latest books are, The Art of Music Production: The Theory and Practice, 4th Edition and The History of Music Production (Oxford University Press). Burgess has been listed multiple times as a Power Player and an Independent Power Player by Billboard and has received awards from Music Week, the British Arts Council, the Greater London Arts Association, the Park Lane Group, and the British Council for Education. He was awarded an MBE (Member of the Order of the British Empire) in the Queen's New Year's Honors list 2022.



Ricky Kej
Composer


Ricky Kej is an internationally renowned Indian Music Composer and environmentalist. He is a Multi Grammy Awardee who has also been featured on the US Billboard as the #1 Artist. Ricky has performed at prestigious venues in over 35 countries, including at the United Nations Headquarters in New York and Geneva. His past repertoire of work includes 21 studio albums released internationally, over 3500 tv and radio commercials and 6 feature films. He has been awarded the United Nations "Global Humanitarian Artist" award. Among other awards to his credit, he has also won the prestigious "Ban Ki-Moon Award", The House of Commons, Parliament of Canada has awarded Ricky for his "Outstanding Musical and Humanitarian Achievement".



Roydon Bangera
Chief Business Officer - Skillbox


He is the Chief Business Officer at SkillBox. Roydon has been elemental in improving the platform's brand experiences and partnerships. He's turned SkillBox into a top platform for brands entering live music, connecting them with fans through music. He helped start SkillBox's artist management wing, a first for any ticketing company in India. He's worked with esteemed names like Diageo, Pernod Ricard, Disney, JioSaavn, and more. With 15+ years in media and entertainment, Roydon has also represented India at a festival in Norway, introducing our live music scene to the world.



Sagar Gokhale
Chief Innovation Officer - Qyuki Digital Media Pvt. Ltd.


Sagar Gokhale, Chief Innovation Officer at Qyuki, a creator-focused media company founded in 2013 by digital media visionary Samir Bangara. As a Qyuki founding member and former COO, he spearheaded strategic initiatives, building platforms like Super KOLs, ARRived, Jammin', and EPIC FAM JAM. With 18+ years' experience, he's driven media projects at TV18, CNBC, UTV, and the Times Group.



Sai Shravanam
Music Producer/Engineer/Musician - Resound India


A skilled Musician, Music Producer, Recording/Mixing & Mastering Engineer, Sai Shravanam is uniquely recognized for being a catalyst to amalgamate artistic ideas with his expertise in sound technology bringing every production a new dimension. His work as a Producer-Engineer is spread across a huge panorama of genres. He was conferred the "SANGEET NATAK AKADEMI YUVA PURASHKAR" & the title "KALAIMAMANI" from the Central & State Govt of India for his extensive contribution to Indian Music. Sai has engineered and produced for some of the best artists and composers across the globe - Amjad Ali Khan, Pt. Ajoy Chakraborthy, Bombay Jayashri, Kaushiki Chakroborthy, Sudha Raghunathan, Mandolin Shrinivas, Justin Stanley, Mike Herting, Mychael Danna, Wu Man, Sharon Isbin and many more. Some of his notable works are "Life of Pi", "The Man Who Knew Infinity", "Jai Bhim", "Karnan", Tabla Player - A.R. Rahman.



Saransh Kharbanda
Manager, Music Content Partnerships, India and South Asia - YouTube


Drawing from a dynamic background spanning more than 12 years within Google and YouTube, Saransh brings forth his expertise in the field. His profound insights encompass the art of cultivating an artist's resonance on YouTube, fostering vibrant fan communities, and harnessing the platform's full potential to the utmost.



Srijan Mahajan
Co-Founder - Pause


Srijan Mahajan is a musician turned founder who spent almost two decades in the music industry playing drums for artists like Parikrama, Shubha Mudgal & Half Step Down. He co-founded Studio Fuzz & did music for films like MCream and numerous advertisements. Mahajan co-founded Pause, a Mental Health platform which started with a focus on Artists & Founders. He spends his time working on Pause, building something new in Health-Tech & building motorcycles.



SATVINDER SINGH KOHLI
VICE PRESIDENT PRODUCTION & FINANCE - SPEED RECORDS


Satvinder Singh Kohli, the Vice President, Production and Finance at Speed Records spearheads marketing, publishing, and live events for the group. He pioneers innovative ideas, focusing on live and promotional events to boost artists and the regional events scene. Notably, Speed Records owns successful properties like Crossblade Music Festival, Lager n Barrel Festival & Just Comedy, with more in the pipeline. Kohli's emphasis on digital music has propelled Speed Records to become the top Punjabi channel on YouTube, with a global audience.



Shantanu Moitra
Music composer & producer


Shantanu Moitra is an award-winning composer, producer, storyteller, and adventure lover. His music for movies like Parineeta, 3 Idiots, PK, and more earned him 4 Filmfare awards. He's also part of shows like Coke Studio and Dewarists. Beyond music, Shantanu explored the Himalayas for 100 days, turning it into a concert series. He recently cycled 3000km along the Ganges for his web series, "Songs Of The River Ganga," creating captivating music and producing it. His diverse talents, from film compositions to music during his cycling journey, highlight his amazing creativity and passion.



Shilpa Sharda
Director Artist Services India & South Asia - Believe


With over 17 years of experience, Shilpa Sharda has extensive expertise in the Music & Entertainment sector. She is the Director of Artist services & Development at Believe Digital, leading strategies, meeting financial goals, and managing artists. She transformed Believe's distribution into one of the India's top label and artist management service.



Shilpi Gupta
Independent Culture Curator & Consultant


Shilpi Gupta, an arts enabler, has curated culture for a decade. With roles at MTV, Wizcraft, and 8 years leading Red Bull India's Culture Marketing, she has shaped iconic events. She drove Red Bull Music Academy, mentored artists, and launched Red Bull Tour Bus. Now an independent curator, Shilpi fosters artist residencies and youth culture collaborations.



Shreya Ghoshal
Artist


Shreya Ghoshal is one of the most prolific and loved singers in India. She has delivered numerous chartbusters in various languages, and has been recognised with National Awards, Filmfare Awards, and more. Her debut in Bollywood was with the movie 'Devdas' released in 2002, which gained her many fans. Ghoshal has been a part of the industry for more than 21 years delivering evergreen songs celebrated and loved by all. She is renowned by many for her humility and love for the art.



Sitaram Agrawalla
Managing Director


Sitaram Agrawalla is a trailblazer in Odia Entertainment with 4 decades of impact. He's produced 15,000+ songs, pioneering Odia folk music and music videos. As a film Producer, he's produced 40 Odia movies, including hits. Sitaram started FM stations, one of the top Odia YouTube channels, and owns Sidharth TV Network. Currently RMPL's Chairman, he's an industry leader.



Sonal Chawla
Senior General Manager - T-Series


Sonal Chawla is an accomplished Media and Entertainment professional with over 15 years of experience across diverse domains including Music, Talent Management, and Journalism. With a strong commitment to advancing the Indian music industry, Sonal currently holds the position of a Senior General Manager for Talent Management and Content Development at T-Series. In this capacity, she has been instrumental in fostering strategic partnerships and cultivating commercially successful projects that have propelled T-Series to its esteemed status as the #1 YouTube Music Channel. With a track record characterized by a keen focus on elevating Indian music's global presence, Sonal has demonstrated her prowess in curating songs and executing robust promotional strategies.



Sonali Singh
Founder of Ripple Effect Studios and Business Manager of Diljit Dosanjh


She is an exceptional Talent Agent and Music Manager with over 15 years of experience in the Hindi and Punjabi Film and Music Industries. She's made her mark in diverse aspects of entertainment, from record label management to talent nurturing. Noteworthy collaborations include projects like "Bajirao Mastani" and "Tanu Weds Manu Returns," where her marketing prowess shone. Her skill set extends to talent management, guiding artists' careers and producing stage shows, notably for Diljit Dosanjh's tours. Their enduring partnership is built on trust and shared excellence.



Sourabh Pateriya
CEO - SoundVerse


Sourabh is the CEO of SoundVerse.ai, a Gen-AI music tool making music creation easy. With experience at Spotify and Samsung, an IIT Bombay degree, and 7+ patents, he leads with vision. Also known as "BlueNucleus," he blends Indian and electronic music. He connects everyone in the music world, from listeners to creators. His tech has reached 100M+ users, showing a future where art and tech come together.



Sovan Lal Saha
Managing Director - INRECO ENTERTAINMENT PVT. LTD.


Sovan Lal Saha, the Managing Director at Inreco Entertainment Pvt. Ltd. graduated from renowned schools in Calcutta later established The Indian Record Mfg. Co. Ltd. in August 1976 and extensively manages both companies. He's thoroughly involved in music industry matters!



Sowmya Iyer
Founder & CEO - DViO Digital


Sowmya Iyer is the Founder and CEO of DViO Digital, a global creative-tech and digital-first marketing firm. With offices across UAE, India, Qatar, and KL, DViO is home to a team of more than 200 experts. Iyer is also an investor, TEDx Speaker, and Chief Mentor at MAD-Tech Incubator. Starting her journey at 17, she's been a journalist, TV Anchor, and entrepreneur. Her education in English Literature and Arts, combined with early tech ventures, paved the way for DViO's success—fusing Creativity, Digital Channels, and Technology for business growth. DViO collaborates with 100+ global clients, and Sowmya's passion for start-ups led to an ad tech and marketing tech incubator. By integrating innovative technologies, DViO stays at the forefront of the creative and digital landscape.



Srushti Tawade
Artist


Srushti Tawade gained popularity on the MTV Rap battle reality show MTV Hustle 2.0. The rapper is known for her exceptional storytelling skills using both lyrics and delivery. She can transform into various characters in her rap songs, from a determined crow to a humorous gangster, captivating her audience with diverse and engaging stories. Her character sketches of Chhota Don and the pop-culture statement "Main Nahi Toh Kon Be" went viral across the Indian diaspora. With a massive fanbase, Srushti is bringing genuine stories into light, her songs are being told in ways that make you sit up and listen.



Sudeep Banerji
Artist


Sudeep Banerji trained under the legendary Begum Akhtar gharana by Smt Shanti Hiranand ji, is a Ghazal Singer and Music Director with an experience of 25 years in music industry and has composed more than 100 albums in nearly all genres. He has collaborated with evergreen singers like Asha Bhosle, Jagjit Singh, Ustad Rashid Khan, Sherya Ghoshal, Sunidhi Chauhan, etc. He has also won best Ghazal album in IIMA AWARDS for his album Noor. Sudeep is a performer for musical festivals in India and abroad.



Sujal Parekh
Finance Director - Warner Music India & SAARC


Sujal Parekh is the Finance Director at Warner Music India and SAARC region. He focuses on achieving profitable growth, leading financial management, strategy, and acting as a supportive business partner. By improving financial processes, accurate risk assessment, and creative problem-solving, he previously worked at BookMyShow - Big Tree Entertainment and made his mark. His 16+ years of experience also includes project management, corporate finance, and being a key member in driving growth and managing risks.



Sunnyy Vyas
Head - Content and community - Wynk


Sunnyy Vyas is a loyal music industry veteran who started as an RJ and progressed through various roles. As Business Head at Music Plus and Innovations Cluster Head at Radio One, he's been instrumental in growth and innovation. Currently leading content at Wynk Studio, his journey reflects expertise in industry evolution. He is also a sustainable food advocate and an active Animal Rights Activist.



Tanish Thakker
Founder & CEO - Amplify Music Incubator


Tanish Thakker is the founder and CEO of Amplify Music Incubator (AMI), a program that supports musicians with resources, knowledge networks, and a community. Established in 2020, AMI has transformed the Indian music scene by aiding 75 music projects and involving 120+ industry professionals. Tanish's goal is to nurture Indie music in India. He's also the Co-founder of Jazz Weekender and Curator of Jazz in India. With experience across India, USA, and UK, Tanish Thakker is well-versed in skill development, startup incubation, and music management.



Taran Mehndi
Artist


Taran Mehndi, the CEO of North India's first celebrity management company, leading DRecords International music label for over 20 years; is a filmmaker, architect, writer, sound designer, and Gurbani singer. She has Co-produced famous concert with Jagjit Singh in Punjab's "Kurta Lacha." Taran brought the renowned London's Safri Boys to India. From producing to scripting Hindi Dubbed Disney cartoons for Doordarshan, to videos like "Gudiya Rani" on Girl Child, her art is praised by legends like Ustad Ghulam Ali Khan Sahib, Ahmed Hussain Mohammed Hussain, and more.



Tejas Nair
Artist / Producer - Spryk / Vorlds


Tejas Nair is the multimedia artist and entrepreneur at "Spryk." Known for monumental audiovisual shows, installations, and digital encounters. With a decade of creating media brands, festivals, and immersive tech projects, he's a torchbearer for India's indie new media, arts, and music scene. Co-founding Vorlds, he's shaping a social platform for 3D content and gaming experiences.



Theja Meru
Chairman - Task Force for Music & Arts (TaFMA) Government of Nagaland


Theja Meru is the Chairman of Nagaland's Task Force for Music & Arts (TaFMA). He leads the state's arts mission, curating events like Hornbill Festival's ceremonies and heading the Hornbill Music Festival for 24 years. An IVLP alumni, he founded Handshake Concert, visiting 10 countries, and formed Nagaland Folkloric Group, performing at Edinburgh Military Tattoo in 2014. Recipient of Governor Award for Excellence in Music, he's a musician, show director, and a cultural icon.



Varkey Patani
Head of A&R - Saregama


Varkey Patani, Head of A&R at Saregama stands as a distinguished figure in the music industry and artiste management. His industry foresight, and a commitment to elevating talents, Varkey has played an integral role in shaping the careers of numerous artists and contributing significantly to the entertainment landscape. Over the years, Varkey has navigated the intricacies of talent representation, contract negotiations, brand development, and strategic career planning.



Vivek Raina
Managing Director - Believe India


Vivek Raina is the Managing Director at Believe India and develops independent artists, labels in India and South Asia. He initiated operations for Believe India and has since established a comprehensive business that advises artists and labels on music distribution, promotion, and development through Label and Artist Solutions, Artist Services, and the DIY artist platform- TuneCore. Prior to joining Believe, he held various senior roles in digital music distribution, Telecom VAS marketing, and label services. Since 2019, Believe India has expanded its services and currently employs a team of over 230 music industry experts based in offices across India. As of today, Believe owns the iconic Ishtar Music (previously known as Venus) and well known South Indian label- Think Music.



Yama Seth
Head of Talent - Level House India


Yama Seth is an accomplished Artist Manager whose journey commenced under the umbrella of Big Bad Wolf. Starting as the Tour Manager for Vir Das' Alien Chutney in 2016, she has since elevated her role to encompass multiple Indian bands. She then evolved into comprehensive 360-degree management for one of India's most iconic acts, Indian Ocean, a role she has held since 2019. Beyond these well-established ventures, Yama also guides the career of India's emerging star, Parvaaz. Since 2017, she has exclusively managed the band, orchestrating successful tour stints and music releases that have garnered attention. Presently, Yama serves as the Head of Talent for Level House India, a boutique talent management agency falling under the Skillboxes India umbrella. In this capacity, she represents a diverse roster of talent, including Parvaaz, Raman Negi, and Parekh & Singh, among others.



Zain Calcuttawala
Music Composer & Producer


Zain Calcuttawala is commencing his journey as an artist manager at Blue Frog and OML, Zain swiftly engaged with renowned acts like 'Megadeth,' 'Imogen Heap,' and 'T-Pain.' Transitioning into a music producer in 2014, he has collaborated with a diverse range of talents, including 'Raghav Meattle,' 'Irfana,' and 'Akshath Acharya.' In January 2023, this exceptional music Composer- Producer marked a new chapter with his debut album, 'Seasons,' released under the artist alias 'Bulli Bainbridge.' This remarkable album features collaborations with notable artists such as 'Shalmali Kholgade' and 'Siddharth Basrur.' Garnering praise from esteemed platforms like Vogue Magazine and The BBC Cultural Frontline, this podcast completed two successful seasons, fostering important conversations.


Grand Hyatt Mumbai Hotel & Residences
Bandra Kurla Complex, Siddharath Nagar, Vakola, Vicinity, Mumbai, Maharashtra 400055, India
GET DIRECTIONS
September 07 - September 09 | 10AM Onwards
Grand Hyatt Mumbai Hotel & Residences, Mumbai
₹2500 Onwards (Exclusive of GST)
Sorry, this show is already over but head here for other fun events!
Invite your friends
and enjoy a shared experience
₹2500 Onwards (Exclusive of GST)
Sorry, this show is already over but head here for other fun events!