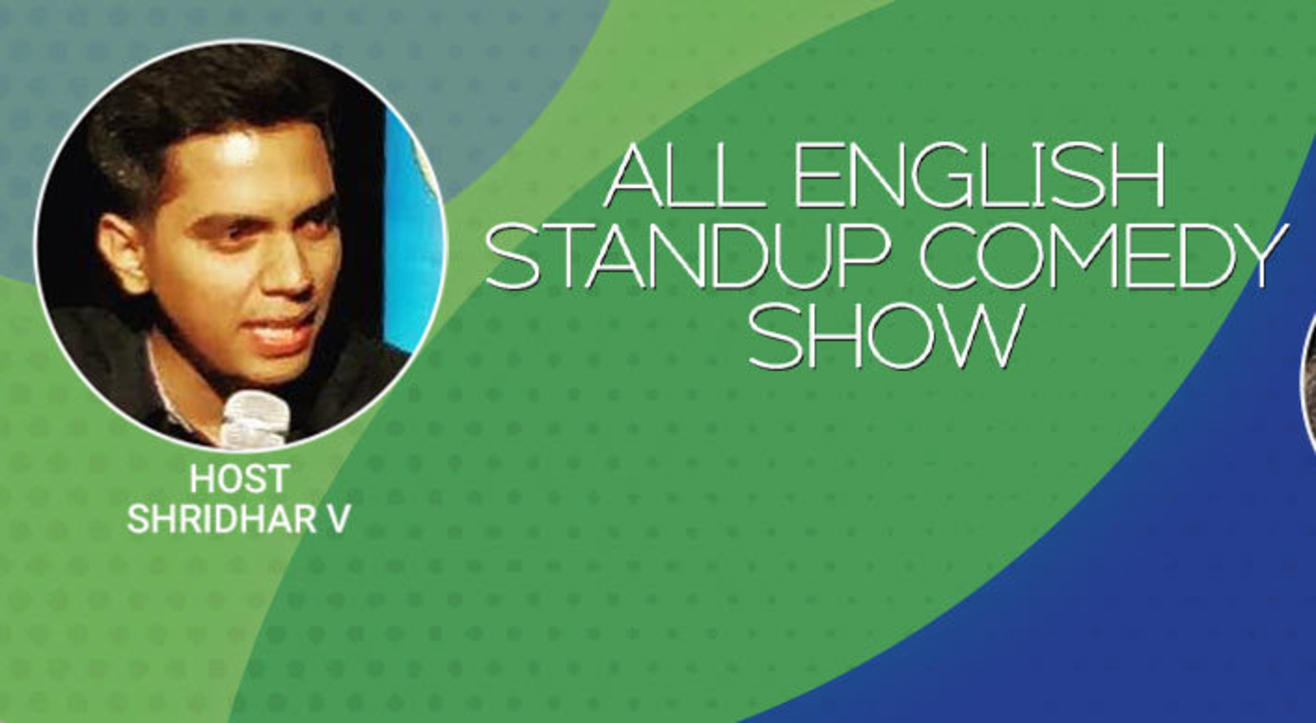 Comedy
All English Standup Comedy Show
About
All English Standup Comedy Show
Show Description
An All English Standup Comedy show is comics doing jokes only in english, This show is for all our expat friends, townies and NRI people, who enjoy comedy but don't usually end up understanding all the comics because of the language barriers. NOT at this show. All jokes are in English and only english. A great way to spend your evening!
Lineup
Host Shridhar V
Comics
Siddarth Gopinath
Aneesh Ayyappan
Sriraam Padmanabhan
Vineet Srinivasan
Jeeya Sethi
Shaad Shafi
Neil Balthazar
Artists Info
Shridhar V
V Shridhar is an engineering graduate from NIT Surathkal and holds an MBA from the premier B School IIM Bangalore.Shridhar ventured into Stand up comedy in the year 2014. He has done 100+ shows across major cities in India like Bangalore, Mumbai, Pune, Hyderabad, Vizag and Delhi. He has hosted several big names in the Indian comedy scene like Praveen Kumar, Sundeep Rao, Kanan Gill, Amit Tandon, Vasu Primlani, Daniel Fernandes etc.He has performed over several shows across different colleges as well. Some of his key shows include performing at the IIM Bangalore leadership summit, which had Bollywood superstar Shahrukh Khan as a key note speaker, performing for the India's biggest Business Fest Vista 2014 at IIM Bangalore and South India's second best cultural festival Incident, NITK Surathkal in 2016. He has been featured by top news papers like Deccan Chronicle and a story on him was done in a popular magazine called Yo! Vizag.
Vineet Srinivasan
Vineet Srinivasan is an upcoming comic and has featured in several shows.
Sriraam Padmanabhan
Currently attempting his third sabbatical, his second graduation and his first coming of age, Sriraam Padnamaban often finds it difficult to distinguish between plain wisdom and outright BS. He has a thing for long sentences, short stories and English Breakfast Tea. Most of this is understandable when you consider that he was born and brought up in the Mecca of creativity, Chedda Nagar.
Sriraam pulls off the homeless guy look gracefully and his stand-up is known for erring on the side of wit. Ever the humble character, Siraam claims he does stand-up because he is too lazy to pursue anything else. The truth is he could easily cut it as a newsreader or an insurance salesman. But he refuses such work on principle.
4 things he likes the most in life are: 1. Incomplete Lists.
Siddarth Gopinath
Siddarth Gopinath is an upcoming comic and has featured in several shows.
Aneesh Ayyappan
Aneesh Ayyappan is an upcoming comic and has featured in several shows.
Jeeya Sethi
Jeeya believes if you are fat once (by fat she means FAAAAT) you are fat forever, mentally you never become thin even after losing all the weight. An event manager turned stand-up comedian, improviser and actor, she has made entertainment her new life's mission since nothing else is going for her!
Shaad Shafi
Shaad Shafi is an upcoming comic and has featured in several shows.
Venue
The Juhu Studio
11, Parna Kutter Rd, Janki Kutir, Juhu Tara, Juhu, Mumbai, Maharashtra 400049
GET DIRECTIONS