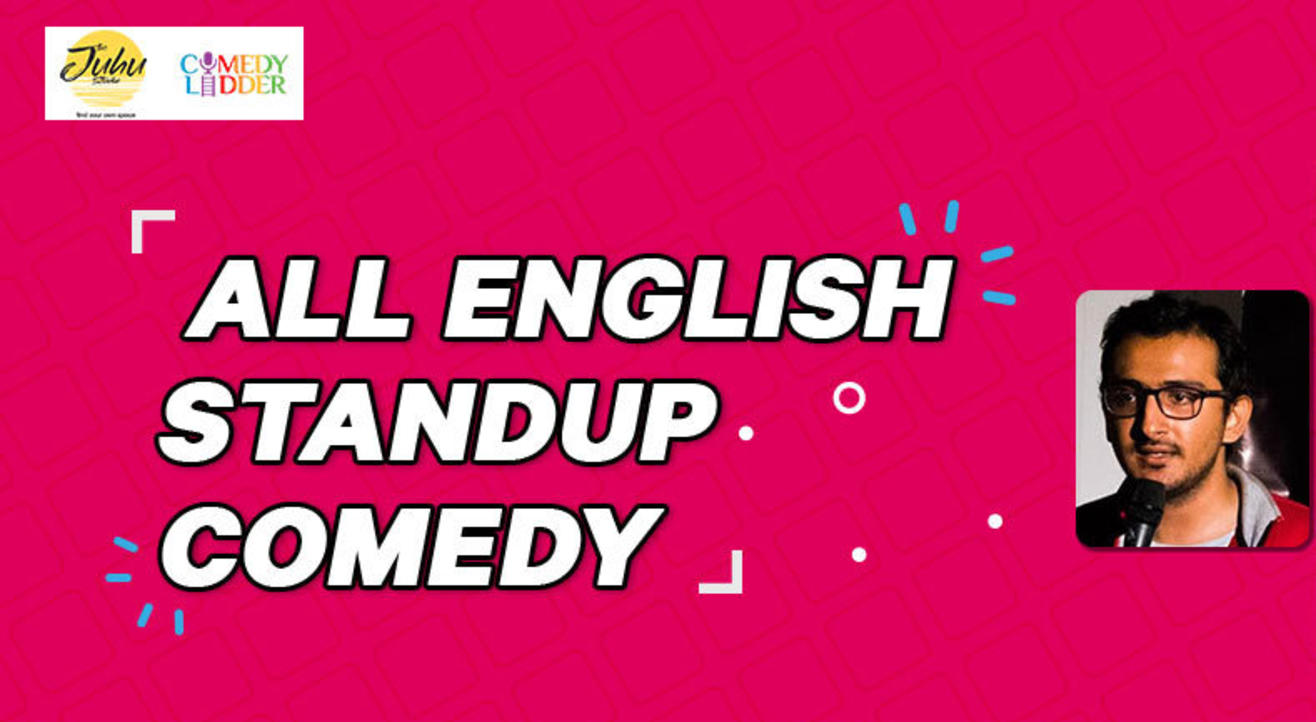 Comedy
All English Standup Comedy Show
About
All English Standup Comedy Show
An All English Standup Comedy show is comics doing jokes only in english, This show is for all our expat friends, townies and NRI people, who enjoy comedy but don't usually end up understanding all the comics because of the language barriers. NOT at this show. All jokes are in English and only english. A great way to spend your evening!
Lineup
Host Christopher Baretto
Comics
Kajol Srinivasan
Jeeya Sethi
Mikhail Almeida
Niveditha Prakasam
Sonali Thakker
Aneesh Ayyappan
Artists Info
Christopher Baretto
Christopher Baretto is an upcoming comic and has featured in several shows.
Kajol Srinivasan
Kajol Srinivasan is an upcoming comedian who, in her words, is half Tamilian, half Bengali, like 2 Chetan Bhagat novels in 1. She is an alumna of the first ever artists' residency organized by Akshara and the US consulate on women's empowerment. Kajol has performed widely at venues like IIT Bombay, the Kala Ghoda Arts Festival, BITS Pilani, Canvas Laugh Club and others. She curates and performs at corporate shows with customized content. She is a graphic designer by the day
Jeeya Sethi
Jeeya believes if you are fat once (by fat she means FAAAAT) you are fat forever, mentally you never become thin even after losing all the weight. An event manager turned stand-up comedian, improviser and actor, she has made entertainment her new life's mission since nothing else is going for her!
Mikhail Almaida
Mikhail Almaida is an upcoming comic and has featured in several shows.
Niveditha Prakasam
Niveditha Prakasam is an automobile engineer turned language editor turned standup comedian from Tamil Nadu. She won the reality TV show TLC Queens of Comedy and has now moved to Bombay to steal everyone's jobs. Her style has been described as intelligent, wry and sarcastic.
Sonali Thakker
Part-time stock-broker, a dance enthusiast and a full-time Gujju who performs comedy on the weekends, Sonali Thakker is an exciting new comedy talent in the town.
Talking about grave topics like traveling, shopping, and chaprigiri in her sets, Sonali's has performed on the biggest of stages including Canvas Laugh Club and NCPA. In 2017, she took her special 'Almost There' to stage across the country.
Aneesh Ayyappan
Aneesh Ayyappan is an upcoming comic and has featured in several shows.
Venue
The Cuckoo Cafe, Mumbai
First floor, above The Cuckoo Club Black Box Theatre | 5AA, Pali Hill Road, Next to Candies, Bandra West, Mumbai, India 400050
GET DIRECTIONS