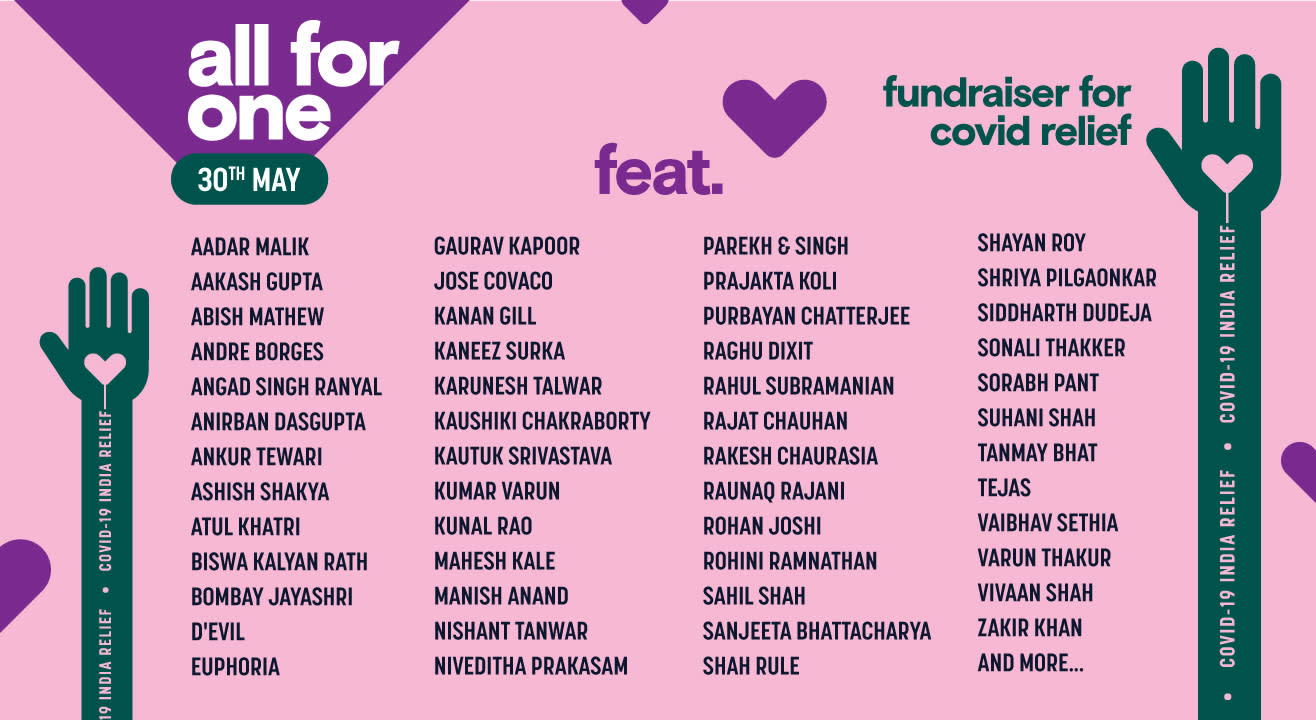 All For One - A fundraiser for COVID-19 India relief
Enjoy this event from your home
Event Guide
Digital Event
Live On Insider
For Age(s)
Family Friendly
Interactive show
Be a part of the show
Invite your friends
and enjoy a shared experience
All For One - A fundraiser for COVID-19 India relief
Enjoy this event from your home
Event Guide
Digital Event
Live On Insider
For Age(s)
Family Friendly
Interactive show
Be a part of the show
Invite your friends
and enjoy a shared experience
Event Guide
Digital Event
Live On Insider
For Age(s)
Family Friendly
Interactive show
Be a part of the show
Invite your friends
and enjoy a shared experience
All For One is a chance to watch your favorite artists bring a smile to your face. From stand-up and music performances to quizzes to improv battles to games. These artists are here to give you their time with just one ask in return; Donate for a cause!
40+ Artists across music, comedy, storytelling, and more doing what they do best 🙌
​​Aadar Malik​ || Aakash Gupta || Abish Mathew || Andre Borges || Angad Singh Ranyal || Anirban Dasgupta || Ankur Tewari || Ashish Shakya || Atul Khatri || Biswa Kalyan Rath || Bombay Jayashri || D'Evil || Euphoria || Gaurav Kapoor || Jose Covaco || Kanan Gill || Kaneez Surka || Karunesh Talwar || Kaushiki Chakraborty ​|| K​autuk Srivastava || Kumar Varun || Kunal Rao || Mahesh Kale || Manish Anand || Nishant Tanwar || Niveditha Prakasam || Parekh & Singh || Prajakta Koli || Purbayan Chatterjee || Raghu Dixit || Rahul Subramanian || Rajat Chauhan || Rakesh Chaurasia || Raunaq Rajani || Rohan Joshi || Rohini Ramanathan || Sahil Shah || Sanjeeta Bhattacharya || Shah Rule || Shayan Roy || Shriya Pilgaonkar || Siddharth Dudeja || Sonali Thakker || Sorabh Pant || Suhani Shah || Tanmay Bhat || Tejas || Vaibhav Sethia || Varun Thakur || Vivaan Shah || Zakir Khan
What do you need to do?
All you need to do is donate whatever amount you'd like starting at INR 100 and do your bit to help the organizations working tirelessly towards COVID relief.
How will the funds be disbursed?
You can pick an organization from the options below while making your donation via Paytm Insider and all funds collected will be disbursed accordingly. You will also have the option to continue donating during the main event.
Here are the organizations that will benefit from All For One
Friendicoes
Friendicoes is a 40-year-old animal shelter working to serve the voiceless in Delhi/NCR. They feed and look after close to 3000 animals on a daily basis. They now need help to continue their street feeding program and help as many animals as possible. They are counting on your support to get through these difficult times. Your generosity will help them get the food and medical supplies they need to save more animals.
Hemkunt Foundation
Hemkunt Foundation is a non-government organisation that aims to provide humanitarian aid to marginalized sections of society. It continues to provide livelihoods, disaster relief, access to basic human rights and education to all. Hemkunt Foundation has worked day and night to help thousands and thousands of people in need. During this deadly second wave of COVID-19, they need your help to continue their service. With your support, they will be able to give oxygen cylinders and oxygen concentrators to so many more people in need.
Khaana Chahiye
Khaana Chahiye is a ground-up citizen movement striving to combat hunger in the city of Mumbai, including Thane, New Mumbai and other neighbouring areas. The initiative is aimed at the marginalized section of the society who are the most vulnerable in these times. They are working relentlessly to provide food to the homeless, slum clusters and institutions such as old-age homes, orphanages, and many more. They need your help to be able to serve meals and grocery kits to those in need.
Support #Mumbai's Fight Against Hunger
Making The Difference
Making The Difference, a Mumbai based NGO, has been relentlessly working to provide every kind of help during this pandemic.The need of the hour is that of oxygen cylinders, oxygen concentrators, hospital beds and other medical supplies. Making The Difference is working closely with all public hospitals and nursing homes to provide them with life-saving healthcare equipment and supplies, to cope with the significant stress on the hospital system and need your support to fulfil this task.
SEWA for artists
Sewa For Artists is committed to the mission of providing critical and life-changing financial assistance to professionals in the Indian classical music Industry. The donations that will be made to this charity organisation will go directly to the selected musicians whose daily survival and livelihood has been affected due to the pandemic.
Feeding From Far
Feeding From Far is a Covid-19 hunger relief campaign based in Mumbai. They distribute dry ration to the needy people who have been most affected due to the pandemic. This initiative has been feeding the poor and unemployed who are struggling to feed themselves during the lockdown and will continue to do so. The donations will help feed those who cannot feed themselves in these testing times.
Donation & Rewards
The All For One stream (all segments) can be accessed at a minimum donation of INR 100.
However, you have the option of donating a higher amount that will unlock special rewards for you to avail. All donations will be collected by WMS Entertainment and disbursed to the beneficiary organizations within 10 working days.
Check out the ticketing options on the next page for more details!
Please Note: Donations made for this fundraiser are not subject to any kind of tax exemptions or rebates.
Have any questions? Check out some FAQs here