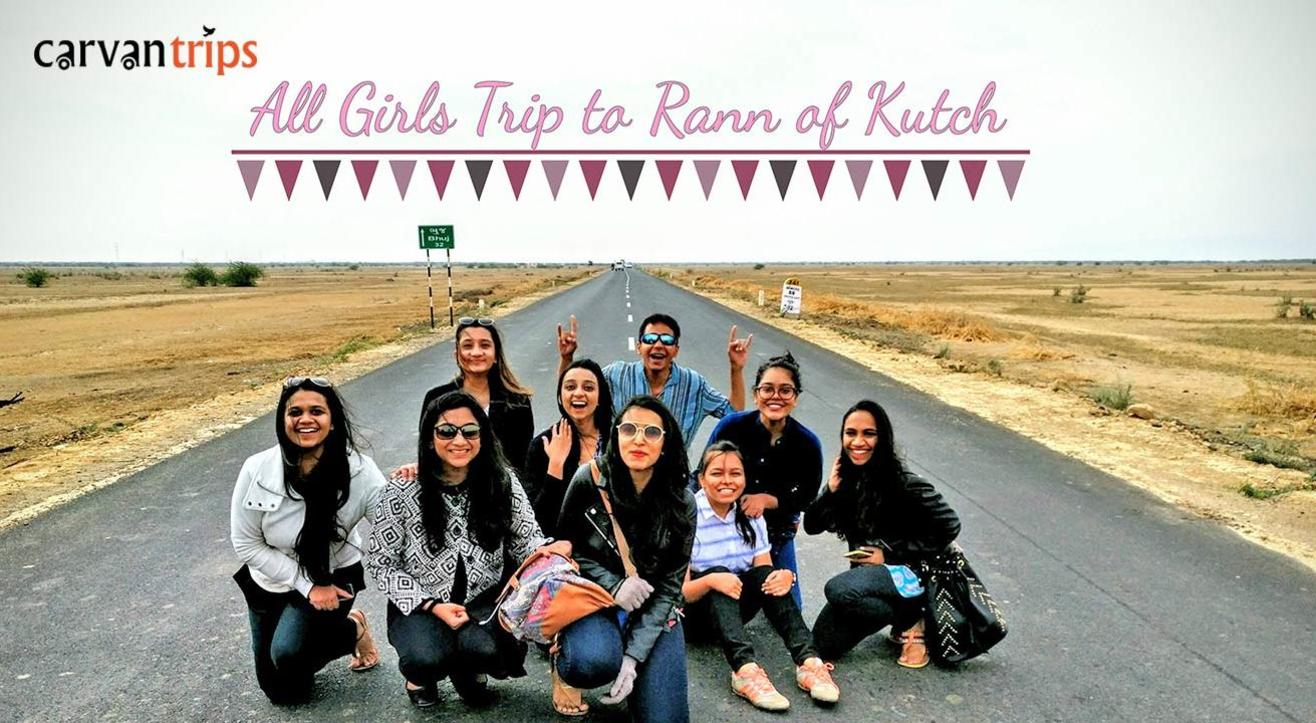 Experiences
All Girls Trip to Rann of Kutch
About
Looking for an escape with the girl gang? We've curated a beautiful trip which will suit perfectly with your extended weekend schedule! One journey, a heavenly destination, one girl gang and innumerable memories!
The Rann of Kutch will amaze your spirits and take you to stupendous heights of awe-inspiration with its contrasting landscapes, vigor and exceptional traditional flavors. Spending an evening at the Kutch desert, especially when the golden light of the setting sun merges at the horizon with the white color of the sand, is exceptionally intoxicating. Come nightfall, the moonlight dancing on this shining surface transforms this place into a magical land.
Our Journey to the mystical land won't just stay confined to the desert and festival area, we will map the trip by visiting prominent junctures in Rann like Kala Dongar and the Westernmost tip of India at Narayan Sarovar. Rann is an enclosed tale of the enchanting full moon, the white desert, local folklores and the rich vibrancy of the cultural escapade. Wait till the enigma of the place encompasses your spirits and takes you to a new high.
Day 1
Arrive at Bhuj early morning by flight/train & meet our coordinator. Post breakfast explore the beautiful city of Bhuj including Ainamahal & PragMahal. After lunch, we will drive towards Dhordo, which is a quaint yet popular village in Kutch. Check into your resort in Dhordo; the charming resort rooms have been modeled to resemble the traditional houses of Kutch. Your tiring journey will attain fruition in the evening as it's time to witness the spectacle of the white desert getting merged into the setting sun!
Meals Included: Lunch and Dinner
Day 2
Post an early breakfast; Scream HELLO to thy neighbor (or at least try to) as you visit the westernmost point of India, Koteshwar (GuharMoti Village), where the enormity of dry surface meets the unfathomable vastness of the Arabian Sea. Few kilometers away isNarayan Sarovar, which comprises of five sacred lakes and is considered as one of the five holy lakes by Hindus. If time permits, we will also visit the historically significant Lakhpat Fort. In the evening, we will climb the KaloDungar to get a commanding view of Kutch under the setting sun.
Meals Included: Packed Breakfast and Dinner
Day 3
A few days in Kutch takes one around the natural grandiose while introducing the visitors to the native culture and the traditional flavor of the people. Quench your thirst for shopping as you visit and then head to Bhuj city for your return journey.
Meals Included: Breakfast
When in Gujarat, we don't say Good-bye, we say Av-jo (Come Again)
• Services and expertise of a dedicated English speaking Tour leader
• Private AC transportation for the entire trip (from Pickup point to Drop-off point)
• Entry fees for all attractions mentioned in the detailed itinerary
• All accommodation on twin sharing basis intraditional village-style resort at Dhordo (Non AC)
• Meals as per itinerary

• Travel (Flights, Rail, Bus Taxi etc.) to the trip starting point
• Travel (Flights, Rail, Bus Taxi etc.) from the trip finish point
• Pre and Post trip accommodation
• Entry fees for certain optional attractions (refer detailed itinerary) • Camera fees (if applicable) at the attractions
• Other optional activities and sightseeing not mentioned in the itinerar will have to be paid locally
• Any travelling and sightseeing done locally on your free time
• Personal Expenses such as Laundry, telephone calls, tips & gratuity, mineral water, soft & hard drinks
• Any personal medication/ hospitalization/ emergency fees
• Any porter services
• Visa & Travel insurance
*We offer separate travel and accommodation services on individual inquiry basis
Clothing
• Wear light, comfortable clothing for the trip
• Waterproof jacket (check weather forecast)
• Comfortable day shoes / sandals or flip-flops
• Sensible footwear for walking, ideally walking boots with ankle support, but trainers with good grip will suffice
• Socks and Handkerchiefs
• Warm hat / gloves
• Sun hat / sunglasses
• Swimwear
• Warm sweater / fleece
• Neck pillow
Personal Toiletries
• Tooth Brush & Paste
• Soap & Shampoo, Face wash & Moisturizing Cream
• Shaving Kit
• Deodorant
• Wet wipes tissue or towel
First Aid Kit
• A standard first aid kit
• Personal medicines in any
• Keep a few tables with you for AMS, headache, diarrhea, vomiting
• Sunscreen / insect repellent (20% DEET)
• Hand Sanitizer
• Swiss Knife
Eateries
• Packed snacks
• Precooked food if possible
• Bottled Drinking Water / Sippers
Documents
• 4 copies of passport size Photo
• Identity card
• 2 Photocopies of Passport, Visa and Identity card
• Emergency contact numbers
• A printout of Itinerary
• Pen and a small Diary
• Extra newspapers for miscellaneous work
Electronics
• Mobile Phone with a roaming and Internet data facility
• Camera with extra memory card and Battery, Camera Charger
• Portable charger, Car Charger, AUX, Headphones
Others
• Backpack or carry bag
• Flashlight / Head torch
• Carry petty cash
• Books to read

• Accommodation would be base category Non-AC Hotels on twin sharing basis
• Single traveler? No Problem! Most of our travelers are singles, we will accommodate you on twin sharing basis with another single traveler of the same gender
• Group size of max 20
• Trip charges does not include Air Fare / Train fare