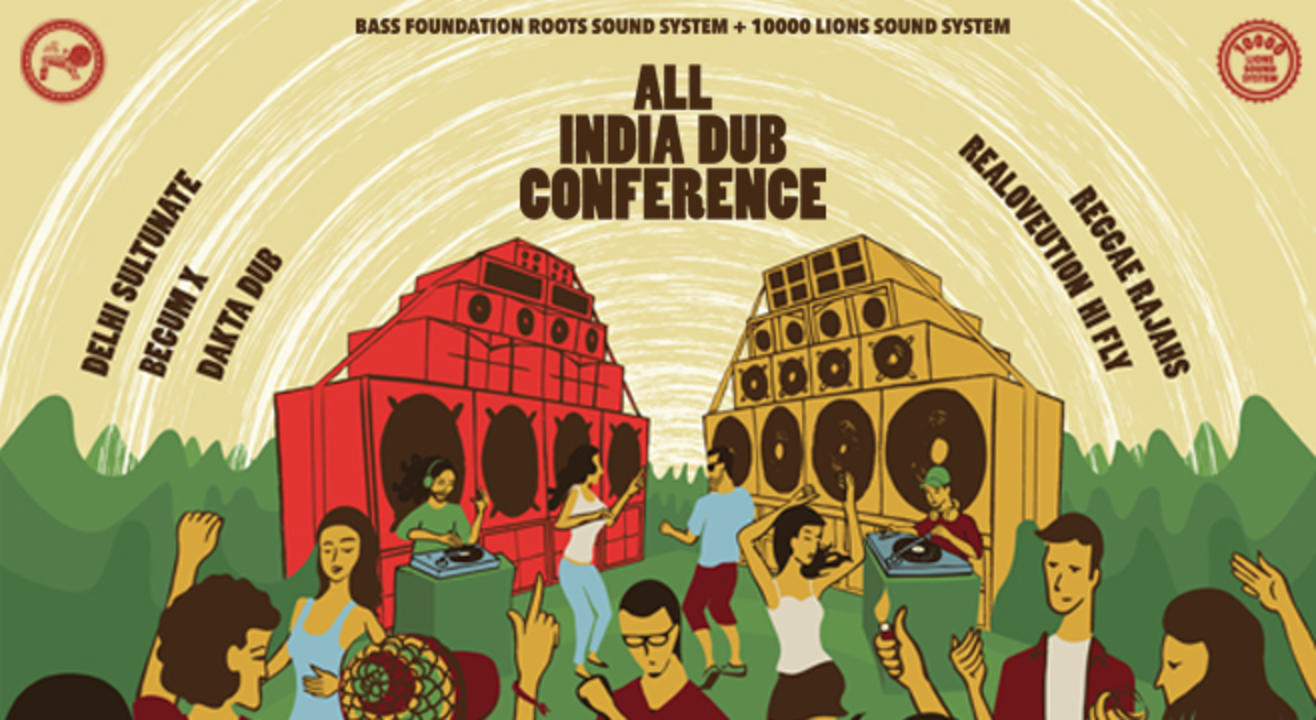 Aishwarya Farms, Pune, Pune
Step out and enjoy this event
Invite your friends
and enjoy a shared experience
Aishwarya Farms, Pune, Pune
Step out and enjoy this event
Invite your friends
and enjoy a shared experience
Invite your friends
and enjoy a shared experience
2016 has been a historic year for Reggae music in India. The first custom built Jamaican style sound systems were built in the country - 10000 Lions in Goa and Bass Foundation Roots in New Delhi. The two systems will travel by road to Pune and meet for the very first time at All India Dub Conference. This momentous occasion will feature some of the leading reggae selectors and singers in India including Reggae Rajahs, Delhi Sultanate & Begum X, Dakta Dub and Realoveution Hi-Fly. Especially for this event, the legendary outdoor venue Aishwariya Farms in Pune is being revived. Expect a festive atmosphere complete with food, drinks and stalls.
What is special about Jamaican sound systems?
The two sound systems that will be showcased are tailor made to enforce the heavy bass lines and captivating melodies that reggae is famous for. This is the optimum way to experience the power of reggae music, as a sound system has the ability to generate intense bass frequencies that can vibrate bodies and objects in their immediate vicinity. Like Bob Marley said, 'who feels it knows it'. Through a sound system, music becomes a collective physical experience.
Come join us for an unforgettable exchange of music, ideas and culture.
More info about the artists:
Reggae Rajahs are a crew of reggae entertainers and promoters based out of New Delhi. Formed in 2009, they have dedicated themselves to spreading the sounds of dub, reggae and dancehall music across India. They are co-founders of 10,000 Lions Sound System.
http://www.reggaerajahs.com/
https://www.facebook.com/reggaerajahs/
Delhi Sultanate & Begum X are India's foremost Reggae & Dancehall artists. The duo operate Bass Foundation Roots Sound System.
Dakta Dub is Hyderabad's very own international artist, started djing in Budapest, Hungary with www.tilos.hu, one of the biggest underground radio station in Europe. His is a eclectic Sounding artists in terms of Tone and Timbre.
Realoveution Hi-Fly stands for the roots rock reggae sound that came out of Jamaica in the 1970's. A journey through a time when reggae music stood purely for love, peace and equal rights. Pierre Obino is a co-founder of 10,000 Lions Sound System and brings his unique style of musical upliftement to every crowd he plays for.
Bus pickup arrangements: Between 1:30 pm and 2:30 pm from High Spirits, Pune
Aishwarya Farms, Pune
Manjari Budruk, Pune, Maharashtra 412307
GET DIRECTIONS
Aishwarya Farms, Pune, Pune
Step out and enjoy this event
Invite your friends
and enjoy a shared experience