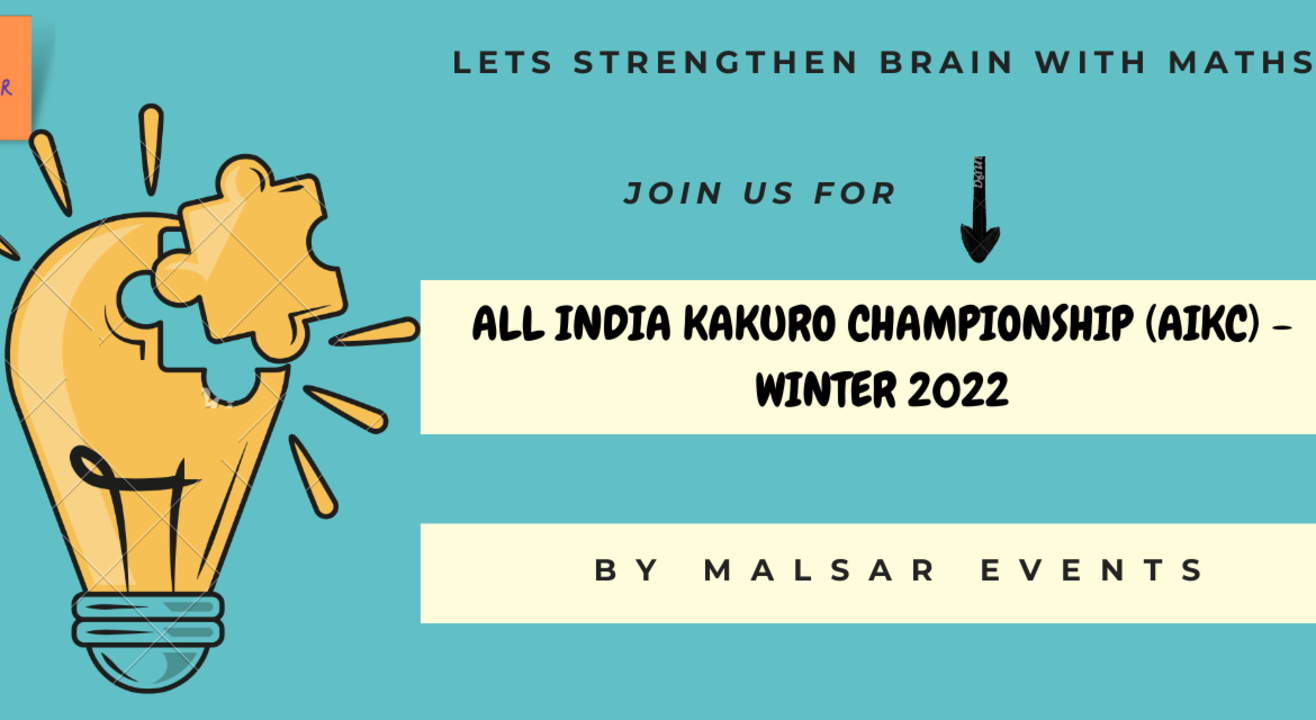 All India Kakuro Championship (AIKC) - Winter 2022
Enjoy this event from your home
Event Guide
For Age(s)
Family Friendly
Online Game
Participate and have fun
Invite your friends
and enjoy a shared experience
All India Kakuro Championship (AIKC) - Winter 2022
Enjoy this event from your home
Event Guide
For Age(s)
Family Friendly
Online Game
Participate and have fun
Invite your friends
and enjoy a shared experience
Event Guide
For Age(s)
Family Friendly
Online Game
Participate and have fun
Invite your friends
and enjoy a shared experience
If you are like sudokus, and want to give your skill another test, Kakuro puzzles are for you!
What is Kakuro?
Kakuro ( literally "addition cross") puzzles are like crosswords of numbers in place of words. The aim of the game is to fill all the blank squares in the grid with only the numbers 1-9 so that the numbers you enter add up to the corresponding clues. When the grid is filled, the puzzle is complete.which is great for a little extra mental exercise. It's a lot of fun too.
Kakuro is easier than it looks and doesn't really involve a lot of maths, it's more about logical deduction and reasoning. It is very important to note that a proper Kakuro puzzle has only 1 unique solution, and it will always have a logical way of reaching it, there should be no guesswork needed.
What is All India Kakuro Championship?
The All India Kakuro Championship is organized by MALSAR . The event will be attended by participants from Metro cities to small towns to even the remotest parts of India. This contest is aimed to help participants exercise their mental power and rewarding the best Kakuro solvers of the country.
Why everyone should play Kakuro?
Both Kakuro and Sudoku improve cognitive skills such as memory, matching, pattern recognition, and problem-solving. It is an addictive habit that every child should have. Kakuro also helps to calm down and take much needed breaks from the daily chores. One of the acute benefits of playing Kakuro is Patience.
How to participate?
Register here for the contest by submitting your basic details and registration fee.
After successful registration, our team will add you to an online group (on WhatsApp) with all other participants for communication and coordination.
All other details will be shared on the group itself.
Note:
Participants need Active Whatsapp connection, as communication will be done by the same.
There is no restriction of any kind anyone can participate
Organizers will not be providing refund incase participant fail to attend the contest or any other reasons
Event is Organised by Malsar (formerly Startup Sabha)
For queries
Call : 9045382866 Whatsapp: https://wa.me/message/FWMGXTPN5VRYM1
All India Kakuro Championship (AIKC) - Winter 2022
Enjoy this event from your home
Event Guide
For Age(s)
Family Friendly
Online Game
Participate and have fun
Invite your friends
and enjoy a shared experience