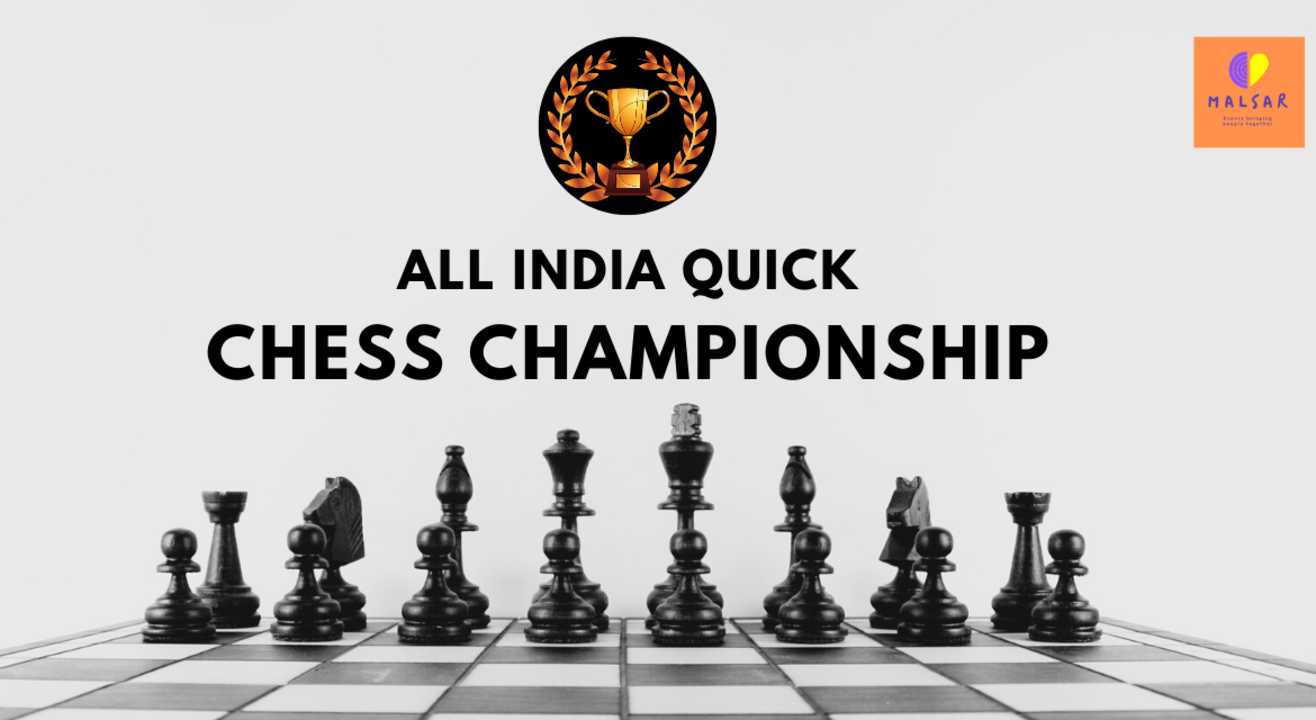 All India Quick Chess Championship
Event Guide
For Age(s)
Family Friendly
Invite your friends
and enjoy a shared experience
All India Quick Chess Championship
Event Guide
For Age(s)
Family Friendly
Invite your friends
and enjoy a shared experience
Event Guide
For Age(s)
Family Friendly
Invite your friends
and enjoy a shared experience
Why Should You Participate:
If you love chess and you want to improve your skills in a competitive and positive atmosphere.
Chess improves protection against Dementia and ADHD (attention deficit hyperactivity disorder) specially for children.
Chess improves Creativity, Careful contemplation and Planning skills.
What is All India Quick Chess Championship

Chess is one of the world's oldest and most loved strategic board game. The beauty of the game is; it has no-hidden information and the element of luck is virtually non-existent. The history of chess can be traced back nearly 1500 years to its earliest known predecessor, called Chaturanga, in India. At MALSAR, we've designed 'All India Quick Chess Championship' to celebrate and cherish Indians love and passion for the game. The championship aims to promote Chess Culture in country alongside reducing stress and improving cognitive skills.
Format :
Championship is designed to make participants compete not only against each other but also against the clock.
Back-to-back games for 2 hours; Participants will be continuously paired with best match opponents game-after-game for 2 hours, each game will have a maximum time limit of 10 minutes.
Scores for each game result:
Loss: + 0
Draw: + 1
Win: + 2
4. Winners: Top 3 scorers after 2 hours of battles
Note: Format is subjected to change based on organizer discretion. Final format and rules will be provided to the registered participants.
Rewards:
Rank 1~3: Medal & Achievement Certificate
Rank 4~30: E-Certificate
Medals and certificates hard copy will be sent to winner 1~3 to there address in India through courier.
Frequently Asked Question:
Q. Where will be the Championship conducted ?
Ans. The Championship is completely online. it will be organized over an online Chess Tournament platforms.
Q. Is there any age limit:
Ans. No age limit.
For queries contact us:
WhatsApp: https://wa.me/message/FWMGXTPN5VRYM1
Call: 9045382866 or 9045379866
Email Id : admin@malsar.in
Event is organised by MALSAR
Terms & Conditions:
Tickets once booked cannot be exchanged or refunded
These terms and conditions are subject to change from time to time at the discretion of the organizer
Recording or uploading of the event is not permitted. Strict action will be taken against those who break these guidelines.
The time and date of the show may vary. In this case, the organiser will share the revised date and/or timing at the earliest.
There may be interruptions due to internet connectivity issue. We suggest you to have good speed internet connectivity
Dear Chess Lovers,
You can join get in touch with event organiser here : https://wa.me/message/FWMGXTPN5VRYM1
Join our WhatsApp community here : https://chat.whatsapp.com/D1ofxThxidiH0Ua0yRjGGH
All India Quick Chess Championship
Event Guide
For Age(s)
Family Friendly
Invite your friends
and enjoy a shared experience