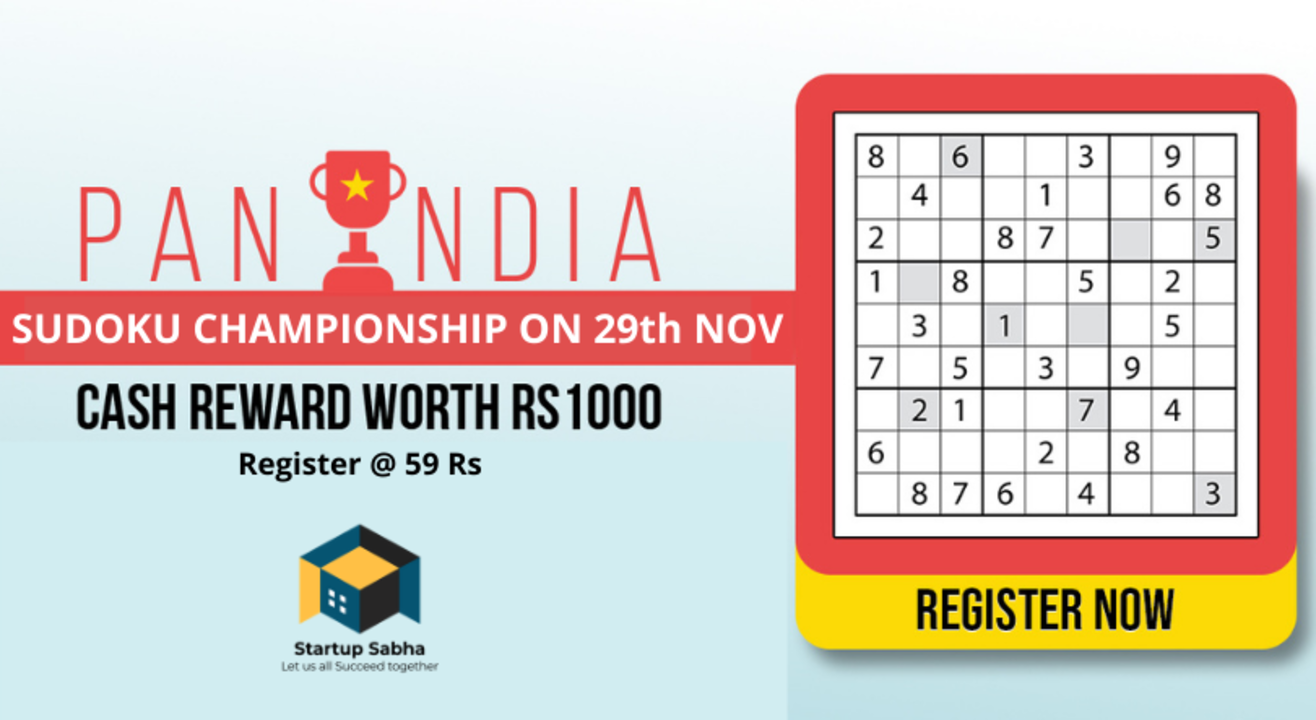 All India Sudoku Championship (Quater 3)
Enjoy this event from your home
Invite your friends
and enjoy a shared experience
Invite your friends
and enjoy a shared experience
About the Event
About the Contest:
The name Sudoku or more correctly 数独 comes from Japanese, a puzzle with deep roots in Asian history. Studies has shown Sudoku increases concentration and reduces stress, its an addictive habit every child should have. This contest is aimed at spreading awareness and encouraging Sudoku culture in the country; inspiring youngsters and students; and rewarding best Sudoku solvers of the country. The best and the fastest mind will be rewarded a cash prize of INR 1000
It is completely online and designed with the aim that participants can experience the excitement, thrill, and puzzling atmosphere of a contest.
How it Works:
1. After registering for the contest you will receive a confirmation email.
2. Our team will add you in an online group (on Telegram) with all other participants for communication and coordination.
3. The contest comprises of 3 rounds : Pre-Lims, Semi-Finals, & Finals; all 3 rounds will be conducted on 29th Nov itself.
4. In each round a Sudoku problem/s will be shared to all participants our Telegram group, whoever will share the correct solution back in lowest time will win and go to the next round.
(Approximately 1/3rd of participants will go from Pre-lims to Semi-Finals and Semi-Finals to Finals).
5. Difficulty and numbers of Sudoku problems will be increased with each passing round.
6. Winner of final round will be titled as Sudoku Champion and will be awarded with a Prize money of 1000 Rs.
Practice Rounds:
Exclusive Sudoku practice rounds (minimum 4) will be conducted for participants before the contest, to help you sharpen your skills.
How to Register:
Clicking on the 'Buy'/'Register' button, provide basic details, and submit the registration fee online.
Note : A nominal registration fee has been kept to recover the administration and organizing expenses.
About the Organizer:
The contest is organized and sponsored by Startup Sabha: It is a professional community of Startups, Entrepreneurs, Students, and many more. It organizes events to encourage learning and networking among the society such as workshops seminar contests competition etc.
Follow here: https: //bit.ly/2MpzPS2
FAQ:
1. Who can Participate?
Any one and everyone can participate. There is not restriction.
Questions: Feel free to contact us
Event Coordinator: Gagan / Shivangi
WhatsApp @ 9045379866 / 9045382866
Email Id : admin@startupsabha.com / gagan@startupsabha.com