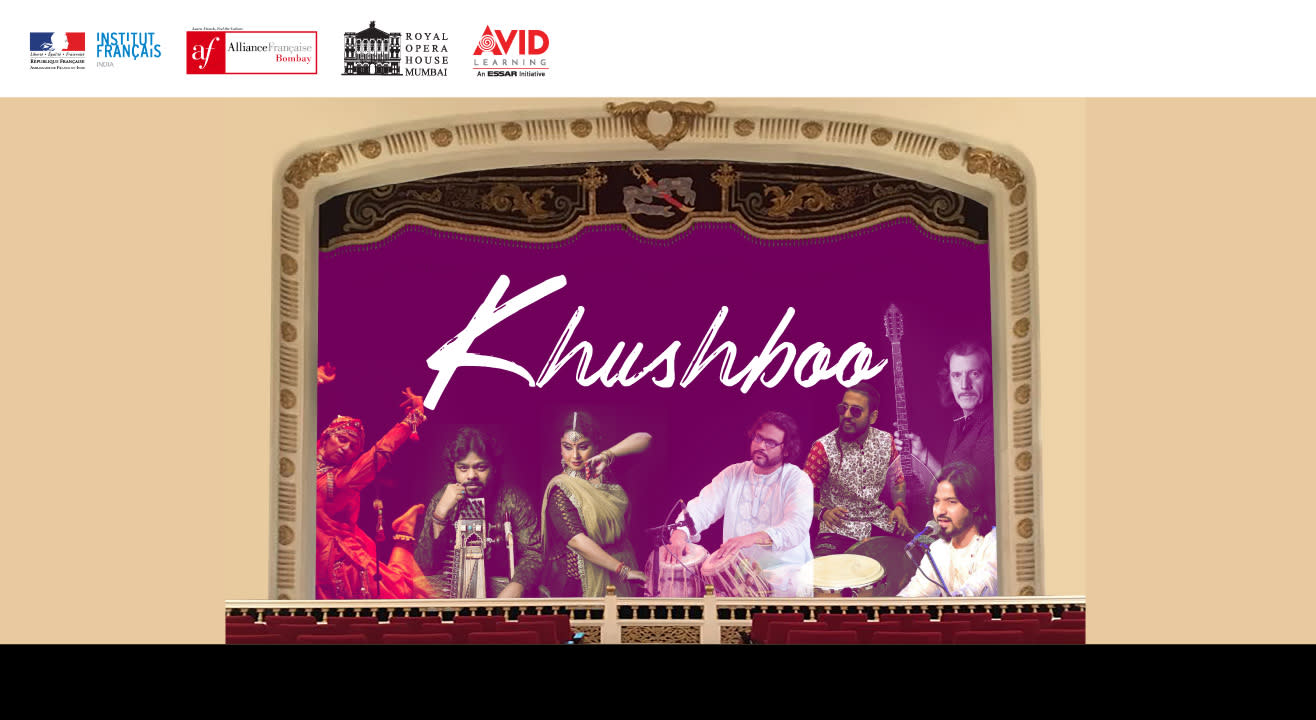 Khushboo: An Evening of Indo-French Music and Dance
The Royal Opera House, Mumbai
Step out and enjoy this event
Invite your friends
and enjoy a shared experience
Khushboo: An Evening of Indo-French Music and Dance
The Royal Opera House, Mumbai
Step out and enjoy this event
Invite your friends
and enjoy a shared experience
Invite your friends
and enjoy a shared experience
Alliance Française de Bombay, The French Institute in India, Royal Opera House, Mumbai and Avid Learning present Khushboo: An Evening of Indo-French Music and Dance. A medley of talented musicians and dancers from France and India come together for a unique performance that highlights the best of both cultures and uncovers synergies between them while celebrating unique aspects of each!
Eight masterful performers with eclectic talents and skills including Composer and Musician Titi Robin on Guitar and Buzuk, Murad Ali Khan on Sarangi, Rajasthani Folk Dancer Gulabo Sapera, Kathak Dancer Mahua Shankar, Vocalists Shuheb Hasan and Zohaib Hasan, Amaan Ali Khan on Tabla and Dino Banjara on Percussions will come together to create multidisciplinary dance and musical magic!
This concert will bring to life the tribal-gypsy dance style from Rajasthan and classic instruments and sounds from Europe - a wonderful blend of cultures.The originality and innovative flair of each performer perfumed with the emotive soulfulness of each discipline results in a unique blend that transcends cultural boundaries and language barriers.
Join us to experience an exhilarating blend of cultures and disciplines by Indian and international maestros.
About the Performers
Titi Robin is a French composer, musician and improviser. His style combines Mediterranean world including Gypsy, Oriental and European cultures. He plays guitar, Turkish buzuq, mandolin, Arabic 'oud and other instruments of both European and Moorish origin. Early in his career, he performed at Arab and Gypsy community festivals that gave him the opportunity to test his musical approach. The musicians accompanying him are almost exclusively from minority groups (such as Berber Moroccan Abdelkrim Sami). In 1984 he appeared (guitar, 'oud and buzuq) in duet with Hameed Khan, an Indian tabla player originally from Jaipur. In 1987, he founded the "Johnny Michto" band, which combined Moroccan Berber rhythm with the electric buzuq, bass, clarinets and bagpipes. He has collaborated with Rajasthani gypsy, Indian, flamenco, and Pakistani musicians. He is a musical polymath equally at home in a variety of musical environments and cultures.
Born in a family of musicians originally from Moradabad, Murad Ali Khan is a sixth generation sarangi player. The intensive training he had under his grandfather Ustad Siddique Ahmad Khan and father Ustad Ghulam Sabir Khan has stood him in good stead, and he is presently regarded as one of the leading sarangi players of the younger generation. His ancestors, Ustad Sagheer Ahmed Khan Sahab, Ustad Fakir Ahmed Khan Sahib, Ustad Rafique Ahmed Khan Sahab and his grandfather later Ustad Siddique Ahmed Khan Sahib were all renowned sarangi players, musicologists and gurus of the Moradabad Gharana. Beginning his performing career at the early age of ten, Murad Ali won the first prize in the All India Radio national music competition held in 1992. An 'A' grade artiste of the All India Radio, he has also been a frequent performer at several music festivals in India and abroad. He has received accolades for his accompaniment to many noted vocalists and tabla players. Unfettered by orthodox musical beliefs, Murad Ali has on several occasions participated in cross-cultural and experimental musical endeavours. He had honor and privledge of playing sarangi for Bharat Ratna Pt. Ravi Shankar jiAnd got Pt. Ravi shankar ji's Blessings. Murad Ali also has composed Music for his own Band Called SOUL- SAMVAAD and " 7 ESSENCE". A Classical Music and Dance Group. Maestros Vidushi Smt. Shubha Mudgal ji and Ustad Rashid Khan Sahab have played a great role in Murad Ali's musical journey. Murad Ali Khan also been fortunate to accompany Maestros of India like PT. Ajoy Chakrobarty, Pt. Rajan Sajan Mishra, Pt. Ulhas Kashalkar, Ustad Mashkoor Ali Khan, Padma Vibhushan Smt Girja Devi Ji, Vidhushi Ashwini Bhide, Ustad Zakir Hussain, Pt. Anindo Chatterjee, Ustad Sabir Khan, Ustad Akram Khan etc. He has received numerous awards like the Sarangi Ratna Award, Ustad Bismillah Khan Yuva Puraskar from Sangeet Natak Acadamy, Sanskriti Award, Aditya Vikram Birla Award and Kala Kiran Award.
Gulabo Sapera was born and raised in a family of snake charmers. The foremost performer in the Kalbelia style, she has taken the dance to new heights and has travelled the globe educating people about this little-known art form. Kalbelia is the traditional, celebratory dance of the snake charmers and an integral part of their heritage. She is very active in the musical work of Titi Robin. The Government of India awarded her the civilian honour of the Padma Shri in 2016.
Mahua Shankar, classical Kathak danseuse and a performing artist for over a decade, is an extraordinary young dancer, adding subtle innovations to the Kathak repertoire while preserving the tenets of the classical style. Mahua, with her enchanting stage presence, has earned acclamation for her intense, sensitive & graceful Kathak presentations. Mahua is an Empanelled artist of ICCR (Indian Council for Cultural Relations) and also a Graded artist of Delhi Doordarshan, New Delhi. She has been very recently certified by CID UNESCO (Paris, France) and has been made a member for the year 2019.
Zohaib Hasan and Shuheb Hasan belong to the Moradabad Gharana and come from a long lineage of renowned musicologists, famous vocalists, and Tabla Maestros. They started their initial training in Indian Classical music with the Late. Ustad Siddique Ahmed Khansahab – an established Maestro of Sarangi and Vocals. They have also undergone rigorous training under the living legend of Sarangi Ustad Ghulam Sabir Khasahab through the traditional Guru-Shishya Parampara. Both are highly sought-after artists and have performed in respected festivals in India including the Taj Mahautsav (Agra), Kathak Mahautsav (Delhi), Jaipur Literature Festival, Delhi Youth Festival, World Sufi Spirit Festival (Jodhpur), Kala Ghoda Festival (Mumbai), and the Kumbh Festival amongst others. Their talent is also sought on foreign shores with performances in Paris, Istanbul, Senegal, Nairobi, Morocco, Germany, Switzerland, and Latin America under their belt.
Dino Banjara is a Percussionist, Dancer and Artistic Director. he is son of the famous Kalbelia dancer Gulabo Sapera. He has founded two bands: Jaipur Beats and Gypsy Banjaraz.
About Partners
Alliance Française de Bombay
Established in Mumbai in 1938, Alliance Française de Bombay is the only official French Language Learning and Cultural Centre recognised by the Embassy of France in India. The organisation is part of an international network and works under the umbrella of the French Ministry of Foreign Affairs and an Indian board. Alliance Française de Bombayhas evolved in sync with the geographical and cultural expansion of Maximum City and caters to over 6,000 students every year across its 5 centers. Collaborating closely with prestigious cultural institutions in Mumbai, Alliance Française de Bombay seeks to promote cultural exchanges between France and India. 2018 marked the 80th year of the organisation!
The French Institute in India (IFI) is the Education, Science and Culture service of the Embassy of France in India. It facilitates academic and scientific exchange between higher institutes of learning and research, enables student mobility, and promotes French language and artistic and cultural partnerships. Cooperation between India and France takes place through a number of sectors: Arts & Culture, Books & Ideas, French Language & Education, Study in France programme, Academic Partnerships, Science & Technology, as well as Innovation and Multimedia. To know more, visit www.ifindia.in
Royal Opera House, Mumbai is widely touted as Mumbai's Cultural Crown Jewel and India's only surviving Opera House. The original idea for the space was conceived of in 1908, inaugurated in 1911 by King George V, and eventually completed in 1916. The design incorporated a blend of European and Indian detailing. The space became a cinema in later years before falling into disrepair and shutting by the 1990s. Fittingly, the space has been owned by the Royal Family of Gondal since 1952 and was eventually restored by conservation architect, Abha Narain Lambah under the leadership of His Highness, Maharaja Shri Jyotendrasinhji of Gondal. The Royal Opera House Mumbai, now one of the last remaining Baroque structures in the city, reopened after 23 years in October 2016. The building was included on the 2012 World Monuments Watch to raise awareness about its history and significance, and support preservation efforts. The building has since been recognized with an Award of Merit in the 2017 UNESCO Asia-Pacific Awards for Cultural Heritage Conservation. The restored facilities feature a 575-seater 3-level auditorium with an orchestra pit and state of the art technological upgradations, including acoustics, stagecraft, lighting and air-conditioning, alongside retaining the old-world charm of the proscenium stage, the royal boxes and the magnificent regal chandeliers. Some more enhancements to the venue include a motorized screen, co-axial ceiling speaker system, Four-zone volume control and all round wifi access. Today, it stands as a key performance and creative hub in the city's cultural landscape, while being a premier heritage landmark. Facebook: MumbaiOpera Twitter: @MumbaiOpera Instagram: @mumbaiopera
Avid Learning, the cultural philanthropy arm of the Essar Group founded in 2009 has, over the past decade, grown into one of Mumbai's leading public programming platforms and is firmly entrenched in the country's wider cultural ecosystem. Over the years, AVID has gained a reputation for curating thought provoking, innovative and path-breaking content that is intellectually and creatively stimulating and engages with a variety of topical subjects and trends. Our thoughtfully curated and diverse events embrace the spirit of collaboration to bring together the best of Indian and international writers, artists, intellectuals, cultural experts, policymakers and industry leaders across Visual Art, Literature, Culture and Heritage, Education, Design & Technology and the Performing Arts through engaging and dynamic formats like panel discussions, workshops & master classes, roundtables, lecture demonstrations, festival platforms, symposiums & conferences, multidisciplinary performances and walkthroughs. We seek to democratize the arts, create new audiences, and deepen engagement by providing a platform that gives equal access and opportunity to new learners, fresh voices and nascent minds in order to nurture future stakeholders for the creative community in India. To date, AVID has conducted over 1150 programs and connected with more than 140,000 individuals, a widely eclectic group of life-long learners including students, patrons, practitioners, influencers, thought leaders and cultural & creative enthusiasts in Mumbai, Delhi, Jaipur, Bangalore, Goa and Gujarat. We have also made our mark internationally, with events and collaborations in Dubai and New York. We regularly collaborate and partner with institutions, organisations and initiatives like the Federation of Indian Chambers of Commerce and Industry (FICCI), one of the apex bodies that impact cultural policy and the creative sector as a whole. We have been at the helm of programming at the Royal Opera House, Mumbai India's only surviving Opera House since its reopening in 2016. We believe in the importance of arts for social change and we regularly offer our support and platforms for Social Advocacy. Thanks to a dedicated and innovative team, as well as a growing and evolving community of learners, AVID continues to give truth to the belief that Learning Never Stops! To keep updated and attend our events, like us on www.facebook.com/Avidlearning, follow us on www.twitter.com/Avidlearning and Instagram:@avidlearning or log onto www.avidlearning.in
The Royal Opera House, Mumbai
Mathew Rd, Charni Road East, Opera House, Girgaon, Mumbai, Maharashtra 400004
GET DIRECTIONS