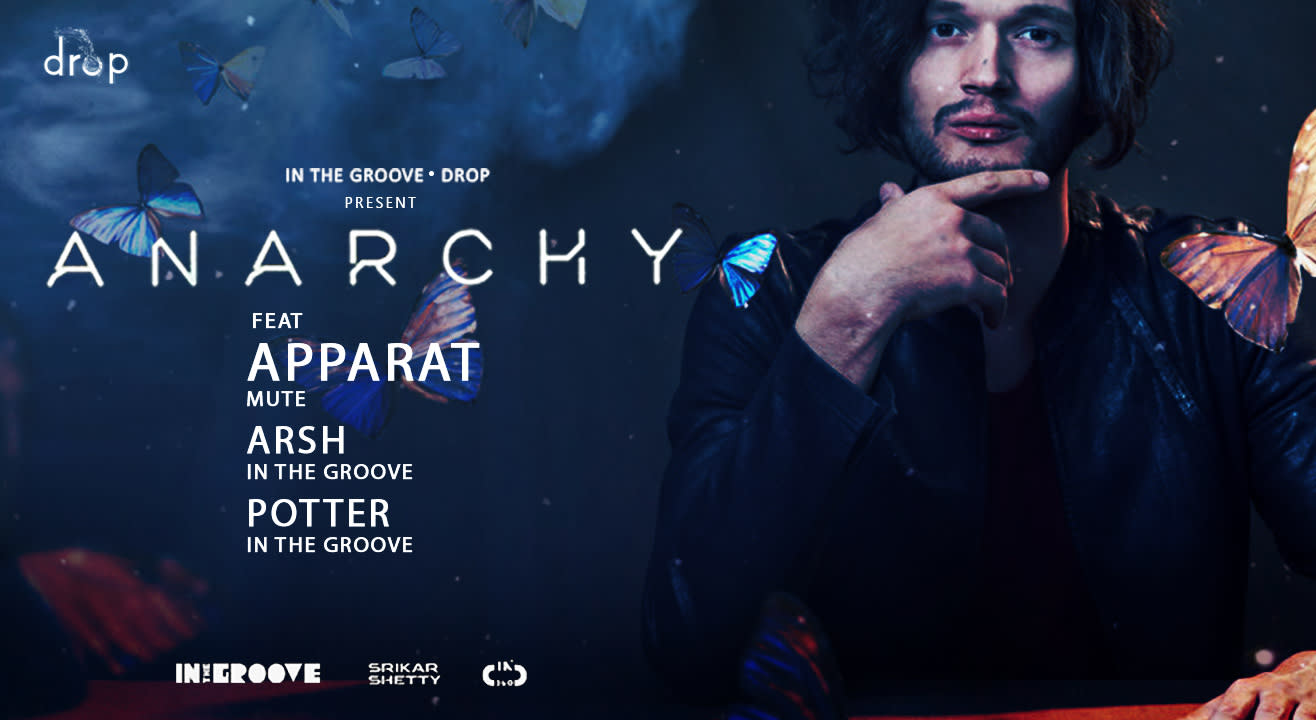 Music
Anarchy Ft. Apparat, Arsh & Potter
1,000 - 3,000 (Full Cover)
About
A magnificent celebration of techno & deep house music from across the world featuring international techno superstars from India and across the world, resident anarchists Arsh & Potter, and one of the world's foremost names in electronic from Germany, Apparat!
Arsh (Resident Anarchist)
At a time when people from entirely different sub-cultures and prototypes of music are finding common ground in the form of sexy sounds and fresh electronic beats, Arsh is giving them exactly what they need – groovy, intelligent dance music.

He believes that playing music with this level of intensity is one of the only ways left to push the existential boundaries that minds seem to be ridden with, further into the realm of non-existence. He believes that the very essence of this music lies in its lack of boundaries and will probably never stop till he's opened enough minds to the madness that lies latent within everyone.
Apparat is one with flexible functions, and its sound is as eclectic as its musical horizon is broad. It's emotional chip features an option on happiness and it's sound waves are able to tear your heart apart. While sensitively orchestrating his chamber musical qualities on his records or in his studio, his live performances are known for kicking some ass! He can also proudly refer to a John-Peel-Session and is sporadically working with Gianna Nannini on a Rock Opera.

Sascha Ring, aka Apparat, regards his moving out of the east German provincial backwater to Berlin in 1997, as one of his best decisions ever made. Since 1999, he runs, together with T.Raumschmiere, the Berlin based record label 'Shitkatapult' - a venturous music catapult that dashes a wild mixture of intentional great music onto the turntables of the world. Apparat is the bridge over the German gap of melancholic glitch between Manchester and Laptop-USA. His smart wiring of emotions produces a virtual musical reality, which is based upon different genres, depending on the surrounding of the 'apparat.' In his studio, dense, dark and majestic clouds of elegiac pop and heavy electronica build up to a coherent and emotionally charged atmosphere.

Live, on the other hand, the dance floor seems to be repelled to rave from the Bermuda Triangle with its axes Techno, IDM and Elektro. Those styles cannot necessarily be distinguished and heard on every of his releases, but since he started out with a much harder pace of electronic music in the early nineties, his influences are definitely Techno and Elektro as well.

The intensity in Apparat's tracks seems to grow with his own pleasure in experimenting. The charming breaking-up of the mechanical walkover of his Elektronica compositions first being subtle clicks and accidental "sound mistakes." this is now being done by veritable musicians and singers, by classical instruments like violin and cello, saxophone and clarinet, which are then masterly orchestrated by Apparat as the maestro of his computer.

Get a glimpse of what you are about to witness!
About the Organizer & Venue
DROP is a high energy nightclub, suited for unwinding, parties and late night soiree, and also equipped with a full bar and specialty chef.
Venue
Drop, Mumbai
No.G1/B, Krystal Building, Below Hakkasan, Waterfield Road, Bandra West, Mumbai, Maharashtra 400050