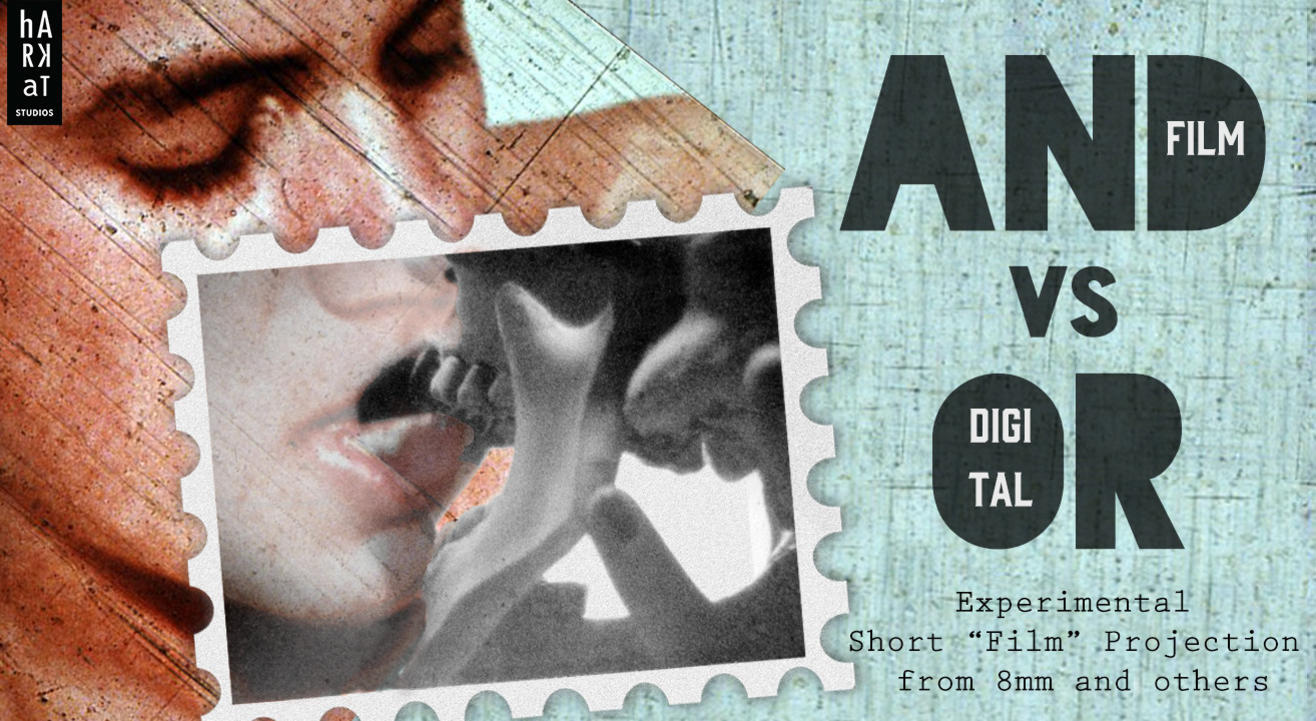 Screening
And / versus / OR (analogue / digital): Experimental Film Screen
Harkat Studios, Versova, Mumbai
About
About:
People often find experimental short films strange and hard to digest, being used to a certain aesthetic presented in mainstream TV and cinema.
However the personal works of Michael Brynntrup, one of the most prolific German filmmakers working mainly on the underground circuit, are regarded as small jewels of cinematic culture that are very appealing and attract enthusiastic audiences.
As a teaser to the 16mm film festival this year, Harkat Studios is proud to present a curated selection of Brynntrup's films.
The 11 works center around the relentless question of "and vs or - analogue /digital".
Is it really a "versus" or is it more "and"?
Can these two co-exist, or should one be forced to take sides?
See for yourself.
The screening will be partly in digital and in analogue format from 8mm/16mm prints.
Films:
1. THE DEATHSTRIP - A German Film
9 min | 1983 | Super8 + 35mm | col | sound
(triple projection)
Between an overgrown West Berlin graveyard and a desolate stretch of land under communist rule, there is a supposedly dead no-man's land. - Around noon, the main character arrives at this inevitable place.
2. TESTAMENTO MEMORI
7 min | 1986 | Super8 + 16mm | col | sound
(problem film)
Sooner or later everyone is confronted with this problem: what to do with the body. A problem film. - Psychosomatic birth preparation with practical exercises for euthanasia.
3. VERONIKA (vera ikon)
12 min | 1986 | Super8 + 16mm | bw | sound [MBCFILM#17]
(Trailerfilm)
The biblical prohibition of images word for word. God's life story in the form of a trailer: from zero B.C. to the Second Coming of Christ - coming soon.
4. PAUSE
2 min | 1987 | Super8 + 16mm | col | sound [MBCFILM#18]
(Intermezzo)
Women piss too - only less.
5. THE MASSAGE - Death Dance 8
10 min | 1989 | Super8 + 16mm | bw | sound
blind spot: term for a currently not reachable or visible space.
6. Die Botschaft - Totentanz 8 (1989)
10min | Short | 1989 (West Germany)
Totentanz 8 returns to the figure of a young woman, perhaps the young girl from the very first film grown older. She climbs a V-necked stairwell, lighting on a birdcage stuffed with bird feathers before flinging them into an open courtyard. She appears again in an immense, emptied warehouse space, the image now rephotographed and solarized. She begins to dance through this fantastical silvery sheen, this veil of abandon. She recalls for us that death is also a place for celebration. Her frenzy spent, she rests in a large window opposite the skull, continuing to cast feathers. She takes up the skull and kisses it long and longingly with her tongue. Hers is a final embrace and acceptance, an eroticization of death, a romantic fury. In the end, in the film's sumptuous closing image, she casts feathers out the window in a storm of solarization, the light pouring through its aperture in a silver storm which suggests another world waiting beyond.
7. NO FILM
1:20 min | 2000 | 35mm + internet | bw | stereo
(Festival film)
Film is no longer what it should have been.
Rhythm in the age of its digital producability.
8 THE HONG KONG SHOWCASE (a case study)
3:20 min | 2005 | DV | col | stereo
(mini movie)
"The world is everything that is the showcase."
Living in a globalized world - a case study.
(loosely based on Ludwig Wittgenstein, Tractatus logico-philosophicus, sentence no.1)
9. ACHTUNG - RESPECT (concentration chair)
14 min | 2001 | 35mm | bw + col | stereo
(Sensations- und Besinnungsfilm) | (sensation film)
There can be no doubt that all our knowledge begins with experience.
10. SEVENTY-SEVEN VOLCANO
17:00 min | 2017 | HD (16:9) | col | stereo
(Wanderer in the Sea of Fog)
"Close your bodily eye so that you can see with the mental eye first your picture. Then show what you have seen in the dark, that it can have an effect on others from the outside in."
(Caspar David Friedrich in letters and confessions)
11. SELFENCODING
2:12 min | 2016 | HD (+GIF) | bw+col | stereo
(computer generated film)
Bye-bye, bits and bytes: I've mathemetized myself into digital codes.
-- .. -.-. .... .- . .-.. -... .-. -.-- -. -. - .-. ..- .--.
QR code (abbreviated from Quick Response Code) is an optical label that contains information arranged in a square grid on a white background, which can be read by an imaging device (such as a camera, scanner, etc.) (en.wikipedia.org)
Bye-bye, bits and bytes: I've mathemetized myself into digital codes.
-Length of the screening: 95mins (incl. break)
-Language: Silent/English/German/various
-Age: 15+
-Ticket price: 250/-
Date & Time:
21st Sept, 8 pm.
********
About Michael Brynntrup:
Michael Brynntrup, referred to as "the poster child of German underground film" is an experimental film-maker and media artist living in Berlin. With short movies, shot mostly on super 8mm, he became a leading figure of German underground cinema in the 1980's. Soon he moved on to his personal version of a Cinema of Transgression, self-obsessive and self-abusive, focusing on issues like death, birth, narcissism, while simultaneously commenting on mass media and the medium of film itself. Brynntrup is a regular guest on international film festivals, where his films have won numerous prices. Since 2006 he is also a professor of film and video at HBK Braunschweig.
********
Date & Time:
21st Sept, 8 pm.
Location:
Harkat Studios, Bungalow #94, First Floor, Aram Nagar 2 (just behind Mata Mandir), Versova, Andheri West.
KINDLY NOTE OUR NEW LOCATION IS ON THE 1ST FLOOR AND NOT WHEELCHAIR ACCESSIBLE!!! WE'RE WORKING ON FINDING A SOLUTION.
Venue
Harkat Studios, Versova, Mumbai
HARKAT STUDIOS, BUNGALOW 94, FIRST FLOOR, ARAM NAGAR 2, VERSOVA, ANDHERI WEST, 400061-MUMBAI
GET DIRECTIONS