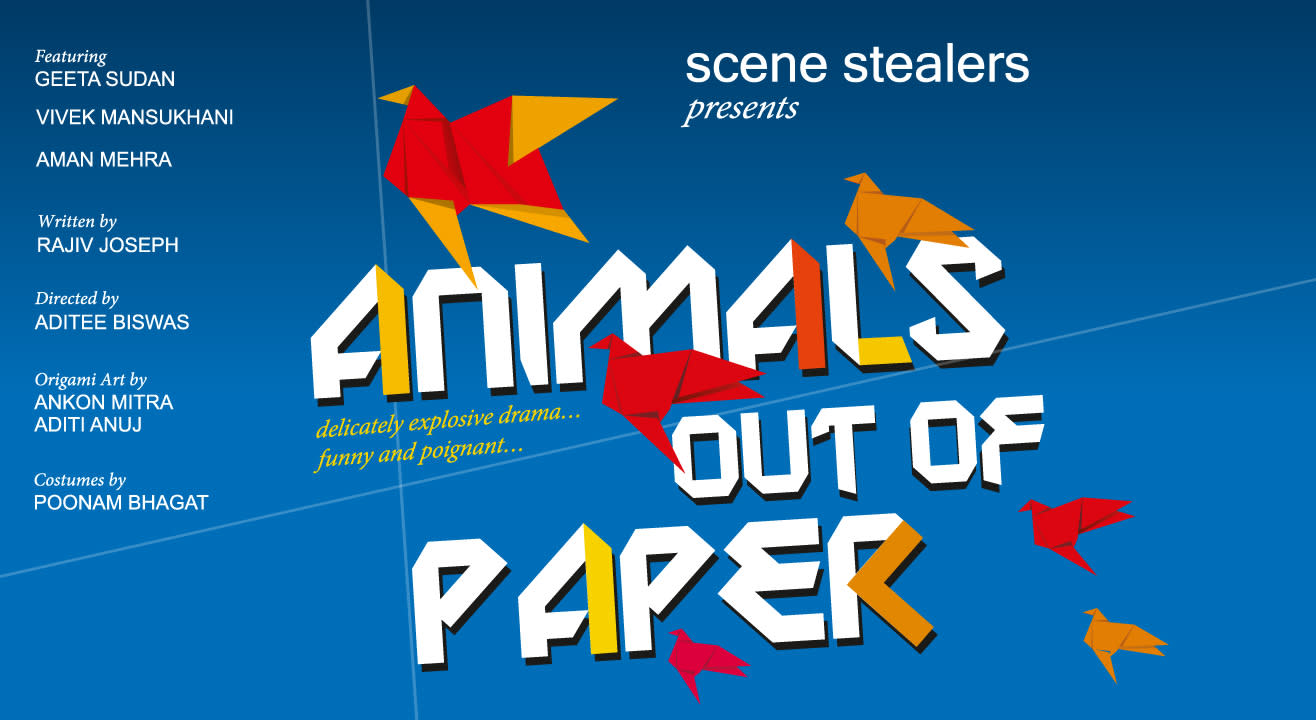 Drama
Animals Out Of Paper
February 29 & March 1 - 7PM Onwards
About
Nina, a world-renowned origami artist, is stuck. That is, until she opens her studio to an eccentric high school teacher, Andy, and his teenage student Suresh, an origami prodigy. These three intriguingly flawed characters begin to reshape and mould each other's lives in much the same way they fold and crease their origami art.
Written by Rajiv Joseph
Directed by Aditee Biswas
Featuring Geeta Sudan, Vivek Mansukhani, Aman Mehra
Light Design: Himanshu B Joshi
Sound Design: Rahul Nigam
Artist Bios:
Geeta Sudan (Actor)
Geeta has acted in The Good, The Bad and The Bollywood, Neil Simon's Barefoot in the Park, Yellow Brick Productions' musical Dirty Laundry, a dramatised reading of Eugene Ionesco's Chairs, Rasik Chopra's Plan in Peril, as the ghost in the thriller Lady in Black , as Dotty in the comedy Noises Off, and in the musical comedy Strictly Dandia. She has acted in several MSOSA annual productions including Darling and a Hindi adaption of You Can't Take it with You. She has played the role of Ismat Chugtai in a production by Lushin Dubey and in Ruchika's productions Pardah and Panch Parmeshwar. Geeta's film credits include No One Killed Jessica and cameos in Veere Di Wedding, The Short Requiem and the Amazon web series Made in Heaven.
Vivek Mansukhani (Actor)
Vivek's acting credits include The Perfect Evening, Lend Me A Tenor, Art, Tara, Bravely Fought the Queen, William Shakespeare's Othello: A Play in Black and White, O Come Bulky Stomach, Habeas Corpus, Antigone, Six Degrees of Separation, It's All About Sex Honey, A Perfect Evening, Plan in Peril. Founder and Artistic Director of New Delhi based theatre company Scene Stealers, Vivek has directed No Room for Love, Funny Money, Duet for Three, Don't Dress for Dinner, The Complete Works of William Shakespeare (abridged), An Absolute Turkey, Rumours, Identities, Strictly Dandia. He has acted in the films In Othello and Dil Dosti etc.
Aman Mehra (Actor)
Born in London, brought up in India and trained in Los Angeles, Aman Mehra continues to explore all aspects of the film and theatre industry. Grandson of veteran filmmaker F.C. Mehra, he has been passionate about acting from a young age. He completed his schooling in New Delhi before graduating from the University of Southern California in Los Angeles, with a B.F.A in Acting. He also attended a six week intensive at the Royal Academy Of Dramatic Arts (RADA) in London. He has worked on a number of feature films, theatrical productions and commercials, internationally. He was also featured as one of the 'Ten Dynamic Debuts of 2016,' by Verve Magazine, India.
Aditee Biswas (Director)
An Erasmus Mundus Scholar and a MA in International Performance Research from the University of Warwick and Universitiet van Amsterdam, Aditee completed her Master's in Theatre Techniques and Design from the National School of Drama (NSD). Her plays include Portrait of Dora, Untitled, In/Out/In, Bali, √2 (Square-root Two), Close (a double bill featuring Betrayal and The Dumb Waiter), 86000 Sekendalu and S/he. Aditee instituted the Ilhaam Collective with Priyanka Pathak. She received the Sangeet Natak Akademi's Bismillah Khan Yuva Puraskar, 2012, for her work in the field of Theatre Direction. Aditee also teaches theatre and is a visiting faculty member at several leading educational institutions and universities in India.
Rajiv Joseph (Writer)
Rajiv Joseph's play Bengal Tiger at the Baghdad Zoo was a 2010 Pulitzer Prize finalist for Drama and also awarded a grant for Outstanding New American Play by the National Endowment for the Arts. He has twice won the Obie Award for Best New American Play, first in 2016 with Guards at the Taj (also a 2016 Lortel Winner for Best Play) and then, last year, for Describe the Night. Other plays include Archduke, Gruesome Playground Injuries, Animals Out of Paper, The Lake Effect, The North Pool and Mr. Wolf. Joseph has been awarded artistic grants from the Whiting Foundation, United States Artists and the Harold & Mimi Steinberg Charitable Trust. He is a board member of the Lark Play Development Center in New York City, where he develops all his plays. He served for three years in the Peace Corps in Senegal and now lives in Brooklyn, NY.