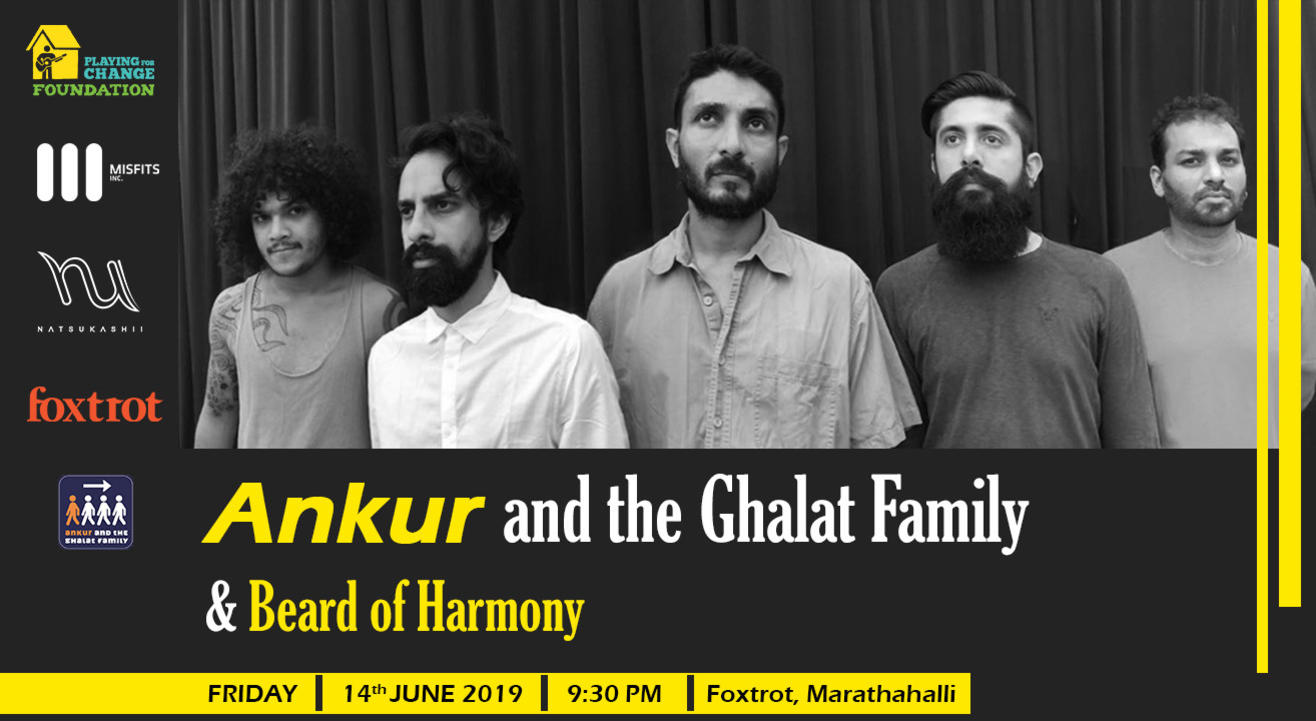 Music
Ankur and the Ghalat Family for PFCF
Foxtrot Gastropub, Marathahalli, Bangalore
350 (INR 150 cover charge to be paid at the venue)
About
Playing For Change Foundation
With successful art & music education programs established in 11 developing countries around the world, Playing For Change Foundation is now making a difference in India. Since September 2018, we've witnessed musicians come together to share the stage and take a stand supporting "One World". The community of artists and music lovers is growing by the day!
Ankur and the Ghalat Family
Ankur Tewari moonlights as a singer - songwriter, he is also a composer, music supervisor & poet. He is the music supervisor behind Gully Boy's critically acclaimed 18-track album, and has composed various tracks for the same. Ankur & The Ghalat Family - known for their easy acoustic ballad style folk-rock -comprises of Sid Coutto, Johan Pais, Vivaan Kapoor & Gaurav Gupta. Revered as one of the most innovative Hindi rock bands in India, they've been busy soulfully creating some of the grooviest folk rock & acoustic ballads infused with unique Hindustani influences.
Beard of Harmony is a two-piece acoustic sensation based out of Bangalore. Just back from the Pan-Asia 'Trailing Roots' tour, Sreejith (The Beard) and Ruben Simon have spread music together for 3 years now. Sreejith (lead vocals) plays rhythm guitar and Ruben leads on the guitar and sings the vocal harmonies. Together, they sing their hearts out on this acoustic and melodious journey - their voices are a perfect blend to douse the thirst for soul in music. Their influences in music travel through genres and are inspired by many great artists, ranging from Simon & Garfunkel to Metallica.
Venue
Foxtrot Gastropub, Marathahalli, Bangalore
2nd Floor, NTR Royal Plaza, Home Building, Outer Ring Rd, Marathahalli Village, Marathahalli, Bengaluru, Karnataka 560037
GET DIRECTIONS