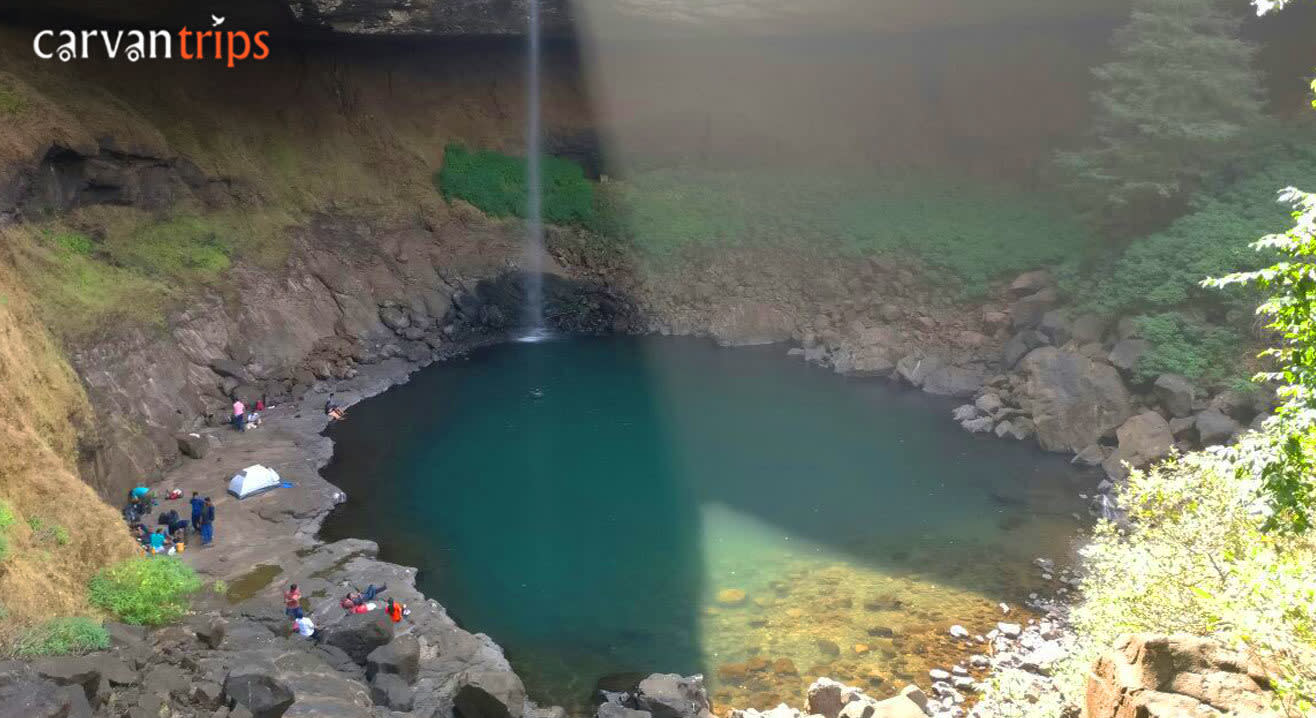 Trek
Anniversary Special - Trek to Devkund Waterfall
About
When we started carvanning, we were just mere Hippies at heart with dreams on tow, had set out to cover miles of distances. Over the past year we have been tailor-making breath-taking experiences for all souls out there who know that life is about how we set out sometimes to look out for our own little moments of ecstasy & wanderlust.
This August CarvanTrips isn't just turning a year old, for our Carvan is now 10000 people strong! Each member has been a crucial part of our whole journey till now.
For our upcoming Anniversary we go back to our first Road Trip to the mesmerizing Devkund Waterfall. As the name suggests, it is a heavenly pond, a hidden treasure of natural beauty. It is so surreal, you'd have to rub your eyes to believe that it actually exists! About 130 KMS from Mumbai is Devkund. To find this place, one has to trek through a pathless jungle. After wandering and treading the fading trails through the thick canopies and rivers, you suddenly witness the pool of water, glittering in sunlight, and casting an exotic greenish blue tinge to the pond beneath. The route to reach the base village is well known for its curvy bends, lush greenery and numerous waterfalls.
Let us all come together and take a Road Trip together as CarvanTrips turns ONE and create an unforgettable experience as we trek to this mystical waterfall & pond. See you there!
05:30 AM – Meet at Kalamboli McDonalds, before express highway
08:30 AM – Reach the base village Bhira and have breakfast
08:45 AM- Briefing and Introduction session
09:00 AM - Start the trek through jungle surrounded by majestic mountains
11.00 AM - Reach the place and take a dip into the heavenly water body of Devkund
12:00 PM – Leave from Devkund back to the base village
02:00 PM – Arrive at base village and have Lunch
02:30 PM – Debrief and disperse with beautiful memories

For those coming by their own vehicle –
Please make sure your vehicle is in proper travelling condition (Oil, Air pressure, fuel, spare tyre, etc). We will not be able to provide any mechanical support in case your vehicle breaks down.
For those who do not have vehicle but intend to come in one –
Please inform us in advance so that we can try to accommodate you into any vehicle available. Please note that this is subjected to availability and we do not guarantee it.
Breakfast, Trek, Lunch (Veg), Organizing and Expertise charges.
Transport and Travelling, other charges not mentioned.
Avoid carrying heavy weight backpack for this trek. Keep everything covered in a plastic bag as there are high chances of raining.
The food provided would be simple village food

I will be trekking for the first time/ after a long time, how do I prepare for it?
Walk for 5 kms (non-stop), 1 week before the trek
Run for 2 kms (non-stop), 2 days before the trek
Rest one day prior to the Trek, eat well the night before and don't consume any Alcohol
Full/ Half sleeve T-shirt with stretchable Gym Pants/ Yoga/ Track pants/ Shorts. Please DO NOT WEAR Denims or formals.
Good Quality Trekking/ Hiking shoes Compulsory (Floaters and Sandals are not allowed) or a comfortable pair of sport shoes with a good grip. Please don't wear formal/ casual/ leather shoes and please ensure the shoes are of good quality and not old as to avoid wear and tear, especially of the shoe sole, during the trek.
Wind cheater/ Water proof Jacket
Water (2 Litres) Compulsory
Food (Dry Snacks, Biscuits, Theplas, Parathas), Plum cakes, Fruits (Banana) for the Summit
Personal First Aid Kit
Cap, goggles, sunscreen etc.
Electral powder / Glucon D / Tang
A backpack to carry everything (No handbags or jholas)
Personal Sanitary Kit
Extra Pair of Clothes and socks
A light pair of slippers in the bag (for post trek).
For all the details, please click here
Venue
McDonald's, Kalamboli
Plot No. 13, Ground Floor, Sector 1E, Kalamboli, Navi Mumbai, Sector 1, Kalamboli, Panvel, Mumbai, Maharashtra 410218