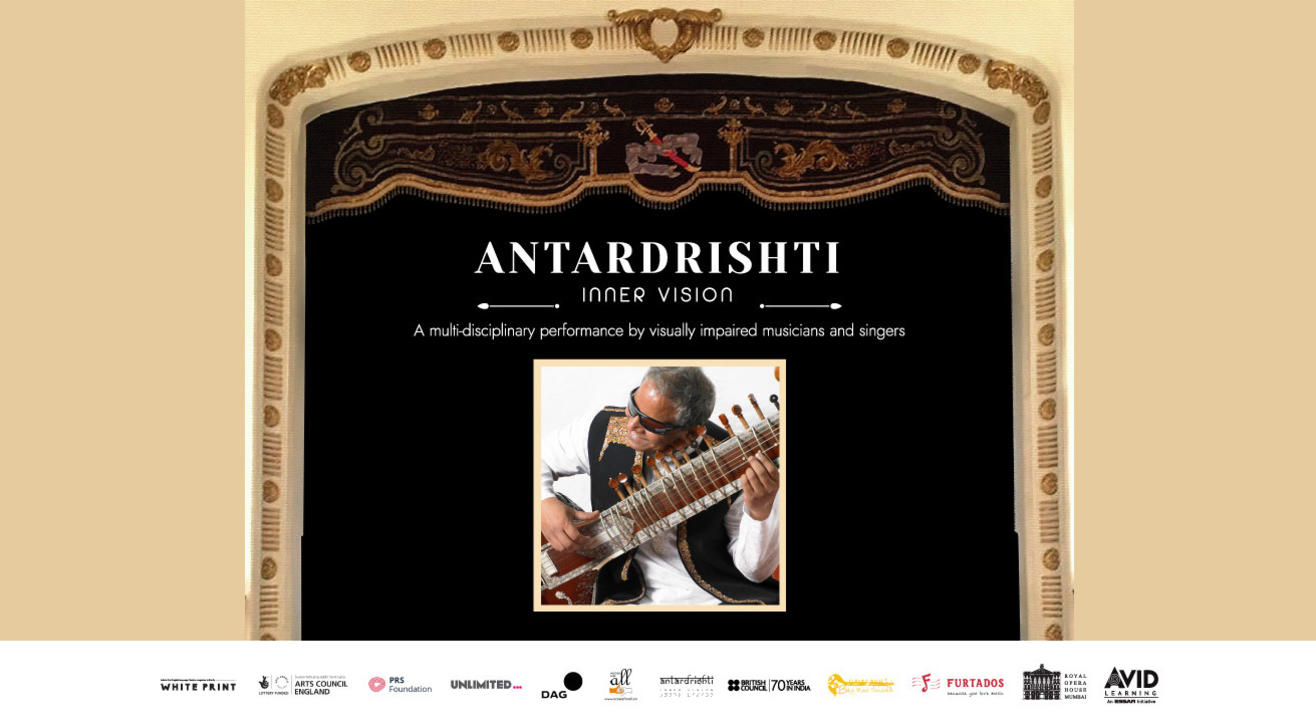 Antardrishti - Inner Vision
The Royal Opera House, Mumbai, Mumbai
Invite your friends
and enjoy a shared experience
Antardrishti - Inner Vision
The Royal Opera House, Mumbai, Mumbai
Invite your friends
and enjoy a shared experience
Invite your friends
and enjoy a shared experience
The Royal Opera House, Mumbai in collaboration with British Council and Avid Learning proudly present Antardrishti - Inner Vision, a music, dance and audio-visual extravaganza produced by London-based organisation, the Baluji Music Foundation. The project will premiere at the Queen Elizabeth Hall, Southbank Centre in September 2018 during their Unlimited festival, followed by a performance at the Norwich Arts Centre and then in India in partnership with the British Council in Delhi and Mumbai.
Led by multi-instrumentalist Baluji Shrivastav OBE, who is visually impaired, the performance will feature Inner Vision Orchestra which is the UK's only blind orchestra. The programme will also feature digital artistsAddictive TV who create music you can 'see' as well as professional visually impaired musicians from across India including tabla/ vocals Raju Maurya, Indian flute Perumal Varudaraj, Indian violin Chiman Lal, vocalist Sayani Palit and classical Indian dancers from Delhi's Arunima Kumar Dance Company.
To dimensionalise the evening and showcase initiatives for and by the visually impaired we will feature a pop-up of Braille tactile art works created by visually impaired students curated by Siddhant Shah - DAG and a selection of Braille - tactile alphabet books in Hindi and English known as 'Tactabet' brought by lifestyle magazine written in braille, 'White Print'.
Baluji Shrivastav OBE is a blind musician who excels in playing the sitar, dilruba and tabla among other traditional Indian instruments. Described as 'one of the greatest instrumentalists to come from India' by the High Commissioner of India, and by London's Evening Standard as 'sitarist to the stars', his incredible versatility has led him to work with acts like Massive Attack, Stevie Wonder and Coldplay and of course many of India's finest artists including Ustad Faiyaz Khan, Anindo Chatterji and Akram Khan. Baluji has released 8 albums through ARC Music including: 'Classical Indian Sitar and Surbahar Ragas', 'Shadow of the Lotus' and 'Re-Orient - Indian World Music Fusion'. His latest album 'Best of Baluji Shrivastav' was released in 2017 on Arc Music. It was described by Songlines as an album of "convention-defying Indian compositions... you'll want to play over and over again" and received many airplays particularly on the BBC Radio network, including the World Service, BBC Radio 3 and BBC Asian Network. In 2008, he founded the UK registered charity Baluji Music Foundation (BMF) to encourage disabled people to get involved in music, music being such an important part of how he communicates with the world. Their motto is "sharing the joy of music" which they promote through performances, workshops, collaborations, research and inter-disciplinary and cross- cultural projects. They celebrate the power of music to transform lives. Baluji also set up the Inner Vision Orchestra (IVO), the UK's only orchestra of blind and visually impaired musicians, to address their absence in the music industry in the UK. They have organised successful national tours across the UK since 2012 with over 30 concerts. Members of the IVO performed at the London 2012 closing ceremony of the Paralympic Games. They have also performed on national television and radio, including BBC World Service and BBC World News. Filmmaker Marie-Cécile Embleton is currently producing the documentary "Colours of Sound" about the ensemble and has made a documentary "Inner Vision Orchestra on Tour". In 2016, Baluji was awarded the OBE for services to music. The same year, he also received the GG2 Achievement through Adversity Award and in 2017, he was awarded the prestigious NRI Awards from The Times Group India for Art and Culture, and a World Peace and Prosperity Foundation Award at the House of Lords. Further info about Baluji Music Foundation: balujimusicfoundation.org
The Royal Opera House, Mumbai is widely touted as Mumbai's Cultural Crown Jewel and India's only surviving Opera House. The original idea for the space was conceived of in 1908, inaugurated in 1911 by King George V, and eventually completed in 1916. The design incorporated a blend of European and Indian detailing. The space became a cinema in later years before falling into disrepair and shutting by the 1990s. Fittingly, the space has been owned by the Royal Family of Gondal since 1952 and was eventually restored by conservation architect, Abha Narain Lambah under the leadership of His Highness, Maharaja Shri Jyotendrasinhji of Gondal. The Royal Opera House Mumbai, now one of the last remaining Baroque structures in the city, reopened after 23 years in October 2016. The building was included on the 2012 World Monuments Watch to raise awareness about its history and significance, and support preservation efforts. The building has since been recognized with an Award of Merit in the 2017 UNESCO Asia-Pacific Awards for Cultural Heritage Conservation. The restored facilities feature a 575-seater 3-level auditorium with an orchestra pit and state of the art technological upgradations, including acoustics, stagecraft, lighting and air-conditioning, alongside retaining the old world charm of the proscenium stage, the royal boxes and the magnificent regal chandeliers. Some more enhancements to the venue include a motorized screen, co-axial ceiling speaker system, Four-zone volume control and all round wifi access. Today, it stands as a key performance and creative hub in the city's cultural landscape, while being a premier heritage landmark. Facebook: MumbaiOpera Twitter: @MumbaiOpera Instagram: @mumbaiopera
The British Council is the UK's international organisation for cultural relations and educational opportunities. We create friendly knowledge and understanding between the people of the UK and other countries. We do this by making a positive contribution to the UK and the countries we work with – changing lives by creating opportunities, building connections and engendering trust. We work with over 100 countries across the world in the fields of arts and culture, English language, education and civil society. Each year we reach over 20 million people face-to-face and more than 500 million people online, via broadcasts and publications. Founded in 1934, we are a UK charity governed by Royal Charter and a UK public body. 2018 marks 70 years of the British Council in India. We have been inspired by India every day of the last 70 years and want to build on the connections and impact of our work, share those stories and inspire millions of young people for the next 70 years.
Avid Learning, a public programming platform and cultural arm of the Essar Group, has conducted over 900 programs and connected with more than 100,000 individuals since its inception in 2009. Driven by the belief that Learning Never Stops, AVID's multiple formats like Workshops, Panel Discussions, Gallery Walkthroughs, and Festival Platforms create a dynamic and interactive atmosphere that stimulates intellectual and creative growth across the fields of Culture and Heritage, Literature, Art and Innovation.
Facebook : www.facebook.com/Avidlearning; Twitter : www.twitter.com/Avidlearning; Instagram: @avidlearning
The Royal Opera House, Mumbai
Mathew Rd, Charni Road East, Opera House, Girgaon, Mumbai, Maharashtra 400004
GET DIRECTIONS
Antardrishti - Inner Vision
The Royal Opera House, Mumbai, Mumbai
Invite your friends
and enjoy a shared experience