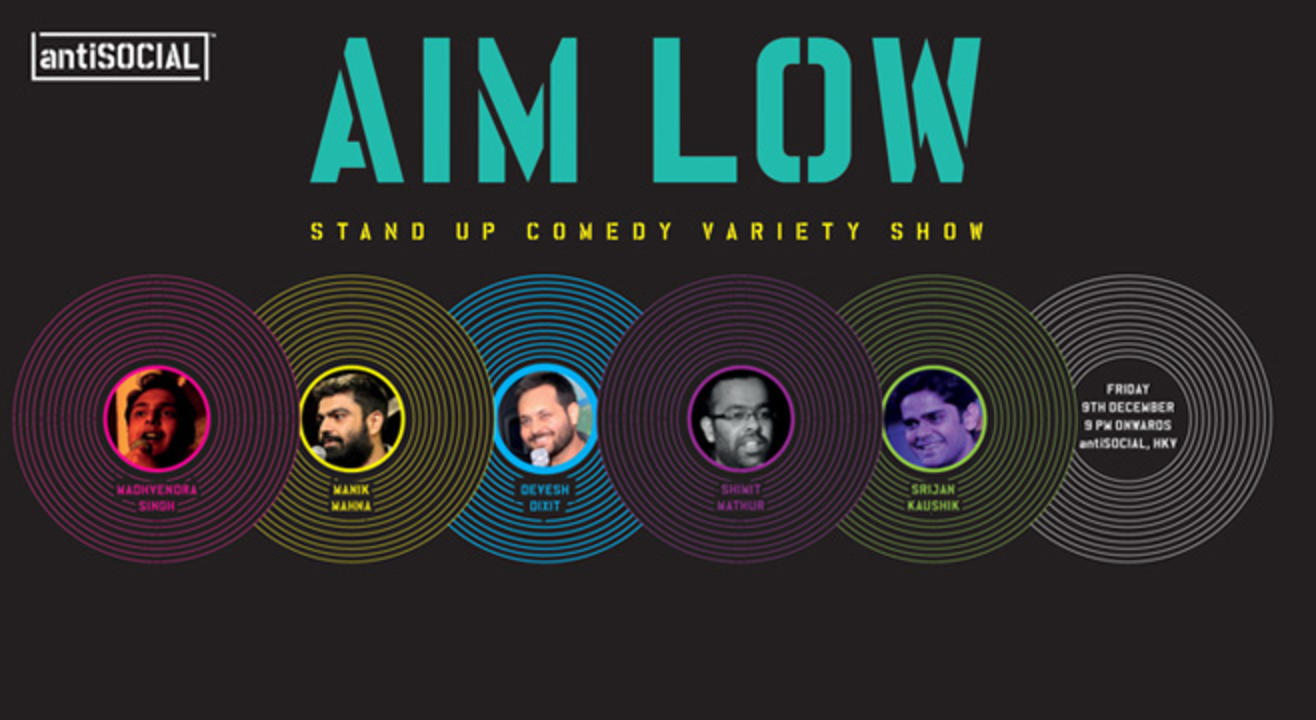 AntiSOCIAL Presents : AIM LOW - Stand Up Comedy
Step out and enjoy this event
Invite your friends
and enjoy a shared experience
AntiSOCIAL Presents : AIM LOW - Stand Up Comedy
Step out and enjoy this event
Invite your friends
and enjoy a shared experience
Invite your friends
and enjoy a shared experience
AIM LOW is a collaboration of some of the most funny and witty characters in the Delhi Comedy Circuit. The Standup Comedy show consists of some of the rib tickling punches which are mandatory for your soul. Get set for an evening full of Entertainment with some of the most Prolific Talents from the Comedy Circuit.
Details of Artists Performing :
Srijan Kaushik: Srijan's identity crisis is rooted in his upbringing. He was born in Delhi, grew up in Rajasthan, studied in Gujarat and worked in Bangalore. A single child, raised in a dysfunctional joint family, he had an ideal environment to derive his humour from. Despite life offering a lot of different scenarios, Srijan still found time to be mundane, as he pursued the dreams of his parents and did his engineering and MBA. An optimist by nature, he tries to see the silver lining in any situation. After he bombs (lingo for stand up routine not going well), you can often find him saying - 'I can only go up from here', before he mumbles his way through another monologue.
Madhvendra Singh – His forte is brevity
Manik Mahna - Manik Mahna is a stand up comedian based out of
Delhi. He is good enough to be on this show but not good enough to have a bio. if you enjoyed this bio you can look forward to more of the same quality in the show.
Shimit Mathur – He is a responsible indivusual but also suffers from socially awkward disorder and despondency. He appears to have had a miserable upbringing. He is plagued by paranoia as to how others perceive him, and by doubts over whether his actions are normal.
Devesh Dixit - A devoted son, a dedicated husband, a loving father...whoever you are...you will , most probably, appreciate his weirdly unique sense of humour. A regular in Delhi's comedy circuit, some (like a very few) people call him "The Rising Star of Comedy", he prefers "adult prodigy". His act, like his life, revolves around him.
"Funny is just a state of mind" –RA GA
"2002 kids will remember this" – Supreme Leader
"YOLO" – The Kejriman
antiSOCIAL, Delhi
12, 3rd Floor, Hauz Khas Village, Delhi NCR
GET DIRECTIONS
AntiSOCIAL Presents : AIM LOW - Stand Up Comedy
Step out and enjoy this event
Invite your friends
and enjoy a shared experience