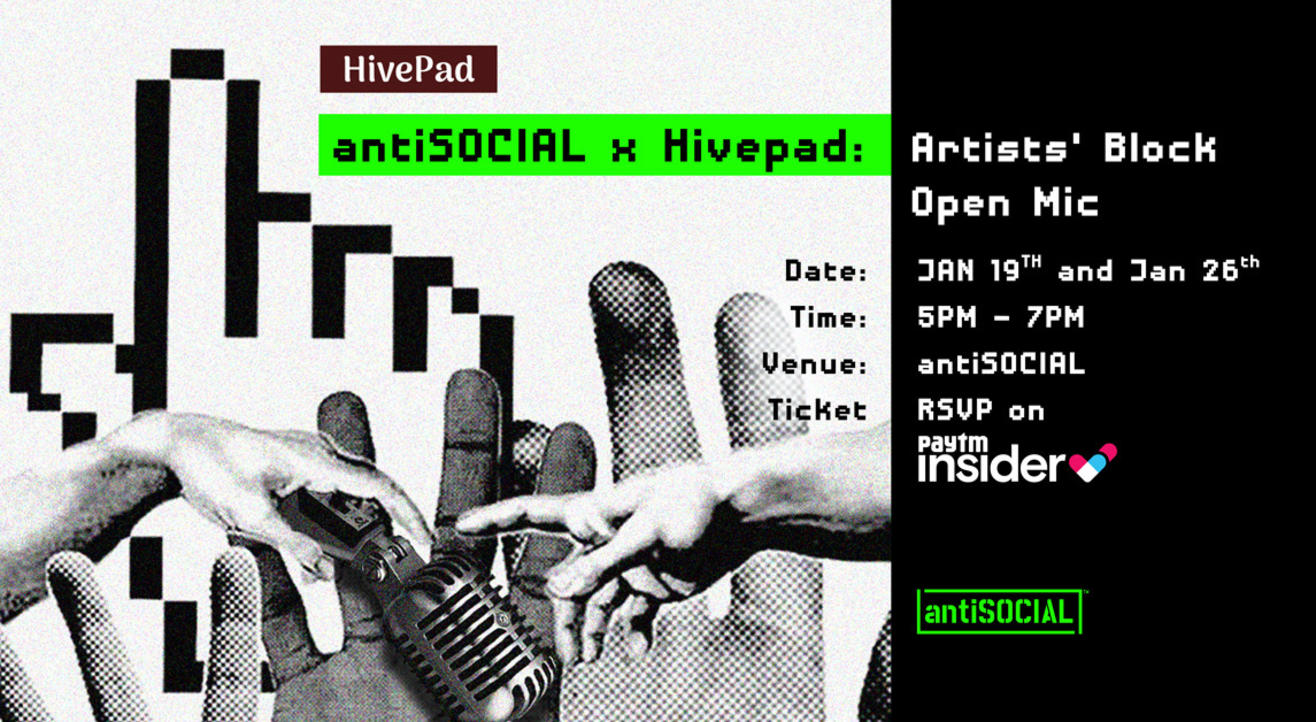 Open Mic
antiSOCIAL x HivePad: Artists' Block Open Mic
January 19th & 26th | 4PM
About
HivePad brings together communities to experience artists in the intimacy of homes and unconventional spaces. We've hosted artists like Tejas, Ramya Pothuri, Aarifah D'Mello, Osho Jain, and many more!
About Artists' Block: An open mic session for budding artists to perform and established artists to try out their original material in front of live audience at AntiSocial (a little
brief about AntiSocial). Open-mic events are full of kindred spirits. We'll welcome entries for poetry, story telling, acting monologue, singing and all things music – of course! Show up early, stay late, chat and ask questions. Who knows — you might meet your next collaborator!
Date: 19th Jan & 26th Jan
- Time: 5 to 7 pm
- Venue: antiSOCIAL, Lower Parel Mumbai
* To perform, register on the form: https://forms.gle/Bg975GN4xtvXwhB66
* Audience need to RSVP or 'Pay what you want' (funds will go towards the artists) on the following link: https://imojo.in/artistsblock
Things to note for performers:
- Please fill up the performance request using the form above.
- We will release the final performers list 5 days prior to the event.
- We've got limited spots for each performance. The slot time is 6 minutes each. We will be indicating at 5 minute 30 seconds as a signal for you to finish the set.
- Special Project/Book Launch: If anyone is doing or have done any project or launched anything in the field of Comedy, Music, Poetry, Writing or any other passion – please write to us at hivepad.experiences@gmail.com so that it can be showcased in the event.
- If any information required, please mail us on hivepad.experiences@gmail.com
Please follow us on Instagram at @hive.pad - we're an organically growing community and such traction goes a long way. See you at AntiSocial soon