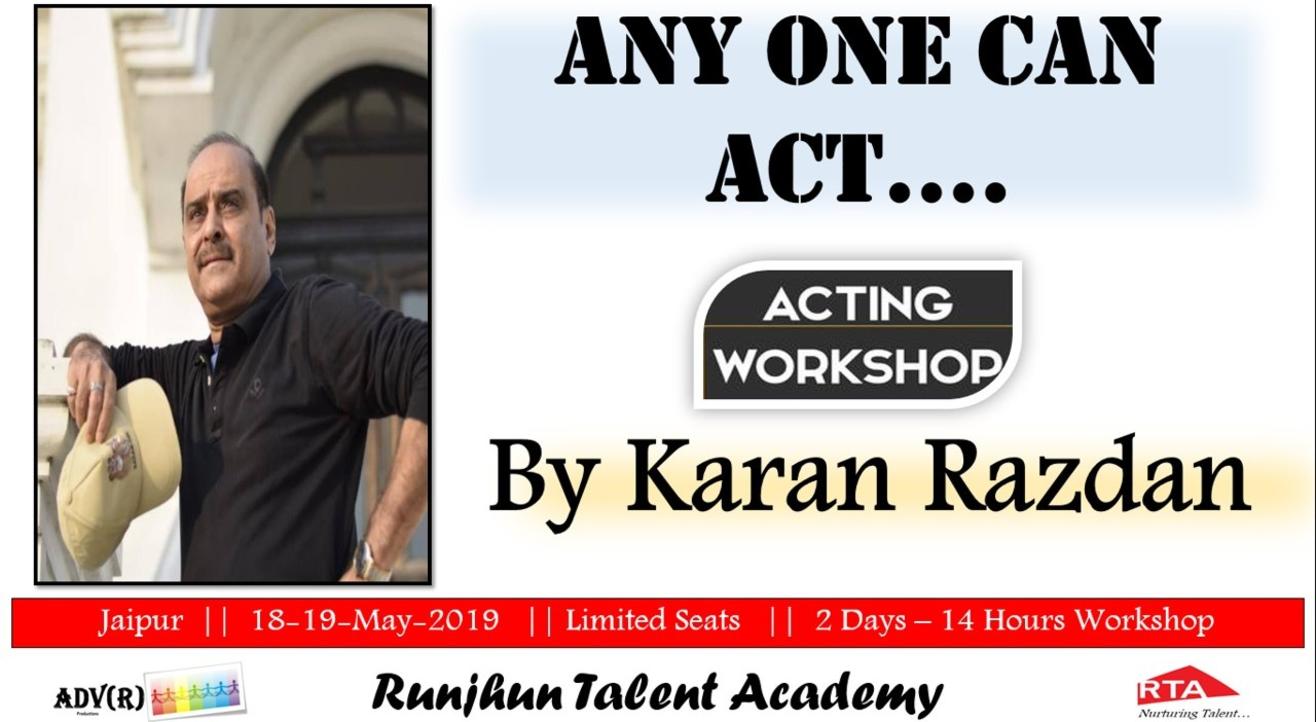 Learn
Anyone Can Act - Acting Workshop by Karan Razdan
About
Runjhun Talent Academy (RTA) & ADVR Productions are all set to make this Summer rocking for all acting enthusiasts in Jaipur. They have brought a 2 Day workshop - Anyone Can Act by one & only Karan Razdan.
Karan needs no introduction, he is the creator of master pieces like Rajani, Tehkikaat, Dilwale, Diljale & many more.
He is an Author, Writer, Director, Actor & Motivator. He is an Alumuni of the National School of Drama.
He has Acted in movies like Disco dancer, Rajni, Kasam Paida karne wale ki, Zara si Zindgi, Laxman Rekha, FLIP ( on Eros now) and many more. H
He has written block buster movies like Dilwale, Diljale, Qayamat, Trimurti, Deewane, Dushmani and many more.
He has written & directed the epic TV Serials Rajani & Tehkikaat.
He has written two books : Tantra and the Tantrika & The Secret Law of Blessing, which have been the best sellers.
This workshop will provide a once in life time oportunity to the particpants to learn the nuances of Acting from Karan live for 2 days (Daily 7 Hours). This would be a totally hands on , interactive & intense Acting workshop with no pre requisites at all as the title says ANY ONE CAN ACT.
Venue
Sarovar Portico Jaipur
Plot Number 90, Sarthi Marg Off Queens Road, Bhan Nagar - B, Vaishali Nagar, Bhan Nagar, Jaipur, Rajasthan 302021