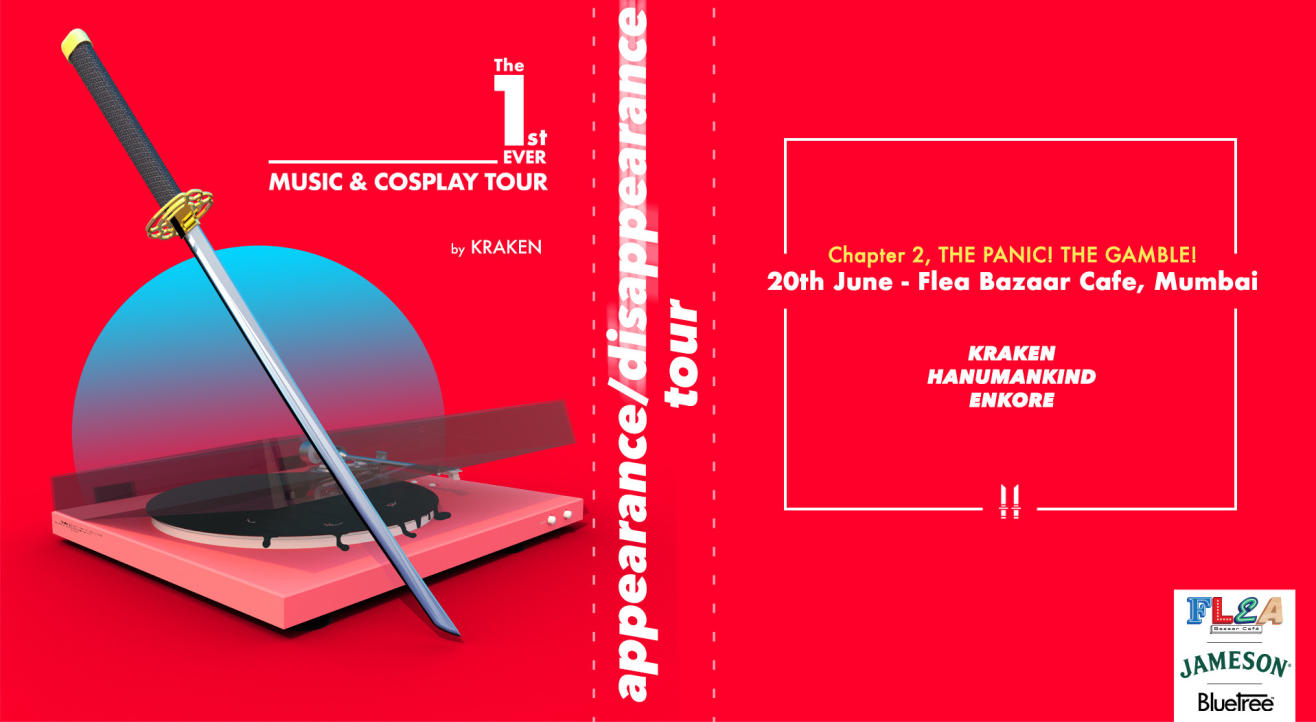 Appearance Disappearance Tour by KRAKEN| Music+Cosplay
FLEA Bazaar Café, Mumbai, Mumbai
Step out and enjoy this event
Invite your friends
and enjoy a shared experience
Appearance Disappearance Tour by KRAKEN| Music+Cosplay
FLEA Bazaar Café, Mumbai, Mumbai
Step out and enjoy this event
Invite your friends
and enjoy a shared experience
Invite your friends
and enjoy a shared experience
The first of its kind tour by Rolling Stone Award winning act Kraken, where they take their brand of hip-hop and dance infused music along with professional cosplayers, and india's best upcoming rap artists to three cities!
With support from Hanumankind, one of the freshest rappers to have made his way all the way from Texas to rule the rap game in India, by setting up base in Bangalore. And, Enkore, One of Mumbai's fastest growing MC's/Rapper. His debut album "Bombay Soul" was voted one of the best Hip Hop records of the year by Rolling Stone Magazine.
Musically, a perfect combination for a ridiculously LIT evening.
Also, on the bill are Mumbai's finest anime/comic Cosplayers, who will be an important part of the show flow. As the music flows in the background, you get to be a part of a Live Action Anime Scenario!
This festival like gathering promotes you to cosplay, dress up as your favourite show or comic character (or dress casual as you do everyday, thats hella cool too) and just let loose in a way that they you on a daily basis (even at gigs). AND, if you just want to turn up and have a lit time, thats brilliant too!
Groovy music, memorable melodies, cosplayers and a safe space to be yourself - in every way possible.
You can't possibly miss being a part of this music+cosplay+dress up/dress down threeway!
This show has been put together by the people and for the people. Come show your support and get to be a part of the finest tour concepts.
Bring friends, family, lovers. The more the merrier.
FLEA Bazaar Café, Mumbai
Unit No 5, 1st Floor, Trade View Building, Oasis City Complex, Mumbai, Maharashtra 400013
GET DIRECTIONS
Appearance Disappearance Tour by KRAKEN| Music+Cosplay
FLEA Bazaar Café, Mumbai, Mumbai
Step out and enjoy this event
Invite your friends
and enjoy a shared experience