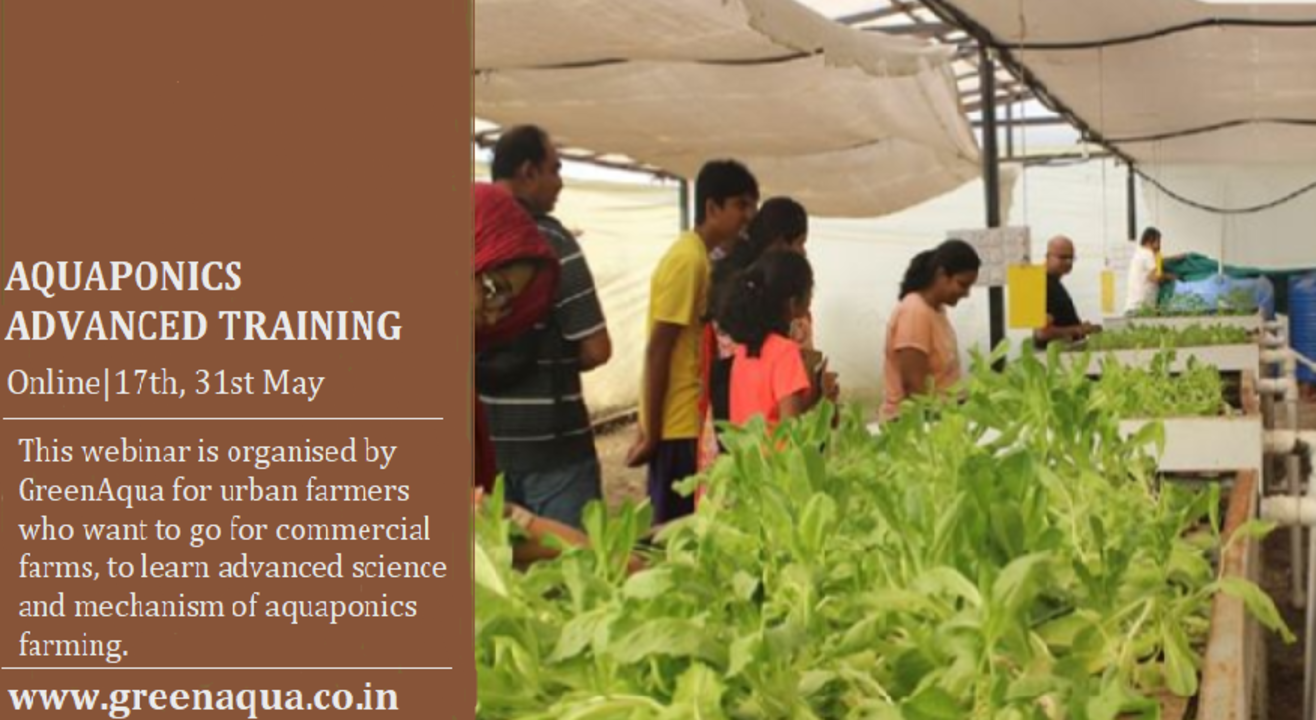 Aquaponics Farming Training -Advanced & Commercial
Invite your friends
and enjoy a shared experience
Invite your friends
and enjoy a shared experience
About the Event
"Expand your commercial aquaponics farm: Learn all important aspects"
This Workshop is organised for urban farmers to learn the advanced theory of science and technical aspects of aquaponics farming. You should have basic concepts, primary hands on of aquaponics farming. This workshop lets participants learn about different aquaponic and hydroponic systems, their utilization in commercial aquaponics farms. At the end of this training, participants will be confident enough to expand their commercial aquaponics farm!
Content of the Workshop:
1. Green house or Shadehouse?
2. Water Flow Loops in Aquaponics.
3. Media bed Fundamentals & Grow bed zones.
4. pH dynamics & pH control in aquaponics.
5. Water Sources for commercial farm.
6. Flow rates in aquaponics.
7. Auto siphon fundamentals (including parts)
8. SLO and Swirl filter functioning
9. Mineralization tank explained
10. Dimensions in aquaponics (pipe, tank)
11. Biofilters
12. Aeration (Air volume, air stones)
13. Farm walkthrough
14. Design criteria.
15. Commercials of aquaponics.
16. Market survey.
17. Virtual walkthorugh of a demo farm.
Participants Age: 20 and above with basic aquaponics knowledge.
Course Level: Advanced
Workshop Facilitator: Abhishek Dutta & Moumita Mukherjee
Abhishek Dutta: With a degree from Annamalai University in Marine Biology, Abhishek completed an international Pvt. certification (from Australia) in Aquaponics and has been working for more than a decade in Aquaculture and IT consulting industry. He is very passionate about sustainable natural farming, integrating technology. He has been researching for more than 5 years on the modern techniques (Aquaponics and Hydroponics) of agriculture and putting his best effort to make it available for Indian farmers.
Moumita Mukherjee: Moumita has an M.Sc in Zoology and MBA in Marketing and IT. She quit her corporate job to dedicate herself to ' GreenAqua', with a mission to help people grow and eat safe food, save water, promote go-green and gain a sustainable living concept as a tribute to mother nature. She has been practising Aquaponics farming for 3 and half years.
www.greenaqua.co.in
Facebook: https://www.facebook.com/Naturalfarmingatpune/
Instagram: https://www.instagram.com/thegreenaqua/
Note:
*Training will be on Webex. Password will be sent into participant's E-mail id, once registered.
*Viewers need to ensure good internet connectivity on their side for a seamless experience.
*The organizer will not be responsible for any issues pertaining to internet connectivity.
GreenAqua Aquaponics advanced training teaser