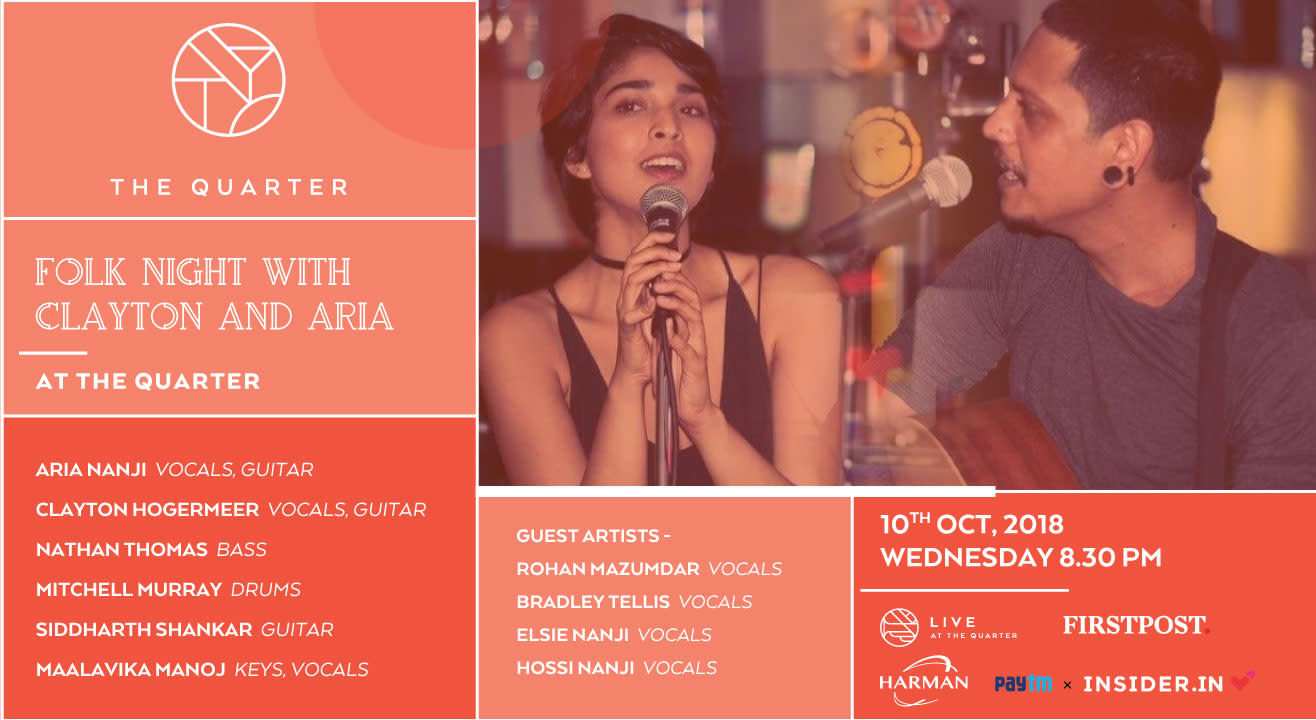 Music
Folk Night with Clayton and Aria at The Quarter
Wednesday | October 10 | 8:30PM
1,249 - 1,699 (Prices subject to change)
About
Clayton and Aria are a duo from Bombay who are influenced by singer songwriters from the 60's and 70's such as Simon and Garfunkel, James Taylor, Joan Baez, Bob Dylan etc. Their original music is lyrically thought-provoking with a rich tapestry of melodies and harmonies.
They will be playing a set of their original music and covers with their band, Nathan Thomas on Bass, Siddartha Shankar on Guitar, Maalavika Manoj on Keyboard and Mitchell Murray on Drums.
Aria Nanji - Vocals, Guitar
Clayton Hogermeer - Vocals, Guitar
Nathan Thomas - Bass
Mitchell Murray - Drums
Siddharth Shankar - Guitar
Maalavika Manoj - Keys, Vocals

Guest Artists -
Rohan Mazumdar - Vocals
Bradley Tellis - Vocals
Elsie Nanji - Vocals
Hossi Nanji - Vocals
Aria - Cover of "Blackbird" by The Beatles
The Quarter is celebrating world Pizza and Beer Week from the 10th of October to 18th October! Expect some delicious, fresh pizza and lots of beer to go with it 😉🍕🍺 We have a host of exciting packages, so come over, relish and relax! Call on +918329110638 or +919326866986 for bookings!
Venue
The Quarter
Royal Opera House, Mathew Rd, Opera House, Girgaon, Opera House, Girgaon, Mumbai, Maharashtra 400004, India