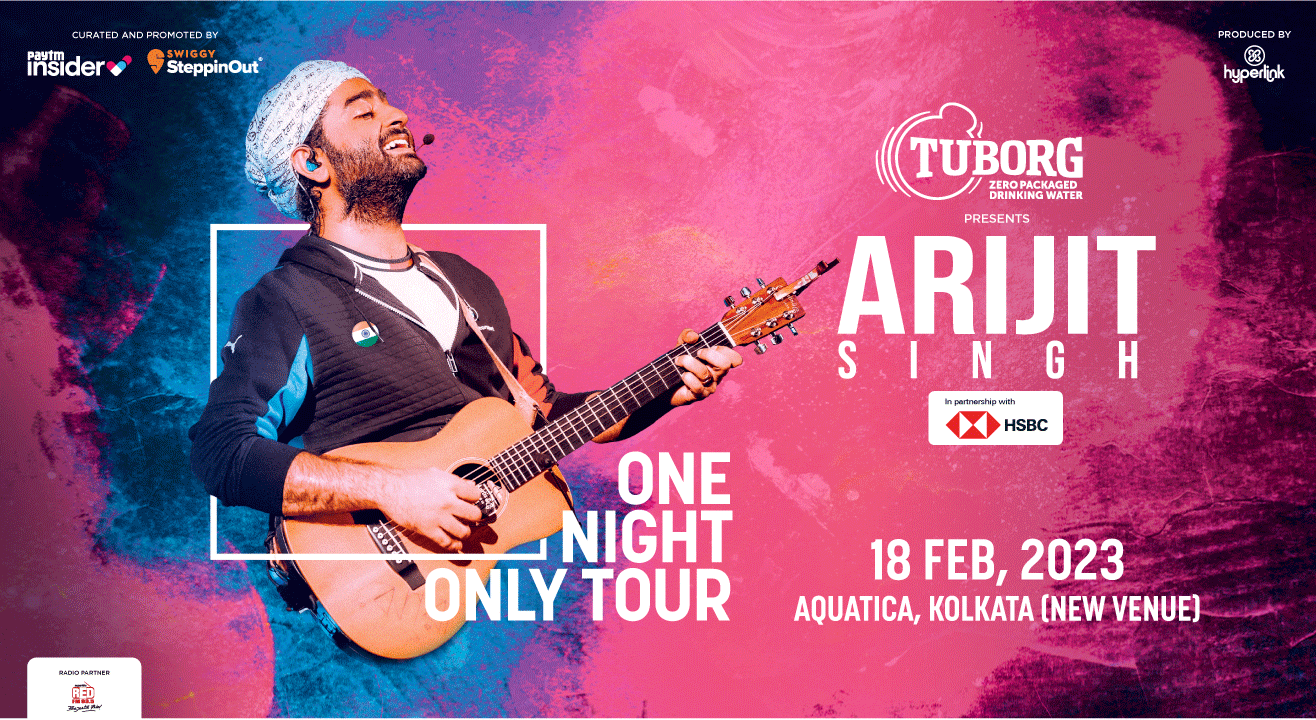 Arijit Singh - One Night Only Tour, Kolkata 2023
February 18 | Gates Open: 6PM Onwards
Step out and enjoy this event
Invite your friends
and enjoy a shared experience
Arijit Singh - One Night Only Tour, Kolkata 2023
February 18 | Gates Open: 6PM Onwards
Step out and enjoy this event
Invite your friends
and enjoy a shared experience
Invite your friends
and enjoy a shared experience
Come sing-along to the beautiful melodies of Arijit Singh, LIVE!
He is FINALLY coming to Kolkata as part of his One Night Only Tour on 18th February 2023.
A universally recognised Bollywood artist, Arijit Singh's dexterity extends to being a singer, composer, music producer and an extremely talented live performer.
Cited as one of the most accomplished singers from India, Arijit's iconic repertoire consists of over 1000 songs. His chart-topper songs like "Tum Hi Ho", "Channa Mereya", "Phir Le Aya Dil", "Duaa", and "Kabira", are just a few that every Bollywood fan has memorised.
What awaits you?
An Experience. An Emotion. A Feeling.
A premium experience that you would not want to miss
So, why wait to get your tickets?
Practice the lyrics to your favourite Arijit songs and come sing along for a once-in-a-lifetime, 'One Night Only' experience!
Frequently Asked Questions:
Is this a standing or a seated show?
Both. The concert has multiple categories of ticket options which grant you entry to either a standing zone or a seated zone.
Is there an age limit to attending the concert?
We wouldn't want anyone missing out on this amazing experience. A few things to keep in mind though, children up to the age of 3 years can enter for free but no seating may be provided for them. Children above that age will require a ticket. Due to the live band performance event, all parents/guardians are requested to bring their kids at their own discretion. If you are under the age of 16, you will need to be accompanied by an adult guardian.
Will there be a parking facility at the venue?
Yes
Will photography or videography be allowed?
No professional photography/videography will be allowed at the concert
Will food, beverages & alcohol be available at the venue?
Yes, Food & Beverage stalls will be present in each section. Alcohol will be available for purchase to people of legal drinking age as per state regulations
Aquatica
Kouchpukur,P.O Hathgachia,P.S. :K.L.C, Near Rajarhat Township, Jodthbhim, Newtown, Kolkata, West Bengal 700156, India
GET DIRECTIONS
Arijit Singh - One Night Only Tour, Kolkata 2023
February 18 | Gates Open: 6PM Onwards
Step out and enjoy this event
Invite your friends
and enjoy a shared experience