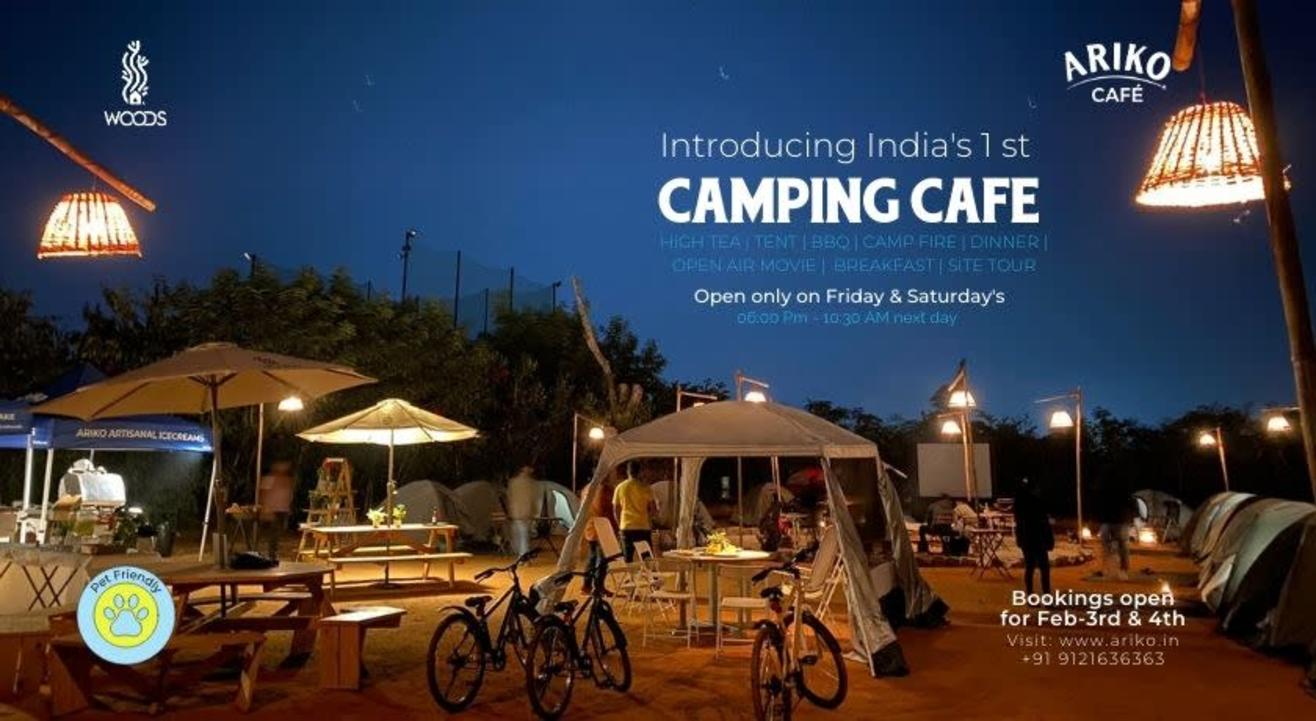 ARIKO & WOODS presents Camping Cafe
February 17 | 6PM - February 18 | 10AM
Woods @ Shamshabad, Hyderabad
Step out and enjoy this event
Event Guide
For Age(s)
Family Friendly
Invite your friends
and enjoy a shared experience
ARIKO & WOODS presents Camping Cafe
February 17 | 6PM - February 18 | 10AM
Woods @ Shamshabad, Hyderabad
Step out and enjoy this event
Event Guide
For Age(s)
Family Friendly
Invite your friends
and enjoy a shared experience
Event Guide
For Age(s)
Family Friendly
Invite your friends
and enjoy a shared experience
Introducing India's first Camping Cafe
Experience nature at its best at India's first Camping Cafe, a unique experience to get away.If you're looking for an escape from your busy life, the Woods@Shamshabad is the perfect place for you. Located near Shamshabad, this camping cafe offers a unique experience that allows you to get close to nature and spend time away from the hustle and bustle of everyday life. At the Woods@Shamshabad, you can enjoy a variety of activities, including sunset high tea, BBQ, camping, and campfire. This is the perfect place to relax and unwind in the tranquil atmosphere of the outdoors. Whether you're looking for a romantic getaway or just want to enjoy some time in nature, the Woods@Shamshabad is the perfect place to do it.
- Check in at 5:00 PM
- Enjoy a sunset with high tea and specialty coffee
- Go around the world's largest miyawaki forest on cycle
- Camp fire with live bbq and dinner under the blanket of stars
- Don't forget to bring your own drink to the camp!
- Movie screening under the stars
- Enjoy the company of friends and family
- Hear the beautiful sound of birds singing when you wake up in the morning
- Tour our dairy, nursery and poultry
- Breakfast with coffee
- Check out at 10:30
World's Largest Miyawaki Forest- WOODS@SHAMSHABAD
Woods @ Shamshabad
78FX+2RF, Unnamed Road, Hyderabad, Telangana 501218, India
GET DIRECTIONS
ARIKO & WOODS presents Camping Cafe
February 17 | 6PM - February 18 | 10AM
Woods @ Shamshabad, Hyderabad
Step out and enjoy this event
Event Guide
For Age(s)
Family Friendly
Invite your friends
and enjoy a shared experience