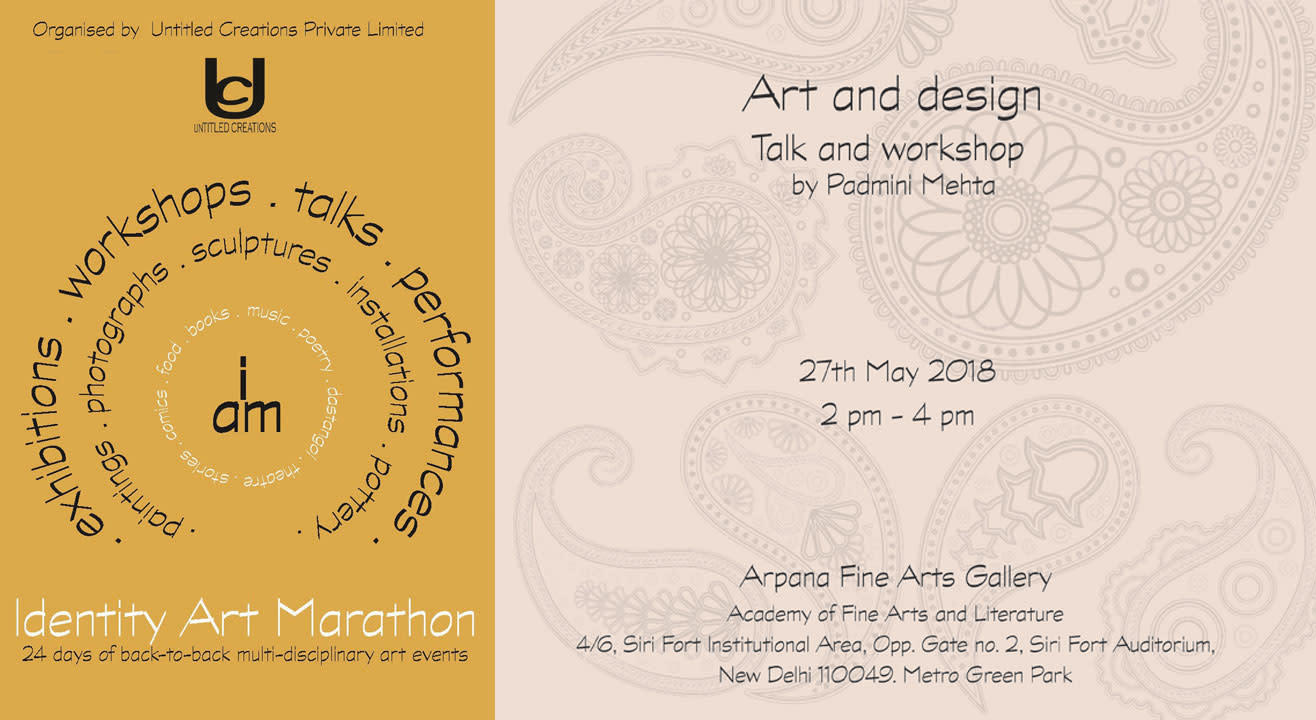 Art
Art and design (Talk and workshop) by Padmini Mehta
About
Art is a medium of expression of one's inner most feelings and sensitivity. The peculiarity of that expression is artistic creativity. Art is an aesthetic object, it is meant to be looked at and appreciated for its intrinsic value.


Art is a diverse range of human activities in creating visual, audio and performing artifacts (artworks), expressing the imaginative or technical skill, intended to be appreciated for their beauty or emotional power. In their most general form, these activities include the production of works of art, the criticism of art, the study of history of art and the aesthetic of art.


The oldest documented forms of art are visual arts, which include creation of images or objects in fields including painting, sculpture with jewellery, pottery, as product of use and further with time period, included art and design in architecture/interior, textile /garment and jewellery designing. The idea of developing these art works is to show deep thought, decoration, contemporary style, travel experience, desire to protect heritage symbols to reinforce the myriad beauty of the nature as objects of art and utility so on.


The examples of these art forms are seen historically from very old periods of time - Harappa (c.2600 – 1900 BCE), Egypt, Mesopotamia, China, Greece, Rome, Indus Valley, then Morays, Sung/Shakya, Kushan, Gupta (6 AD), Mughal (1516-Baber), Rajput, Western-British (1717), pre-independence Indian art (1843-Victoria Era), Raja Ravi Verma, post independence (1860-1960), Modern Art School of Bengal, and later developed cross-cultural influences with Arab, Africa, Europe and Russia in the field of art, architecture, textiles/fashion, jewellery, etc.
Drawing and creativity is a fundamental art & design activity concerned with the visual recording of observations, the expression of concept in visual terms and image making.
The practice of art and design involves the development of perceptual, conceptual, intuitive, imaginative and analytical abilities involving problem-solving, a knowledge and understanding of social, historical and environmental influences, skill, the learning of a specialized vocabulary, and the development of individual talents.
It is clear that the history of textiles is as old as other forms of art - painting, sculpture, literature, jewellery, pottery, etc. The source and inspiration are from history, nature and its aliments, old architectural patterns, etc.

It starts from fibres which are hair-like strands of raw material – that are spun into yarns and woven into fabric. There are 2 types of yarn - natural (silk, wool, cotton and leather) and man made (polyester, rayon, viscose, etc). Putting yarns together by some method such as weaving (web and weft), knitting, felting, bonding, crocheting or the way yarns are put together to form fabric determines the texture. Knowing more about the characteristics of the material itself, one can improve the efficiency of fabric design. Having excellent knowledge of the textile can enhance design creativity.

There are different types of designing - traditional, floral, abstract and ornamental.
Different types of fabrics, according to their make, are divided into, woven, prints and knitted. Their visual effect, colour, thickness, proportion or scale, and design, give a variety of textile and divided into home furnishing (sheet, curtain, carpet, towel, etc)and apparel (clothes, garments).
There are various type of designs and prints - screen print, block print, batik prints, tie and dye, freehand, and nowadays, computer/graphic.

Padmini - artist/designer.
Venue
Arpana Fine Arts Gallery
Arpana Fine Arts Gallery, Academy of Fine Arts and Literature, 4/6 Siri Fort Institutional Area, Opp. Gate No. 2, Siri Fort Auditorium, New Delhi 110049. Metro Green Park.