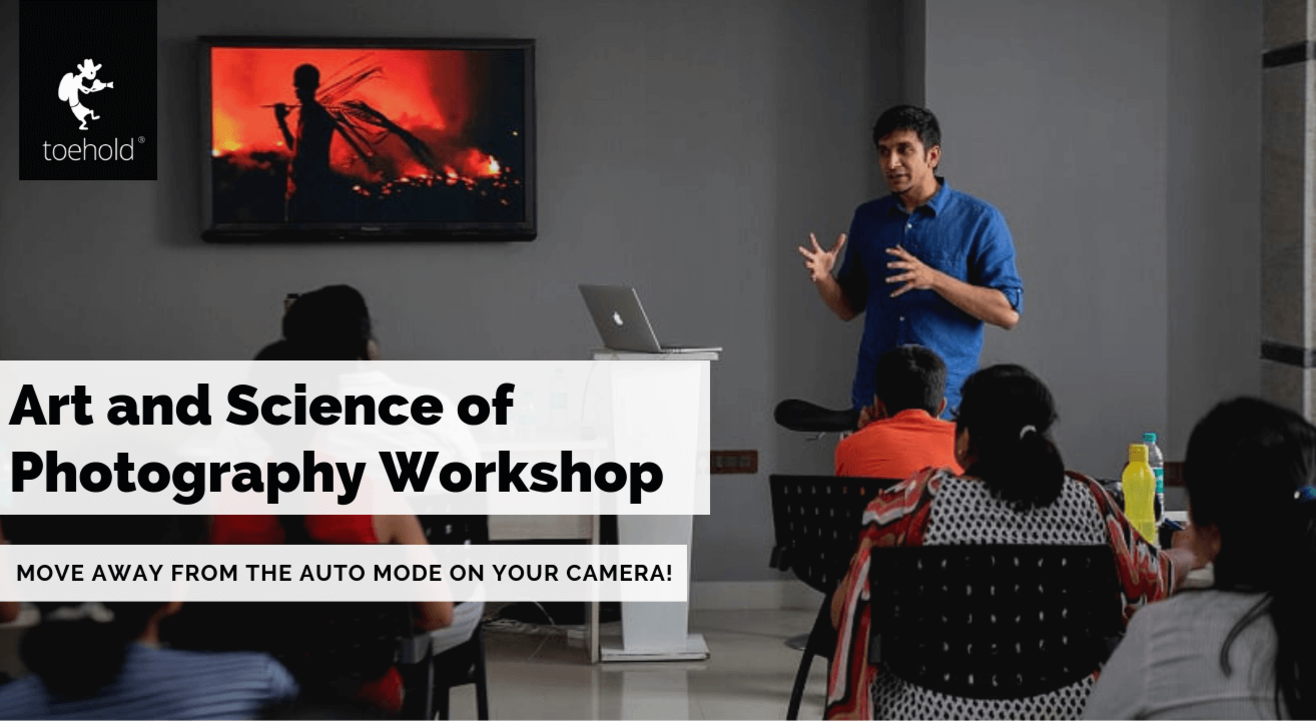 Photography
Art and Science of Photography Workshop - Mumbai
About
Photography can help us discover the world, and ourselves in the process. But to fulfill this potential, you need mastery of your camera and some critical fundamentals. If you'd like to bridge the gap between what you see and what you get and build the knowledge into your muscle memory, and if you'd lie to make the most of your camera, this is where it all starts: Toehold's 'Art and Science of Photography Workshop'. Join this Workshop and let us train you to be a sharp-shooter. Of the artistic kind. And the end of this Workshop will be the beginning of you as a photographer.
WHAT DOES THIS WORKSHOP OFFER?
Master the basics and tame the advanced.
Photography is art as well as science. And this Workshop delves into both. Because we know exactly what it takes. That's why it starts with the basics, polishes the nuances, delves into details, and addresses the advanced. In sum it will turn the camera and the concepts of photography into extensions of your body and mind. So matters of exposure, focusing and metering don't stand in your way when you wish to translate your glorious vision to an unforgettable picture. And that's why the end of this Workshop will be the beginning of you as a photographer.
WHY THIS WORKSHOP?
It may take several pages to enlist all the reasons. So here's a concise, curated selection.
• Over 10,000 enthusiasts trained. The strength of our record is the root of our confidence.
• A mastery of the art and science of photography. We leave no doubt unturned. Into clarity.
• Plenty of practical exercises within the classroom. Situations: simulated. Your skills: stimulated.
• Structured topics suited to all levels of learners. Proficiency at all levels. From all levels.
• Free reference material after the Workshop. Everything you learned. Explained again.
• Post-Workshop support. The Workshop's not the end of our service. It's the start.
• A certificate of participation. Because we like everything to be in black and white.
HOW WILL ALL THIS HELP YOU?
This Workshop will transform you as a photographer. Specifically, these are some of the things you'll be able to do right after it:
• Choose appropriate tools for your genre of photography.
• Use apt settings in any situation.
• Get sharp pictures in any kind of light.
• Make technically sound and aesthetically pleasing images.
• Use different techniques to achieve unusual and striking results.
• Generally rock with your camera!
Let us help you make the foundation. So you may build a beautiful monument.
WORKSHOP TOPICS
Introduction to Digital Photography
Camera Formats
Types of Lenses
Resolution (Megapixels)
Teleconverters and Other Accessories
Functioning of an SLR
Understanding your Camera Focal Length and Magnification
Exposure
Aperture
Shutter Speed
ISO Sensitivity
Exposure (Advanced)
Exposure Program Modes
Exposure Compensation
Metering
Bracketing
Focusing
Autofocus versus Manual Focus
Focusing (Advanced)
Autofocus Modes
Autofocus Area Selection Modes
Artistic Aspects (Advanced)
Depth of Field
Composition
White Balance
Peripherals
Tips and Tricks
Note*
CANCELLATION POLICY
In the unfortunate event that you wish to cancel your booking after the payment, you will receive a credit note that can be used to avail of any of our services listed on our website, for:
a) 100% of the amount if you cancel on or before the last Monday before the Workshop,
or
b) 50% of the amount if you cancel between the last Monday and Thursday before the Workshop.
No credit note will be issued for cancelling after the last Thursday before the Workshop or for failing to attend the Workshop without prior intimation, and no cash refunds will be made under any circumstances.
Venue
The Learning Galaxy
8th floor, Urmi Estate, Lower Parel, Mumbai 400013, Mumbai, Maharashtra 400013
GET DIRECTIONS