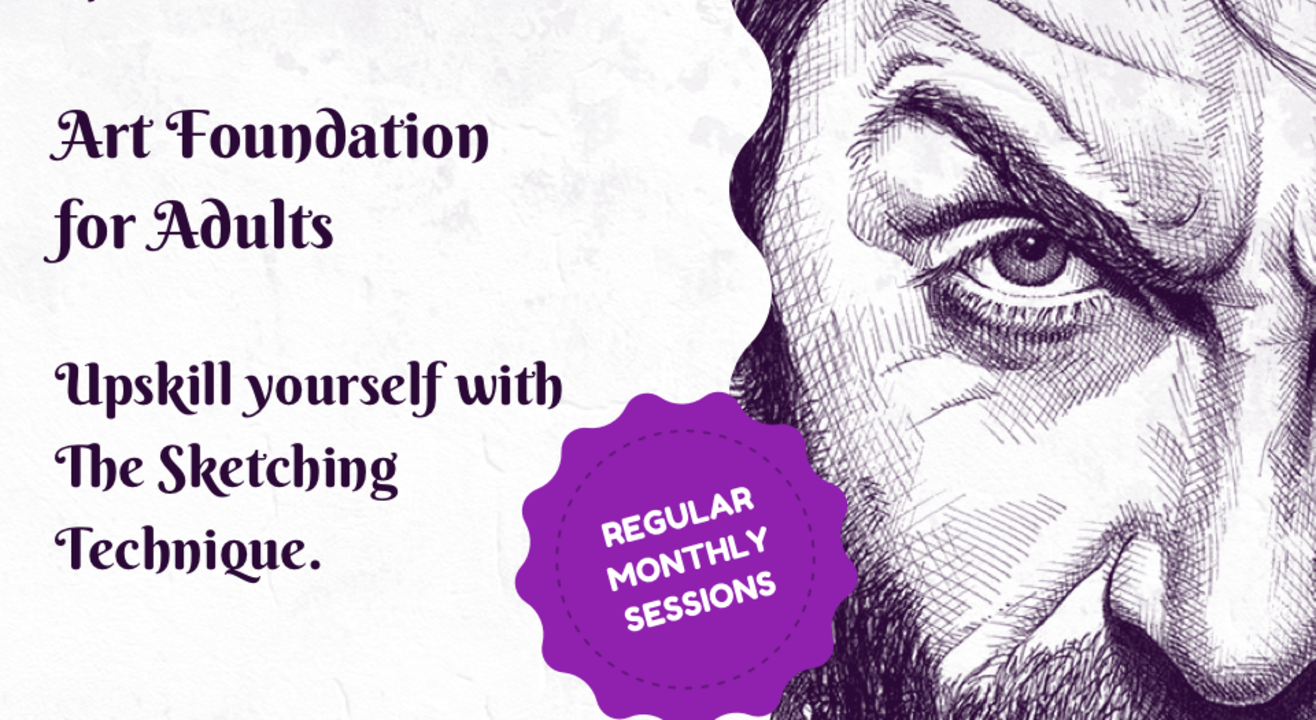 Art Foundation for Adults with BAFA
September 2 | 5PM - October 1 | 6PM
Invite your friends
and enjoy a shared experience
Invite your friends
and enjoy a shared experience
About the Event
Time: 5:00-6:30 PM IST
Days : Wednesday & Thursday
Duration: 8 Days in a month
Language: Hindi
Monthly Fee: 3200 INR (Per Participant)
Introduction: Art Foundation is the very first step for an artist to learn and improve the skill set that can help in achieving the basic sketches correctly. It helps in understanding the aesthetic purposes. This is a basic level training that focuses on the important topics and techniques that are imperative for sketching. Sketching ideas can be absolutely fun when you understand the principles and techniques of it. Though art is about expressing your own perspectives, some techniques are important to follow while creating stunning ideas on the drawing sheets. Join the Art Foundation Workshop with BAFA and learn the important aspects to keep in mind during sketching and to build a stronger portfolio with your art.
A certificate for Course Completion will be provided if the participant completes 6 months training with BAFA and submits the requested assignments pertaining to the subjects shared during the class. The basics of art can certainly be taught in few classes but achieving the expertise to create them marvellously can take months of practise, and thus we advise a 6 month training period to get a certification. Every class will be unique and individually planned to ensure the students learn something new every class.
Things you will require during the course:
Laptop / Desktop / Phone / Tablet access along with good internet connection.
The link to the class will be shared once you enrol for the course.
Drawing Sheets, Graphite pencils, Colored and pastel pencils.
Charcoal sticks, artists' pencils,
Brush Pens
Erasers, stumps, and sharpeners.
What will you learn
Pencil Handling - How to handle a pencil to ensure the art has its correct impact.
Line, Forms, Shapes, Pattern - Learn to draw the combinations lines, forms, shapes and patterns to create compositions.
Grayscale (Shapes and Patterns) - Under the grayscale technique while creating your composition.
Sketching with Depth - How textures and layers add story to the artwork while sketching.
Light & Shadow Shading - How to play around the light and shadow technique to add life into the sketch.
Principles of Sketching - Basic and important principles to keep in mind while sketching.
Coloring - How to use pastels and watercolor to add the subject drawn.
Free Hand Design - We will experiment some free hand design ideas.
2D Design & Composition - Learn how to draw shapes and subjects in 2D design and compositions.
3D Forms - Learn to draw shapes in the 3D form.
We will touch base with Perspective Study, Nature and Objects, Still Life, Human Anatomy, Head Study and Portrait Drawing during the classes.
We will experiment drawing landscapes, flowers, animals, portraits gradually.
Each class we will create a new subject through the class to understand the usage of all the techniques.
Who this course is for: This is a beginners course for children and adults above 15 years who are looking to learn the basic concepts of sketching and drawing. This training will help the students with greater levels of understanding and can see advancement in their sketching and fine art skills.
About BAFA : BAFA is an art community curated by profound artists from all around the globe who are looking to spread the knowledge and passion for art amongst everybody. BAFA conducts online and offline workshops teaching over 30 different art forms with a fantastic blend of in-house artists who have spent decades in mastering the skill that the art form demands. We also have our own online store and personalized portrait section which allows the artist's work to reach a wider audience and help them sell their artwork. Keen to know different art forms, join BAFA and you can engage with the renowned artists and learn new art forms from time to time.
About Artist: The BAFA Artisan, Mr K K Kundara comes with his own expertise in Sketching as he has spent years in the industry creating different artworks with sketching everyday. His motto is to create an artwork without having to use the eraser. He loves to create masterpieces from scenes in the daily life through the concept of rapid sketching. With the best of artists as our faculty, we aim to impart the knowledge of art to our students that will help them in their career of art.