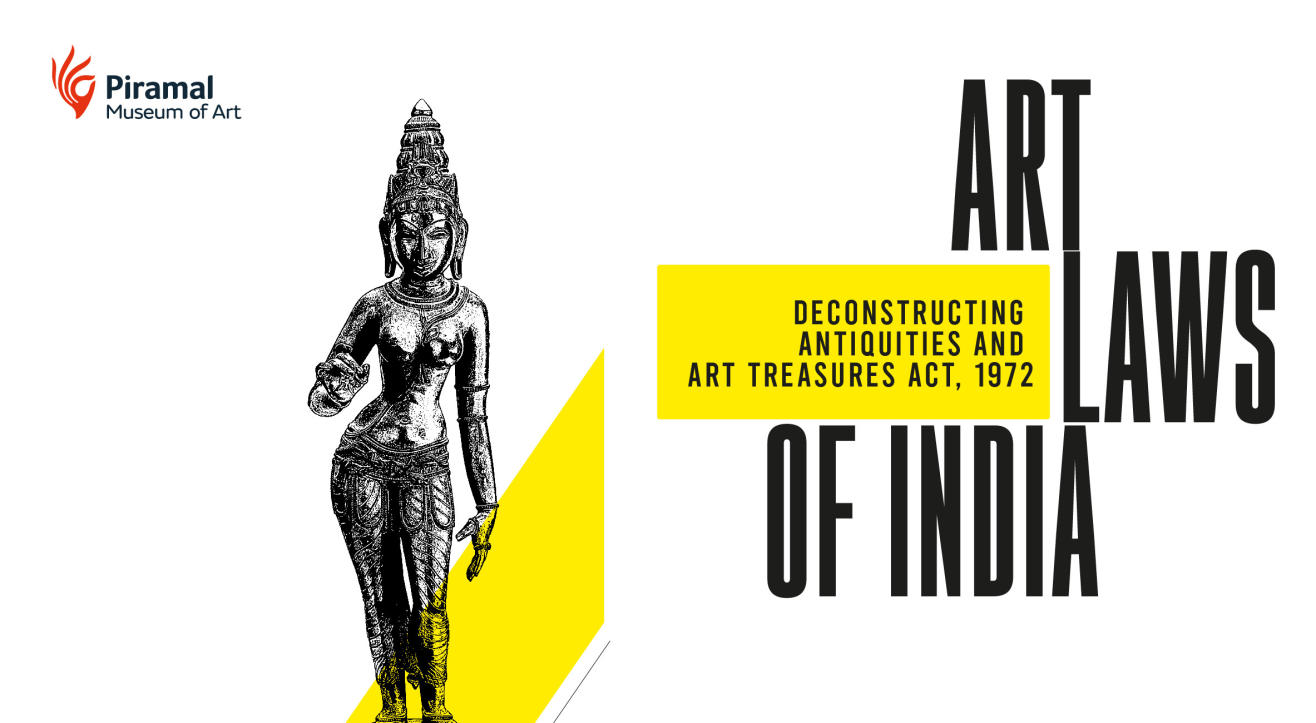 Conference
Art Laws of India | Deconstructing Antiquities and Art Treasures Act, 1972
Piramal Learning University
About
Art Laws of India ⁠is an upcoming conference that is being organised by the Piramal Museum of Art on 9th and 10th August 2019 at Piramal Learning University in Mumbai.
'The Antiquities and Art Treasures Act, 1972' is the principal act that governs the free movement of art objects within and outside the boundaries of India. Initially formulated to prevent smuggling and fraudulent dealings in Indian antiquities, its mandate also extends to the compulsory acquisition and preservation of objects perceived as important to the nation in public places. Attempts at amending the act since its inception have been unsuccessful, making parts of it archaic with the dire need to take measures towards modifying it to adhere to contemporary realities. The Art Laws of India conference aims to tackle this issue, and many others, through its curated speaker presentations, panel discussions, and break-out sessions.
Representatives at the conference include stakeholders from government agencies, academics, archaeologists, journalists, curators, owners of private museums, heads of public art institutions, representatives of religious institutions, legal experts, art dealers, and owners of private corporate collections. Some of the noteworthy speakers from across the country are
· Naman P. Ahuja (Keynote Speaker) - Curator of Indian art, Professor at Jawaharlal Nehru University and Co-Editor of Marg Publications
· Dr. Annapurna Garimella – Art Historian and Designer
· Pradeep Chakravarthy - Cultural Historian and Leadership Development Expert and Coach
· Pramod Kumar KG (Curator) - Co-founder of Eka Archiving Services, India's first museum advisory firm
· R. Prakash - Senior Cataloguer at the Roja Muthiah Research Library
· Sarover Zaidi – Social anthropologist and Curator
· Dr. Tejas Garge – Present Director of the Directorate of Archaeology and Museums, Government of Maharashtra
Curated by Pramod Kumar KG, the conference will also include researched case-studies on important on-going legal cases involving museums, royal families and multiple stakeholders enabling debate and dialogue over practical challenges caused by the law.
If you or someone you know would like to participate in the dialogue, or require more information on the conference agenda and payment details, please write to artfoundation@piramal.com or log on to piramalmuseum.com/conferences. We are offering student and group discounts.
Venue
Piramal Learning University
Piramal Agastya (Amiti Building), Kamani Junction, Opposite Fire Brigade, LBS Rd, Kurla West, Kurla, Mumbai, Maharashtra 400070
GET DIRECTIONS