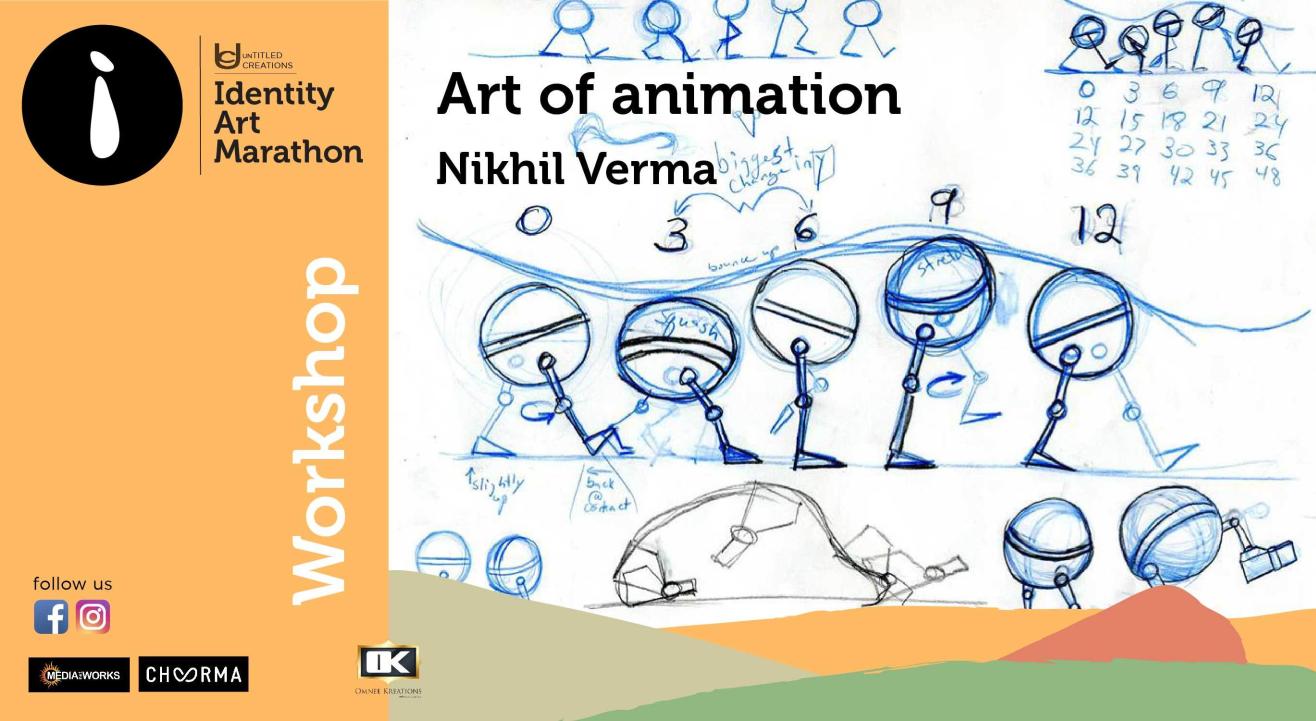 Animation
About
Art of Animation
by Nikhil Verma (Omnee Kreations)
10 - 12 June 2019
2:30 - 4 pm daily
3 days of 1.5 hour per day
1st day - June 10
Overview of Animation and how it works.
2nd day - June 11
Live project on stories of concepts by students.
3rd day - June 12
Final compilation and final video.
As the things are trending, soon the images will be off the hook and what will see is only Video.
And hence the load on our pockets will increase to promote ourselves as making a live video is really costly. Working on animation is not just pocket-friendly but also gives a creative touch and has a long lasting recall value.
Join in and understand the Art of Animation.
Learn to create a stop motion animation for yourself or for your brand, and share the amazing content.
What you should bring?
A mobile and hunger to learn.
The laptop is a plus point(for video compilation)
Spotlight on software like Adobe Photoshop, Adobe Premiere Pro , Adobe flash
Who is this for?
Artists
Start-ups
Marketing People
Interns of ad agencies / production houses
12th Pass and college students.
Youtubers
One who wants to create animated videos for social media or for any other platform
Brief about Nikhil Verma (Omnee Kreations)
Working in the industry from last 13 years.
worked with many ad agenct n production houses for brands like
Mentos, Centrefresh, Snapdeal, ONGC, Denik Jagran, Dabur, Videocon, NIIT
Work links:
https://www.youtube.com/watch?v=eZ8TKalV57c
https://www.facebook.com/watch/?v=671350276364528
https://www.facebook.com/laundrybucket.co.in/videos/648675338632022/
Part of 'I AM - Identity Art Marathon',
24 day multi disciplinary art festival from 24th May to 16th June 2019
Curator: Aakshat SInha
Organiser: Untitled Creations Private Limited
Media partner: Media net Works
Design partner: Choorma
Venue Partner: Arpana Fine Arts Gallery, New Delhi
https://www.facebook.com/identityartmarathon/
https://www.instagram.com/iam.identityart/
For queries:
identityartmarathon@gmail.com
+91 - 9810222328, +91 - 9811192908
Buy a ticket & get ₹150 off. Use code: LEARNMORE150 (T&C apply)
Book any workshop ticket and get a 7-day cult.fit pass FREE. Offer valid till 31st September. (T&C apply) Click here for more information
Venue
Arpana Fine Arts Gallery
Arpana Fine Arts Gallery, Academy of Fine Arts and Literature, 4/6 Siri Fort Institutional Area, Opp. Gate No. 2, Siri Fort Auditorium, New Delhi 110049. Metro Green Park.