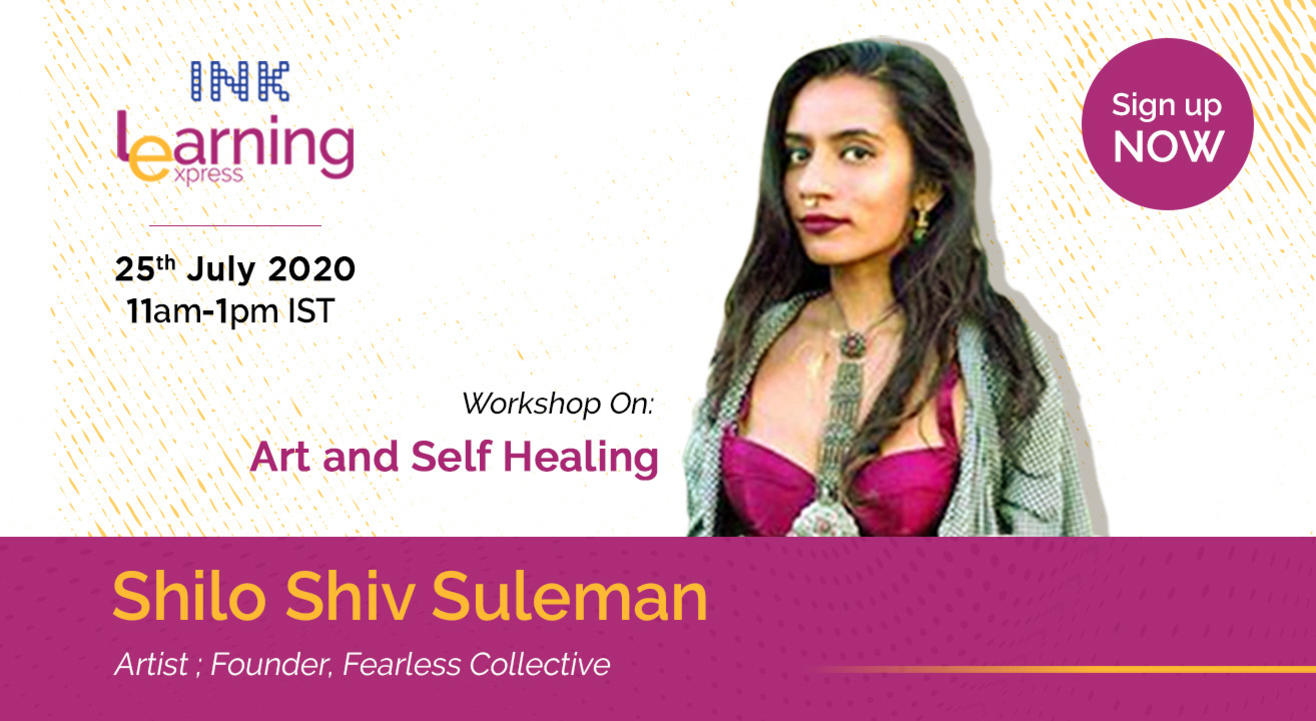 Reimagine your Self with Art
Invite your friends
and enjoy a shared experience
Invite your friends
and enjoy a shared experience
About the Event
A thoughtfully curated and hands-on, crisp 2-hour session on self portraiture as Resistance and Reclamation exploring the essential question of 'who do you want to be?'
Why art?
Take a pause and think -- in all times of uncertainty and crisis, the world turns to the arts, earnestly, urgently, and even as remedy. In the past few months, life as we know it has been put on hold, it has once again opened space for conversations not imagined before.
Key takeaways from the workshop:
· Use the medium of art to transition from critical thinking to creative thinking
· Incubate and generate ideas and visions of self-identity through a hands-on painting exercise
· See yourself from the lens of who you want to be
About the Facilitator
Award-winning visual artist Shilo Shiv Suleman's work lives and breathes at the intersection of Magical Realism, Art, Technology and Social Justice. She is the Founder and Creative Director of the Fearless Collective -- a movement in replacing fear with love in public space. She is also the creator of large scale biofeedback art installations in collaboration with neuroscientists, geologists and more -- most notable being her installation 'Pulse and Bloom' at the Burning Man festival 2014.
About INK Learning Express
Armed with a thirst to continually chase and deliver new learnings we bring to you the INK Learning Express – a series of thoughtfully curated learning lessons designed by master specialists. Explore four varied themes through crisp 2-hour sessions from 22-25 July (Wed-Sat), that are not just hands-on but also hearts-on. For the pandemic has shown us that the only way to survive is to reinvent ourselves.
The other workshops in the offering are:
Cultivating Happy Relationships
Chisel your Brand Thinking
Tell Stories that Connect, Stick and Stir
Currently available for purchase on Insider, at the same introductory price: Rs 999 + 18% GST.
About INK
INK, founded in 2010, is best known for its multi-disciplinary conferences that have hosted the likes of James Cameron, Matt Groening and Kailash Satyarthi, and created the culture of talks and knowledge sharing in India as we know it today. The INK Fellows Program has discovered over 220 heroes unknown and voices unheard, sharing their story with the world -- including Arunachalam Muruganantham (Padman), Ayesha Chaudhary (Sky is Pink), Anand Kumar (Super 30). The vision of INK -- short for 'Innovation and Knowledge' -- is to accelerate the journeys of game changers through storytelling and impactful actions.
Contact
For bulk purchases, write to: ananda@inktalks.com
For any queries, write to: registrations@inktalks.com