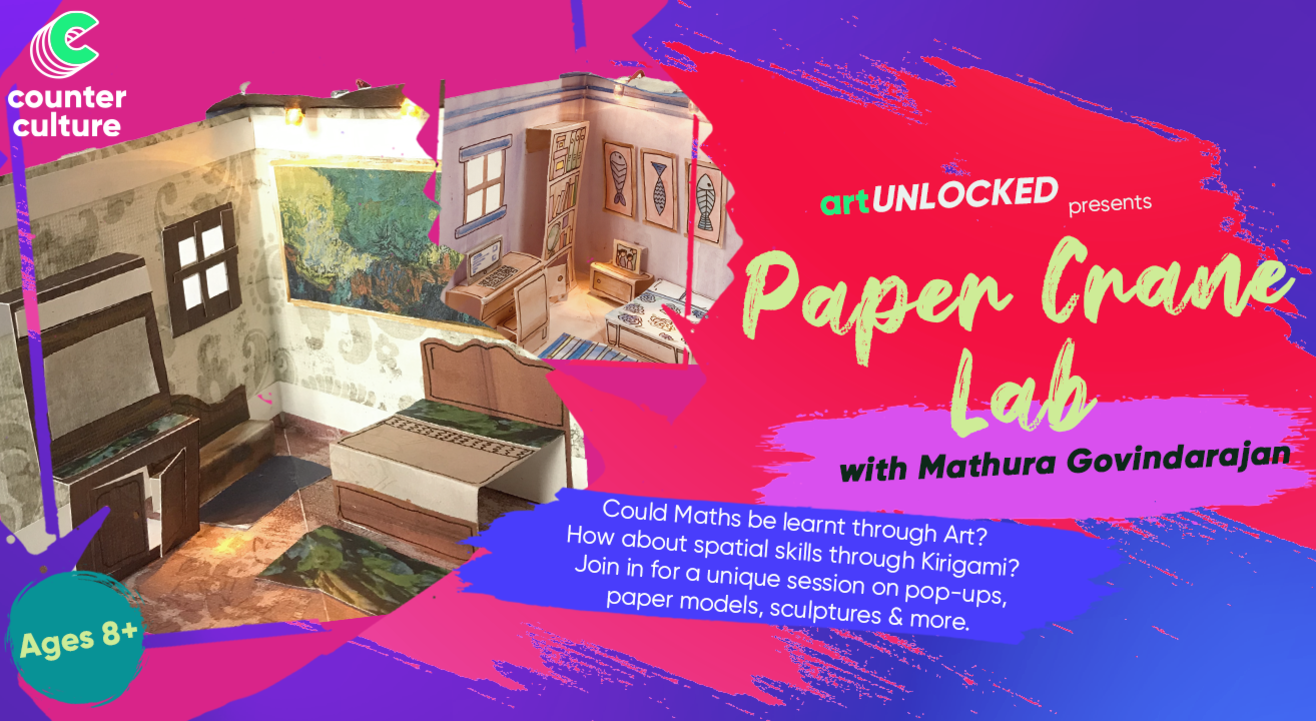 art Unlocked presents: Paper Crane Lab with Mathura Govindarajan
Invite your friends
and enjoy a shared experience
Invite your friends
and enjoy a shared experience
About the Event
Looking to put the painfully long lockdown hours to intelligent use? Try a new learning experience using good old paper.
Hosted by creative technologist Mathura Govindarajan, this session helps students (children and adults alike) develop spatial skills, maths and lateral thinking while making art and sculptures.
We're going to be doing an online session for an hour where we all work on making pop up rooms together.
These rooms unfold from a flat form to a 3D room!!
The aim of this session will be to relax, have fun and play around with paper! We'll mail you templates to get you started before the session, and work on it during!"
Learn the basic concepts of creating pop up structures and paper models through a range of skills, including:
- Kirigami
- Paper Folding
- Paper Crafts
- Pop-Up Art
- Dioramas
About Mathura:
Mathura Govindarajan is a creative technologist, educator, and founder of Paper Crane Lab – an education space in Bangalore. Mathura completed her Masters and Fellowship from New York University's Interactive Telecommunications Program, and Bachelors in Electronic Engineering from NIT-K (Surathkal). Her focus is on combining the fields of art and technology to create educational experiences and tools for children and adults alike. She's guest lecturer at several universities including NYU and Shrishti Institute of Art, Design and Technology.
Presented by CounterCulture as part of Unlockables – a live-event series to unlock some fun on the side.