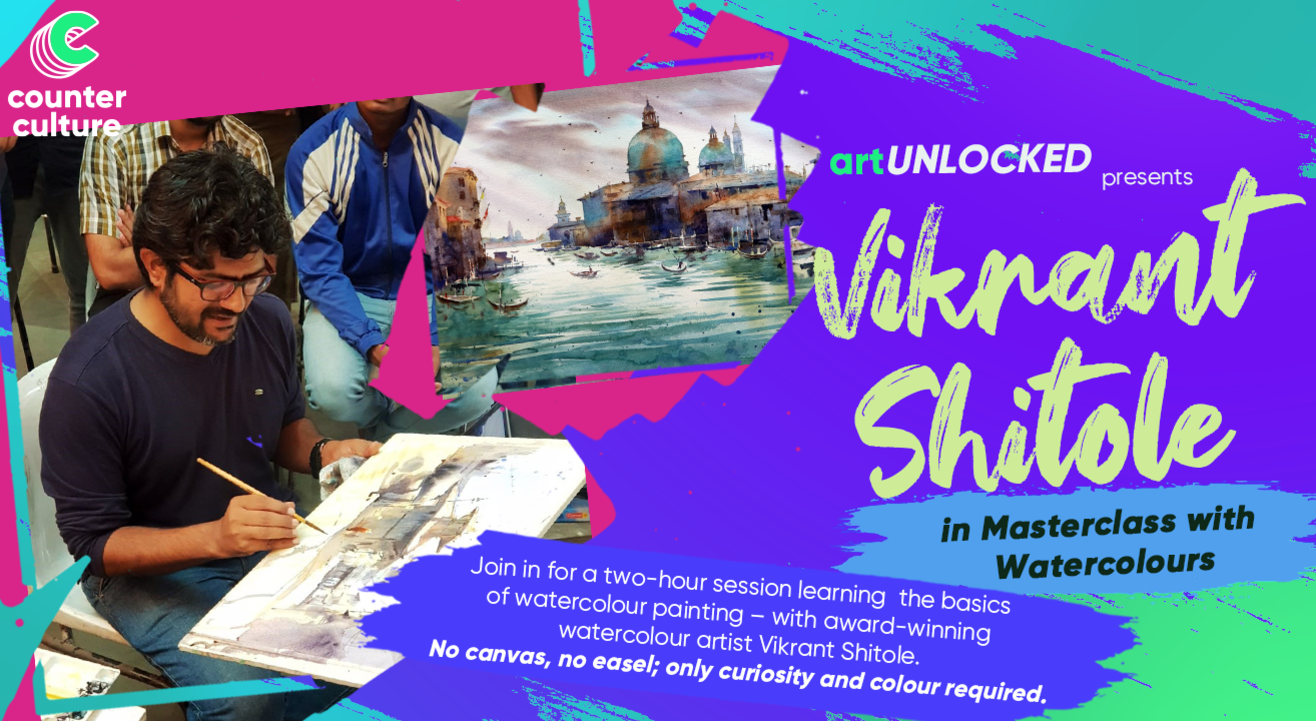 art Unlocked presents: Vikrant Shitole in Masterclass with Watercolours
Enjoy this event from your home
Invite your friends
and enjoy a shared experience
art Unlocked presents: Vikrant Shitole in Masterclass with Watercolours
Enjoy this event from your home
Invite your friends
and enjoy a shared experience
Invite your friends
and enjoy a shared experience
Ever wondered what a watercolour impression of your inner state of mind would look like on paper? Or how about a drawing of the one place you wish you could be right now, during these house-arrest times?
You needn't be a painter to enjoy the soothing act of painting. Pull out that ignored little box of watercolours and sign up for our extensive 2-hour Masterclass with Vikrant Shitole, Secretary/Visual Artist at the Art Society of India.
Lesson breakdown:
- The right material for the watercolour painting (how to choose from available brands)
- Exploration & Possibilities of medium
- Basic principles of a painting
- Drawing basic & Demonstration
- Step-by-step painting demonstration
Recommended for the curious and the dedicated alike.
About Vikrant:
Vikrant Shitole is best known for his watercolours. He has won awards and accolades from the Istanbul Watercolour Society, Palm Art Award (Germany) and the Prafulla Dahanukar Foundation Award for emerging artists from Art Society of India. He paints with various styles, mediums and techniques, adopting the best suitable feature to reproduce on paper what he sees in person – from historical places to vast, rustic landscapes, whatever best reflects his calm personality. Vikrant's art has been a part of InArteFabriano (Italy), IWS Turkey Biennale, Masters of Watercolor (Russia) and IWS UAE Biennial. He exhibits at various galleries, including the Jehangir Art Gallery and Nehru Centre Ac Art Gallery in Mumbai, and is currently serving as the Hon. Secretary at the Art Society of India.
Presented by CounterCulture as part of Unlockables – a live-event series to unlock some fun on the side.
art Unlocked presents: Vikrant Shitole in Masterclass with Watercolours
Enjoy this event from your home
Invite your friends
and enjoy a shared experience