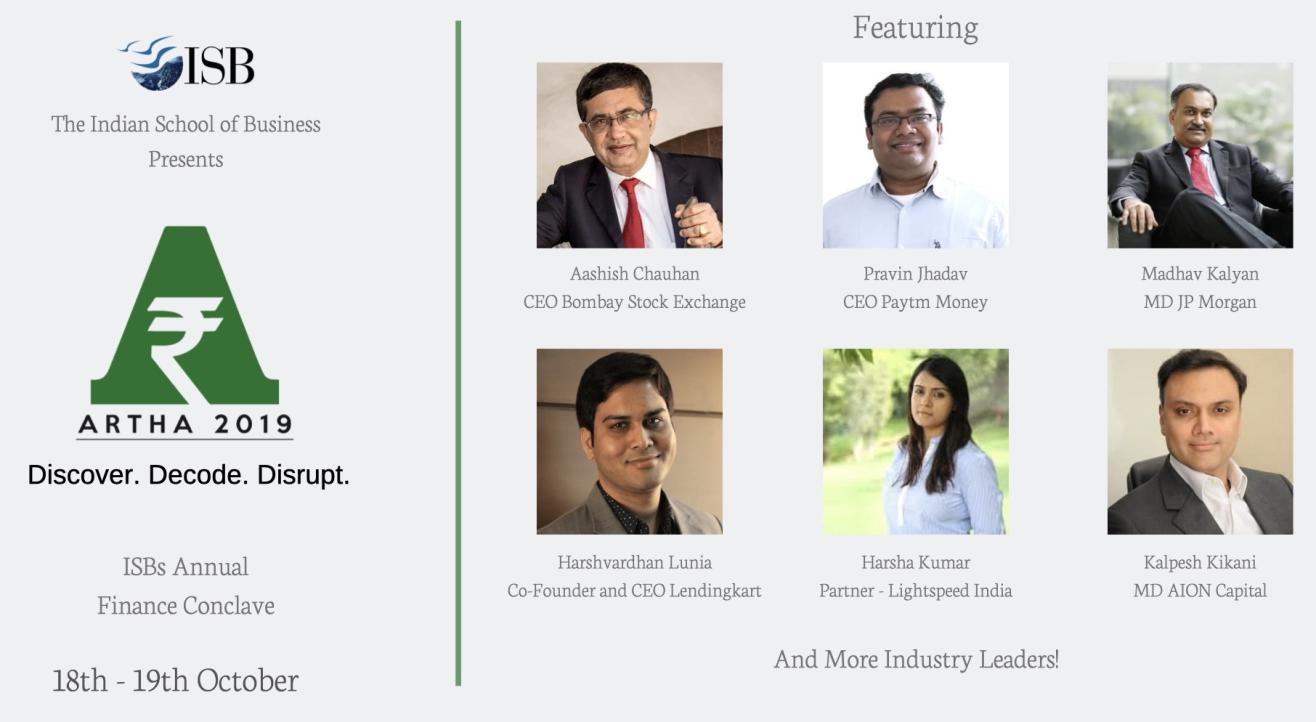 Artha 2019 - ISB's Annual Finance Conclave
October 18 - October 19 | 8AM
Indian School of Business
Invite your friends
and enjoy a shared experience
Invite your friends
and enjoy a shared experience
About the Event
Artha, is the annual flagship event of the ISB Finance Club and ISB Alumni Association. It brings together an international community of leaders of today and leaders from tomorrow. The theme for the year 'Discover new Ideas. Decode new learnings. Disrupt with new knowledge' is our plunge into gaining insights and perspectives into most relevant issues connected to finance industry.
The event provides great opportunity to all ISB students to showcase their skills and connect with leaders in the world of finance, policy making, academia through events spread over two days. Our event encompasses a footfall of over five hundred students.
Over the years, Artha has witnessed panel discussions by eminent speakers like Adi Godrej, Deepak Parekh, Arundhati Bhattacharya, Sanjay Nayyar, UK Sinha, Dr. YV Reddy. This year, in addition to corporate participation we are offering business events across the Venture Capital, Fin-Tech, Private Equity and Stock Market & Economy segments.
A two day ticket provides you with access to all the speakers and panel discussions, as well as lunch and high tea on both days.
Some of the speakers we have are:
18th October 2019 (Day 1):
Harsha Kumar, Partner, Lightspeed India
Siddharth Pai, Founder, 3one4 Capital
Mihir Modi, CFO and Co-Founder, Rainshine Entertainement
Anurag Sinha, CEO, OneScore (Cofounder - Walnut App)
Harshvardhan Lunia, CEO, LendingKart
Anuj Kacker, CEO, Money Tap
Pravin Jadhav, CEO, Paytm Money
Manish Lunia, Co-founder, Flexiloans
Ashish Chauhan, CEO, Bombay Stock Exchange
Ashish Shankar, EVP, Investment Advisory, Motilal Oswal
Ravi Krishnan, Editor, Moneycontrol
Madhav Kalyan, MD, J.P. Morgan
Aashish Kila, Perfect Group
19th October 2019 (Day 2):
Raghubir Menon, Partner, Amarchand
Praveen Bhambani, M&A, PWC
Ausang Shukla, MD, Corporate Finance, Ambit
Vivek Kulkarni, Founder & MD, Brickwork Ratings
Devendra Pant, Chief Economist, India Ratings & Research
Lavanya Ashok, MD, Goldman Sachs
Kalpesh Kikani, MD, AION Capital
Sridhar Sankaraman, MD, Multiples
And more speakers are on the way!
Watch out for more information about the event here! Images from previous editions of the event are attached below.
For any other information contact:
Naveen Singla
Artha19@isb.edu
P: +91 90353 36736
https://www.instagram.com/p/B3rup0JDp-q/?igshid=1kkxwx30qsxgj
Indian School of Business
Gachibowli, Hyderabad, Telangana 500032
GET DIRECTIONS