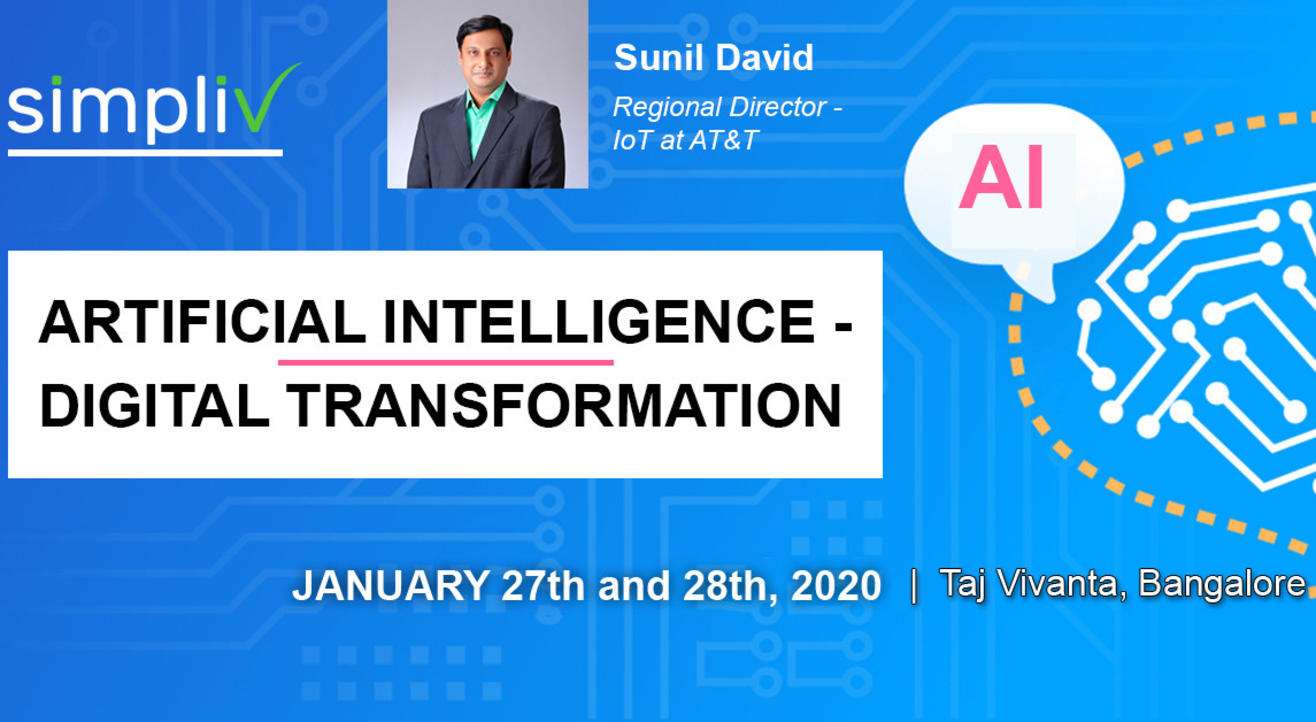 Artificial Intelligence Digital Transformation Summit
January 27 & 28 | 9AM - 6PM
Taj MG Road, Bengaluru, Bengaluru
Step out and enjoy this event
Invite your friends
and enjoy a shared experience
Artificial Intelligence Digital Transformation Summit
January 27 & 28 | 9AM - 6PM
Taj MG Road, Bengaluru, Bengaluru
Step out and enjoy this event
Invite your friends
and enjoy a shared experience
Invite your friends
and enjoy a shared experience
Offer: Use code: ERCESS50 to get 50% early bird off on tickets. Valid till December 1st
ARTIFICIAL INTELLIGENCE - DIGITAL TRANSFORMATION SUMMIT 2020
ABOUT THE EVENT
Simpliv, the learning platform, is organizing the AI Summit India on 18th November at Taj, Vivanta, Bangalore. This two-day summit will be an ideal opportunity to explore critical areas of AI such as digital transformation, AI and deep learning, AI and cybercrime, AI as a tool for enforcing accountability, the various industries that could get impacted by AI, enterprise and process automation using AI, AI and costumer experience, AI's role in messaging in the advertising, marketing and healthcare and other sectors, AI for the Cognitive Enterprise, and much more.
This AI Summit will evaluate the nature and scale of changes that AI could bring about in various sectors such as retail, enterprise, consumer and commerce. It will scrutinize the opportunities and transformation that AI could bring about in development and digital platforms.
Simpliv will offer the opportunity for a vivid and thoughtful exchange of viewpoints among panel members, who will be a bright mix of:
· Those who are pioneering path breaking innovations in the field of AI
· Leading brands that are at the forefront of AI
· Well-established leader
· Tech evangelists
· Unicorns, and
· Keenly watched startups.
Visitors at the AI Summit will include AI managers, angel investors, decision makers, innovators, startups, designers, developers, Data Analysts, Managers and Scientists, and brand managers.
DAY 1 – January 27th 2020
§ Session 1 How AI can help with Digital Transformation
§ Session 2 AI and Deep Learning – The drivers of digital transformation.
§ Session 3 The future impact of AI on cybercrime
§ Session 4 AI as a means to powering transparency and accountability
§ Session 5 AI for the workplace
§ Session 6 AI for your business – Use of AI for different industries
§ Session 7 How to fulfill Enterprise AI
§ Session 8 Process Automation and AI
§ Session 9 Cognitive Enterprise – Cognitive Automation and Robotic Process Automation
DAY 2 – January 28th 2020
§ Session 10 AI integration and customer experience
§ Session 11 Use of AI in the retail and e-commerce industries
§ Session 12 Leveraging the voice driven world for business growth
§ Session 13 Chatbot effectiveness for better business
§ Session 14 Role of Digital Assistants in customer relationship management
§ Session 15 Improving marketing and advertising effectiveness through AI
§ Session 16 Revolution in healthcare through AI and Big Data.
This Summit By World Best Renowned Speakers:
Sameer Dhanrajani
Chief Strategy Officer At Fractal Analytics
Shibsankar Das
Data Scientist @WalmartLabs | 40 Under 40 Data Scientists 2019
Manu Chandra
Co-Founder And Chief Data Scientist At FN MathLogic Consulting Services Pvt Ltd
Sunil David
Regional Director - IoT At AT&T
Indranath Mukherjee
AVP, Head - Strategic Analytics At AXA XL
Srini Rengarajan
Vice President And Global Head - AI And Data Science At 3i Infotech Ltd.
Mandar Mutalikdesai
Service Area Leader - Artificial Intelligence And Analytics At IBM
Vidhya Veeraraghavan
Associate Vice President - Analytics At Standard Chartered Global Business Services
Vishal Singhal
Co-Founder & AI Evangelist @CellStrat
Aswini Vyas
Director At Digtal Marketers India
Pradeepta Mishra
Director-AI @Lymbyc
Ram Dayal Goyal
Founder - RNS Labs
Balakumaran Jayapal
Deputy General Manager (Principal Architect) At Panasonic India Innovation Centre
Piyush Chowhan
Senior Vice President And Chief Information Officer At Arvind Lifestyle Brands Limited
Krithika Surianarayanan
Vice President At Standard Chartered Bank
Mridul Kabra
Director Of Digital Marketing At Neta App
Dr. Saurav Karmakar
Demo Session Chair At IEEE International Conference On Data Mining (ICDM 2019)
Sivesh Kumar
Founder & CEO StartUp Monk
Praveen Srivatsa
Director At Asthrasoft Consulting
Snehal
Summit Date: January 27th & 28th, 2020
Place: Taj Vivanta, MG Road, Yellappa Chetty Layout, Sivanchetti Gardens, Bangalore, Karnataka, 560001


Taj MG Road, Bengaluru
41/3, MG Road, Yellappa Garden, Yellappa Chetty Layout, Sivanchetti Gardens, Bengaluru, Karnataka 560001
GET DIRECTIONS
Artificial Intelligence Digital Transformation Summit
January 27 & 28 | 9AM - 6PM
Taj MG Road, Bengaluru, Bengaluru
Step out and enjoy this event
Invite your friends
and enjoy a shared experience