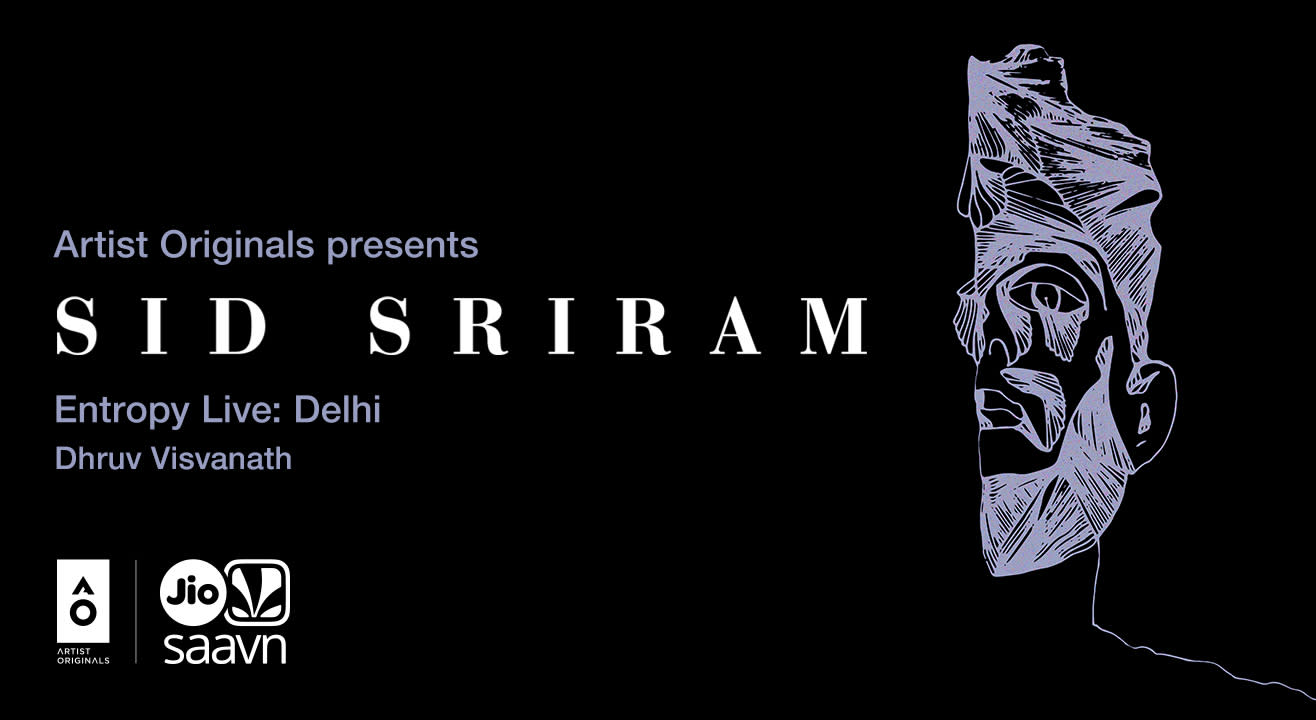 Artist Originals presents Entropy Live by Sid Sriram | Delhi
Auro Kitchen & Bar, Delhi, Delhi
Step out and enjoy this event
Invite your friends
and enjoy a shared experience
Artist Originals presents Entropy Live by Sid Sriram | Delhi
Auro Kitchen & Bar, Delhi, Delhi
Step out and enjoy this event
Invite your friends
and enjoy a shared experience
Invite your friends
and enjoy a shared experience
Entropy, the Artist Originals debut from vocalist, musician and producer Sid Sriram, is nothing less than a groundbreaking cultural and artistic convergence—the invention of a new creative space that has no borders. And as with so many musical watersheds, its origin story is that of a supremely gifted young artist who discovers a way to reconcile his divergent roots, with brilliant results.
Artist lineup
Sid Sriram
Dhruv Visvanath
Sid Sriram
He was born in Chennai and subsequently moved to the San Francisco Bay Area with his family. This duality of cultural roots has been integral in forming his personal and artistic identity. Sid comes from a long lineage of Carnatic (South Indian Classical) musicians with his mother starting a Carnatic vocal music school in Fremont, California in the early '90s. Having noticed his deeply intuitive inclination for music at a very early age, she started teaching him when he was three. He performed on stage for the first time later that year and fell in love with the stage instantly.

Dhruv Visvanath
He is a true multi-instrumentalist, composer, singer-songwriter and the only Indian to be mentioned in Acoustic Guitar Magazine, 30 Great Guitarists under 30 (2014). He earned the nickname 'Guitar Spanker' when he brought his unique style of percussive acoustic guitar playing to the sub-continent after constant practice over the years. Over the years, and with constant practice, he was able to hone his skills and bring to the sub-continent a unique style of percussive acoustic guitar playing, earning him the nickname 'Guitar Spanker'. He has also given inspirational talks at prestigious events like TED, Josh Talks and AISEC.
Auro Kitchen & Bar, Delhi
31, 2nd Floor, DDA Shopping Complex, Aurobindo Place Market, Hauz Khas, New Delhi - 110016
GET DIRECTIONS
Artist Originals presents Entropy Live by Sid Sriram | Delhi
Auro Kitchen & Bar, Delhi, Delhi
Step out and enjoy this event
Invite your friends
and enjoy a shared experience