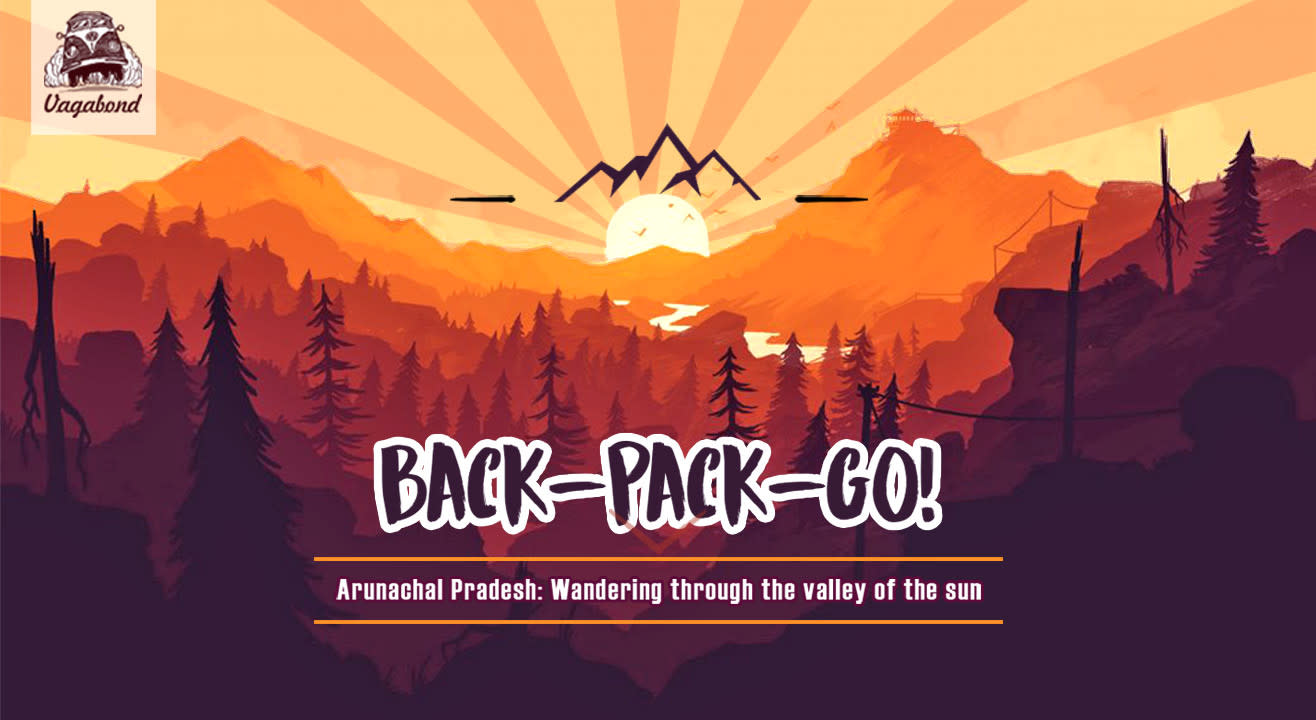 Adventure
Arunachal Pradesh- Backpacking Through The Valley Of The Sun
October 25 - November 5 | 4PM
About
At Vagabond, we have always been about exploring places that are largely untouched by the average tourist. Places that leave the traveller awestruck, that transport you to a different world with stories and experiences unseen and unheard of. This fascination for uncharted adventures has often led us to the most tranquil of places. But, none can compare to what we discovered on one such expedition to Arunachal Pradesh, the valley of the sun.
The north-east regions of India have always been a subject of mystery and curiosity for backpackers and rightfully so. Because, man! It's a whole different ball game. It's the most underrated backpacking haven that's slowly climbing the list of travellers around the world.
A land of unmatched beauty and full of surprises; Arunachal is perfect for those looking to go beyond the usual. For those willing to get out of their comfort zones and going where no one has ever gone. It is just the place for such an adventure.
Untamed, wild and still far from the eyes of noisy tourists and the wrath of commercial travel Arunachal waits for those who are really looking for a one-of-a-kind adventure. As one of the coffee table books on Arunachal that we had a chance to read while we were visiting says "Time is your slave here" and it truly is. Relaxed, laid back and slow is the way to go here. You might feel like hours have gone by after just 20 minutes of walking in the village or just sipping tea and eating momos in the middle of nowhere. Looking at your watch will only make you feel happier about the time which moves so slow in this mysterious land. Come experience this with us. Let us take you to the place where the sun is always rising and your spirits with it. Let's BACK-PACK-GO!
In case of queries, please contact: 98197 65950 / 98679 52811 / 98208 19844 / 76668 18247
25th Oct: Guwahati is the gateway city to the northeast of India and also the meeting point for the 12 day-long journey that will take us through Arunachal Pradesh. Arunachal is the largest state among the seven sisters of north-east India. It is a vast, unexplored and diverse region, home to breathtaking flora and fauna basking in the first rays of sunlight that hit our country each morning. We meet at 4pm at Guwahati railway station and take an overnight bus from Guwahati to the first stop on our list, Pasighat.

26th Oct: We reach Pasighat in the morning. After checking into our comfortable homestay and grabbing some breakfast we head out to explore the place further. Home to the Pasi and Minyong community, Pasighat is a marvel of nature; with its beaches along the Brahmaputra, which is where we head to raft down the river! The town is a peaceful hill station covered in forests and surrounded by hills with streams crisscrossing its green slopes. Pasighat boasts hanging bridges that will leave you dizzy and locals so warm they'll do the same to your heart, making it one of those unforgettable locations and a great place to start exploring Arunachal. We dine together in the evening and get a good night's sleep for the long day ahead.

27th Oct: After breakfast we embark on a two-day road trip to the most breathtaking destination of our adventure, Mechuka: The Land of Medicinal Waters. We start the journey early in the morning making our way to Aalo, a peaceful, quaint town which will be our pit stop for the night. The journey to Aalo is long and tiring, and the road, difficult. Mechuka only became accessible by road a few years ago and many roads are still under construction or under constant repair due to the areas tough terrain, making our ride slower. But the route is enchanting and you'll be glad to have the time to soak it in. Reaching above us will be thick rainforests dotted with waterfalls and small villages of the indigenous tribes each having a different dialect, bamboo house-building techniques and traditional costumes. We reach Aalo late in the evening and spend the night at our home-stay.

28th Oct: After an early breakfast, we hit the road again; another day of long, hard travel. Our vehicles will move up towards Mechuka valley which lies 6000 ft above sea level. As we zoom through the winding roads crossing more forests, villages and streams you'll begin to notice the change in vegetation as it switches from rainforest to a more mountainous setting. Giant banana plants and bamboo trees are replaced by pine and fir with the temperatures dropping noticeably. We reach Mechuka late in the evening and check into our home-stay for some well deserved rest and delicious food.

29th Oct: Mechuka, a small town nestled at an elevation of 1240m is surrounded by snow capped mountains on all sides. The Yargyapchu River flows right through the town. The locals believe the water of this glacial river possesses medicinal properties. Standing on the banks of the river watching the calm flow of this powerful force of nature with its many hanging bridges is a majestic moment. Mechuka is full of interesting elements, from the wild horses running about on the hills and grasslands, colorful wooden houses and magnificent views of the snow-clad mountains, to its residents, the Memba tribe. The sun rises very early here and we start our day early as well. We spend time exploring this mesmerizing small town and trekking to the nearby hills. We will be camping in the mountains for the night if the weather permits, looking up at the starlit sky and enjoying some great food, music and company. The warmth of the fire will be unavoidable at nights in Mechuka.

30th Oct: After breakfast the next morning, we make our way back to the home-stay. After some rest, we set out to explore the town and learn more about the people that live here. Mechuka is a military base with an ancient air strip running through the centre of the town. Catching glimpses of choppers and other aircrafts landing and taking off is fairly common. We head to the 400 year old Buddhist Gompa (monastery) which boasts a spectacular bird's eye view of Mechuka. One can also visit the Gurudwara which is a few kilometers away and provides a great view of the valley. We spend the night in our home-stay on our last night at Mechuka.

31st Oct: It's time to say goodbye to this magical valley as we make our way down from Mechuka after an army-style breakfast. The jeep ride to Itanagar which is our next pit stop is long but scenic. The roads are difficult and the journey is pretty tiring but the view from the jeep and the unforgettable memories of Mechuka are great company, making the long ride easier. We reach Itanagar late at night and check into our hotel. Sleeping in late the next day is inevitable.

1st Nov: After the long journey from Mechuka to Itanagar, it's only natural that this day is meant for resting and catching up on sleep. Itanagar is the capital of Arunachal with great places to chow down at restaurants here that serve food from across the 7 states of north east India. It's also a great place to shop. You can pick up some great souvenirs and traditional handicrafts here. The evening is spent at leisure. One can visit the Ita Fort, the city zoo or take long walks in IG Park in Itanagar. We spend the night here.

2nd Nov: We make our way to Ziro valley early the next day after breakfast. It's a 4-hour long ride through beautiful villages overlooking gushing streams and lush bamboo forests. Ziro is a small village; home to the ancient Apatani tribe. Paddy farming is the major occupation of the people, practiced and perfected over centuries. These paddy fields cover the whole of Ziro valley and it's a unique form of agriculture where fish are also cultivated in the water logged paddy fields simultaneously. We spend the day exploring the various parts of the town and its culture while sampling delicious food and of course momos. You can see the different architectural style of various tribes as you walk around Ziro. Old men and women sporting face tattoos are common here and each design has its own trail of legends associated with it. We spend the night in Ziro.

3rd Nov: After breakfast we go out to further explore Ziro valley. You can check out the camping grounds of the famous Ziro music festival which is surrounded by paddy fields or enjoy a picnic next to the lake. We recommend taking a long walk in the village to meet and understand the culture of the tribes better. Ziro is also a world heritage site and one of the cleanest villages in the country.
We spend our last night in Arunachal in Ziro valley.

4th Nov: After some breakfast and last minute shopping we say goodbye to Ziro and make our way down to Naharlagun Railway Station and catch an overnight train to Guwahati.

5th Nov: We reach Guwahati early in the morning around 5:30 am. It's time for final goodbyes and swapping numbers before we exit through the gates of reality.

It has been a long 10 days in Arunachal and we are approaching our last few hours in this paradise. As we head back to our individual lives, we carry with us the beauty and grandeur of one of the most underrated Meccas for travellers. Interacting with the simplicity and warmth of the people here who live in harmony with nature and will continue to welcome more travellers like us seeking solitude in the embrace of the land of the rising sun will leave you humbled and hopefully, wiser.
We return to the grind once again; the slaves of time.
Bus fares from Guwahati to Pasighat in semi-sleeper buses.
Accommodation in cosy, rustic and comfortable hotels/home stays with decent amenities on a triple sharing basis.
Accommodation in good quality tents and sleeping bags while camping at Mechuka (subject to weather and permits)
Internal transport in jeeps (9 pax per jeep).
Two meals a day i.e. breakfast and dinner.
All activities and visits to places as per itinerary.
River rafting on the Brahmaputra river, Pasighat.
Train fares from Naharlagun Railway Station to Guwahati Railway Station by AC sleeper
All guide and local expertise charges.
Expenses incurred by individuals over and above provisions by Vagabond.
Visit to any place not listed in the itinerary.
Transport from home town to Guwahati and back.
One meal a day.
The group will be accompanied by an experienced guide and tour co-ordinators as well.
A well-equipped first-aid kit and experienced operator will be available.
In case of cancellations on or after 10th Sept 2017 and on or before 26th Sept 2017 Rs 10,000 will be deducted.
In case of cancellations on or after 27th Sept 2017 and on or before 10th Oct 2017, Rs 20,000 will be deducted.
In case of cancellations on or after 11th Oct 2017 and on or before 24th Oct 2017, Rs 25,000 will be deducted.
In case of cancellations on the day of departure (25th Oct), no refund shall be admissible.