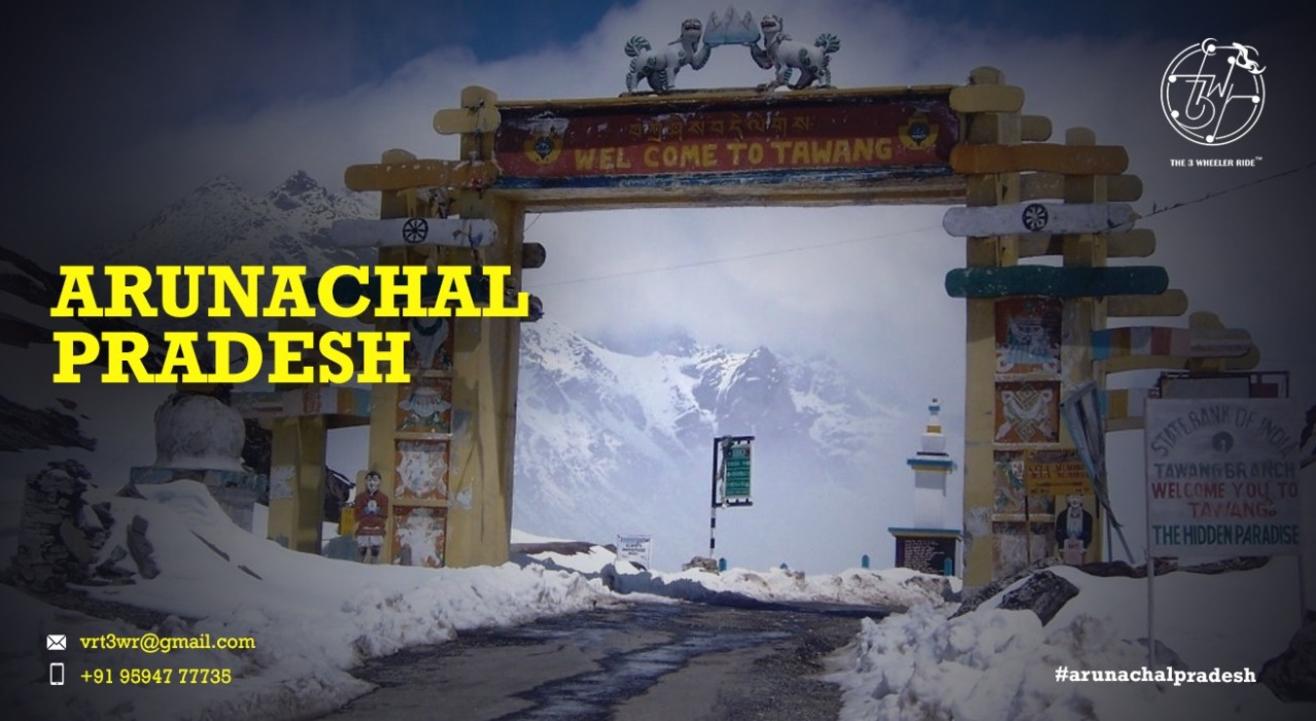 Arunachal Pradesh - Trip to Tawang
March 8 | 1PM - March 15 | 3PM
Guwahati International Airport
Step out and enjoy this event
Invite your friends
and enjoy a shared experience
Invite your friends
and enjoy a shared experience
About the Event
About The 3 Wheeler Ride
Since the last decade, travel and tourism is catching up in India. The otherwise mundane lives, gets a fresh twist on a holiday. Till few years ago, travel comprised of visiting selected destination that have been so exploited in recent times that it has lost most of its indigenous charm.Whereas many beautiful havens still remain undiscovered, these untouched beautiful places have become the new travelers delight.The 3 wheeler ride will take you many such undiscovered destinations for an adrenaline gushing Adventure travel.Therefore we follow our motto of travel different, be different!
Our Vision :


T3WR started by our founder Jigar Lalai with a simple vision of taking people to an amazing location, to show them staggering scenery and interesting towns and to introduce them to the fascinating people that live among them.It is this ethos that has seen our company grow and our clients return to us again and again. We aim to provide exceptional travel experiences because we believe that travel should be stimulating and that it should give you an authentic experience of a destination. We want our travelers to relish the amazing diversity nature has to offer through our repertoire of adventures.
Our Mission :
To ensure an authentic and unforgettable life-changing experience for everyone. We firmly believe that travelling is all about experiences and it's in the details – the places you stay, the transport and route that gets you there and the people you meet along the way that make the trip; hence we specialize in drawing on our own extensive local knowledge and array of contacts to give our clients the very best experience possible. We want to offer a style of travel which is all about exploration.
Travel Philosophy :
"The World is a book, and those who do not travel read only a page."Adventure travel is more than a vacation, it is freedom. It is intensified living, with maximum thrills per minute. The great joy of adventure is simply leaving all your luxuries and certainties at home and seeing everything you thought you knew in a different light and from a crooked angle. Travel to open your hearts and eyes and learn more about the world. The key purpose of travelling - grow from each trip, learn something new about yourself and let the experience change you. Biking, hiking, whitewater rafting and other ever-so-amazing- activities await. Come and get 'em.
OUR ENDEAVOR:
Always dreamed of getting deep inside one of the world's greatest and most out-there destinations? Travelling with T3WR is the best way to get up close and personal with your planet in a way you'd never manage on your own.Opportunities for adventure are scattered all over this planet; you just need to know where to find them. Active adventures get you closer to the destination by letting you hike, bike and multi-sport your way through it. We provide the equipment, the experts and the opportunity; you provide the energy makes your trip planning fun, exciting and nearly effortless.
Arunachal Pradesh
Arunachal Pradesh welcomes you with some of the most significant Buddhist monasteries, immense natural beauty and a relaxed pace of life. If you're looking to escape the humdrum of city life and want to spend a few peaceful days exploring the untouched beauty of India, this is where you need to go.
Itinerary :
Day 1 : GUWAHATI - BHALUKPONG
Arrival at Lokapriya Gopinath Bordoloi Airport /Railway station Guwahati. After that proceed to Bhalukpong.Overnight stay at hotel in Bhalukpong.
Day 2 : BHALUKPONG – SANGTI VALLEY
Morning after breakfast check out from hotel. And proceed to Sangti valley. Sangti Valley is where the black neck crane comes each year. They breed here in the valley! It's a rare bird that is only in India and Bhutan in the colder regions. It's got a 7 foot wing span and it's loved by Buddhists and a symbol in their religion. It also happens to be the state bird of Jammu & Kashmir. It also has sheep farming and yak research center. overnight.
Day 3 : SANGTI VALLEY – DIRANG
After breakfast drive to Dirang . Dirang is a buddhist gem, see Khastung Gompa is located high above the village. It's over 500 years old, claiming the title of the oldest monastery in Arunachal Pradesh. From here you can get stunning panoramic views of the whole place.Exploring this place on foot is easily the most exciting. You will come across ancient houses, bridges laced with Himalayan flags, wildlife and prayer wheels. There's a surprise around every corner. Nowadays Buddhist monks make pilgrimages here. It's worth checking out the amazing entrance gate and the hidden secrets on the ceiling. After you've taken a stroll around, you might want to cool down and dip your feet in the Dirang Chu river. The Dirang Chu river originates and travels all the way from Tawang. But, it's still as fresh and clear as it was from the source. See Thubsung Dhargyeling Monastery at sunrise. This monastery was built in April 2017 and was inaugurated by his Holiness the 14th Dalai Lama himself. It's a temple and learning institute of Tibetan Buddhism by monks and members of the Buddhist faith. The name Thupsung Dhargye Ling was given by the Dalai Lama and means: "Place of Flourishing of the Buddha's Speech". Dirang used to be a region of Tibet. Since China's suzerainty of Tibet, many Tibetan refugees have fled to Dirang. This monastery now acts as a hub for Tibetan culture and Buddhist teachings to ensure they stay alive for future generations. Visit dirang dzong. Another name for Dirang is Dirang Dzong. Dzong means jail and refers to the name of the fort/jail located within the center of the village.
Day 4: Tawang
After breakfast, drive to Tawang. On the way, cross Sela Pass, which at 13700 feet is one of India's highest motorable passes. Stop here to take in the views of the majestic Sela Lake area. Visit Jaswant Garh, the site where the Indian Soldier Jaswant Singh put up a last stand against the marauding Chinese army in the 1962 war. Proceed to Nuranang and get a glimpse of the powerful Jang waterfall. Check-in at your hotel. Overnight in Tawang.
Day 5: Tawang :After breakfast, head to Tawang monastery, the world's second largest practising Buddhist monastery. It houses rare artefacts and an imposing statue of Buddha. Proceed to Khinmey and Urgelling Monasteries, the latter being the birthplace of the 6th Dalai Lama. After lunch, also visit Thuk Choening Nunnery. Spend the evening at your leisure and explore the markets of Tawang. Overnight in Tawang.
Day 6 : Bumla pass - Tawang At an elevation of 5,000 m above the sea level, the Bum La Pass marks the Indo-China border. In 1959, the Dalai Lama on his way from Tibet to India is believed to have escaped via Bumla (Also spelled Bum La – La is pass in Tibetan). In the India-China War of 1962, the Chinese Army invaded across the Bumla pass. Hence, it can be said that Bumla lies at a strategic location in Arunachal Pradesh. The pass itself is buried in snow for most of the year due to the high altitude location. There were efforts to re-open Bumla pass for trade in 2006. Apart from Chushul in Ladakh and Nathu La in Sikkim, Bum La is the only place where the Border Personnel Meetings are held.Post that we visit Sangatser lake , which appeared different than usual lakes and indeed had a big reason for the strange appearance. It was formed after an earthquake in 1971 which had caused the damming of the river. Although the official name of the lake is Shungatser Tso (Tso is lake in Tibetan), it is locally popular as Madhuri lake. Over night at Tawang.
Day 7: Bomdila - Early morning checkout from hotel and directly proceed to Bomdila. Post reaching bomdila we check in at our rooms fresh n up and visit Gentse Gaden Rabgyel Ling Monastery built in 1965 by twelfth incarnation of Tsona Gontse Rinpoche. Apart from it religious significance this Monastery is popular for its natural beauty. One will get bird's eye view of Bomdila town from here. We then visit Buddha Stadium is situated near main market, and then spend some time in market. Overnight at Bomdila.
Day 8: Gpuwahati Airport : Today post breakfast we leave for Guwhati Airport, and from there leave for your onwards journey.
Inclusions :
1. Accommodation on sharing basis in clean and decent rooms/homestays.
2. Pvt vehicle for sight seeing.
3 .Airport transfers.
4. Tawang inner line permits.
5. Breakfast & Dinner throughout the tour.
6. Bum la pass Inner line permits.
7. All entry fees & Monument charges as per itinerary.
9. Your savior and your best friend on board (T3WR Ranger)
Exclusions :
1.Flight tickets too & fro from Guwahati.
2. Expenses of a purely personal nature such as laundry,Telephone, extra meals etc.
3.Any other thing not included in the Inclusion column.
Once you Book the tour, our team will get in touch with to assist you with flight ticket bookings and also assure all your questions are answered satisfactory relating to the trip.
Guwahati International Airport
Borjhar, Guwahati, Assam 781015
GET DIRECTIONS