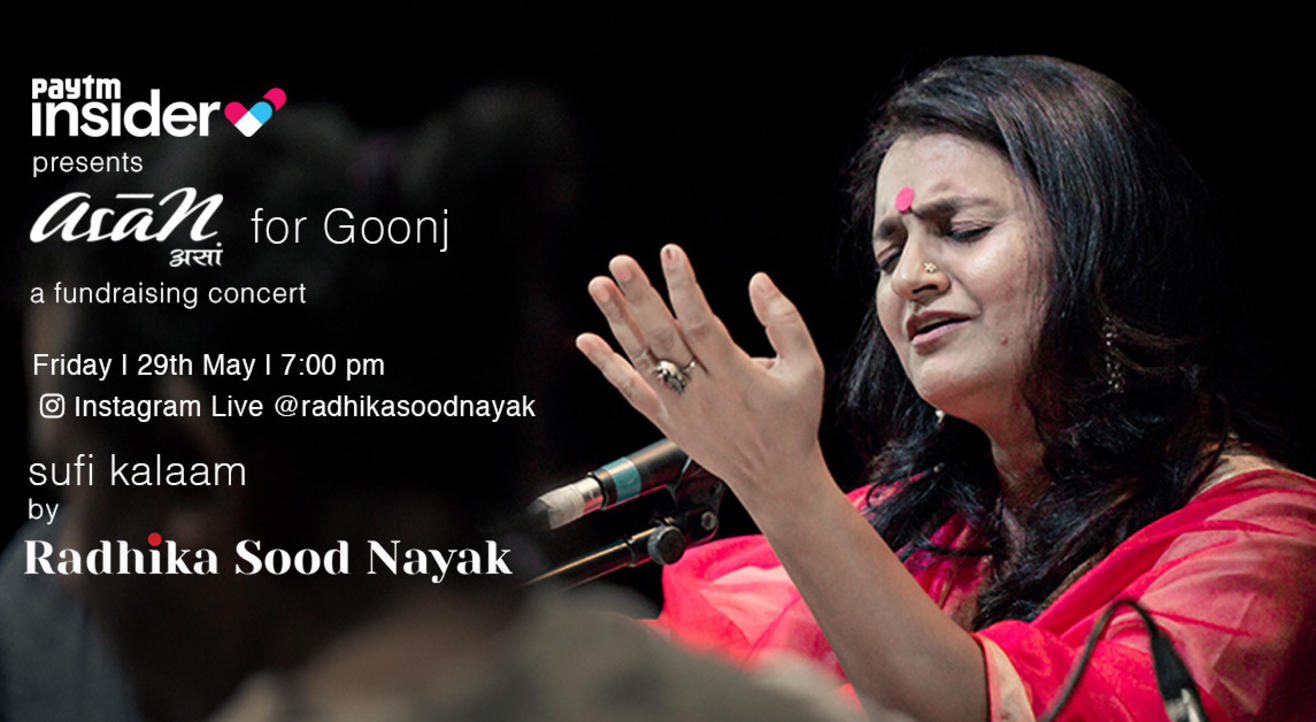 Invite your friends
and enjoy a shared experience
Invite your friends
and enjoy a shared experience
About the Event
AsāN | असां for Goonj immerses into the Sufi kalaam of Baba Bulleh Shah, Shah Hussein and Sultan Bahu.
"Why should I be called a learned scholar,
I sit in my home and commune with the divine."
These words from AsāN | असां a kalaam by Shah Hussein resonate today as we introspect as a community in these days of lockdown and uncertainty. Radhika Sood Nayak, in her personalised style, intersperses the Sufi kalaam with a narrative, since in every 'Kaafi' of these mystics, there is a central idea that is simple enough for all of us to know and yet often remains undiscovered amidst the music.
Radhika Sood Nayak has dedicated her composition AsāN |असां to Goonj, and has so far raised 3.2 lac as funds for Goonj, which is relentlessly providing relief to multitudes adversely impacted by COVID 19.
The proceeds of this concert will be entirely contributed to Goonj. Inviting all of you to participate in this cause, with your tickets as invaluable contributions and with your quest to immerse a little more in Sufi poetry.
Radhika Sood Nayak stepped into the world of Sufi music and poetry through the Kabir Festival. This was after an MBA from XLRI Jamshedpur and corporate stints with Unilever and ANZ Grindlays. She has performed at Malwa Kabir Yatra, Rajasthan Kabir Yatra, World Sacred Spirit Festival at Nagaur, the Old World Theatre festival at India Habitat Centre Delhi, NCPA's Sufi Music Festival Sama'a and most recently at the Mystic Kalinga Festival, Bhubaneshwar.
Event Start & End time : 7 pm to 8 pm