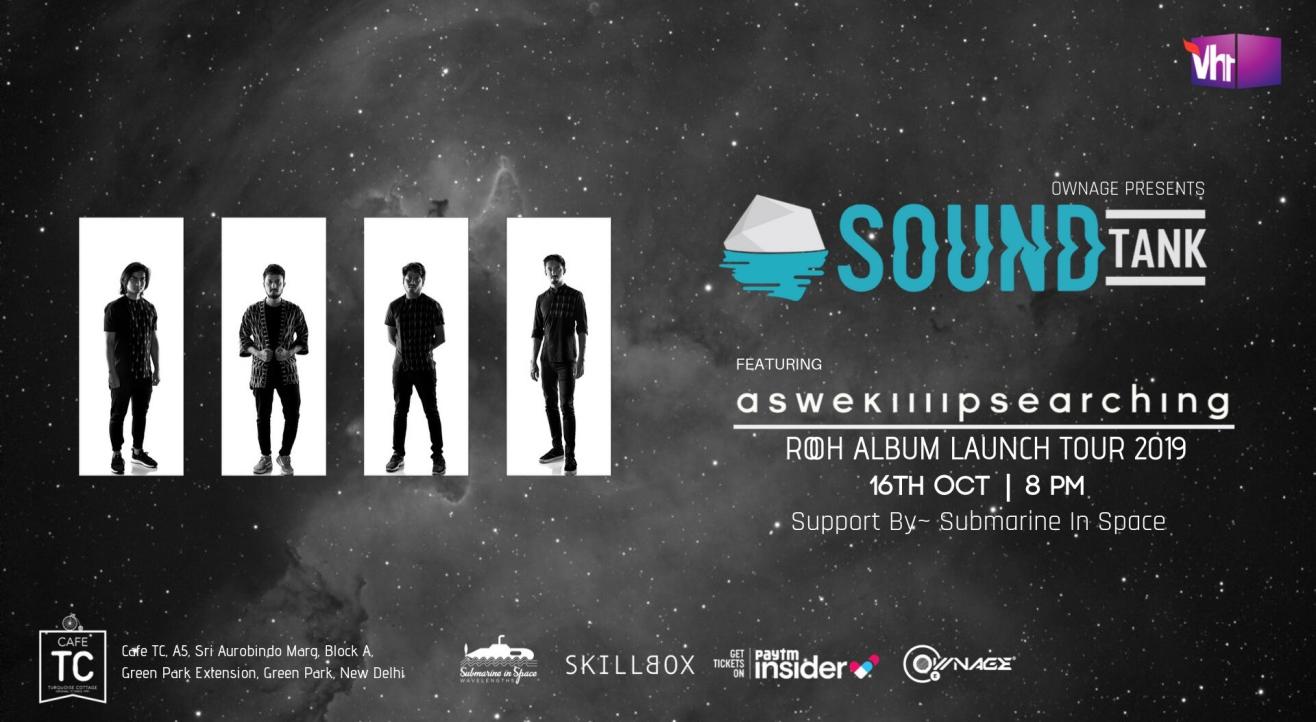 Music
Aswekeepsearching 'Rooh' Launch Show | New Delhi
Cafe TC - Cafe Turquoise Cottage
About
On the 16th of October SoundTank will be hosting the Delhi Leg for Aswekeepsearching's upcoming tour, ROOH, which will be the third Album of the band since their inception.
No introduction required, AWKS is India's first Modern Post-Rock band (with some vocals) and they have been turning heads and perking up ears over the world for a while now. Originally from Ahmedabad, Gujarat the band was formed in 2014 comprising of guitarist/vocalist Uddipan Sarmah, guitarist/keyboard Shubham Gurung, bassist Robert Alex, and drummer Sambit Chatterjee. Having started truly small, their music and their humility helped them pave their way through the scene and make a mark. They've played festivals like NH7 Weekender, CTL ALT DEL, VH1 Supersonic, toured across countries around the world, shared the stage with notable acts such as God Is An Astronaut, Steven Wilson, put a number of awards under their belt, and more.
SoundTank is an IP launched by Ownage Entertainment in November 2018 with the aim to aid and promote the live independent music scene in India. Since their launch they have curated a series of events under their belt. SoundTank Sessions is their general property for bands from around the country who perform their own music, no matter their stature in the scene. SoundTank Spotlight showcases independent singer/songwriters. There are the stand alone EP/Album Launch gigs, SoundTank #101 under which they hold masterclasses/workshops on topics that every independent musician can gain from, and SoundTank Connect, a property that aims to provide a casual space for the music industry workforce to come share, reflect, create and network.
The band will be playing at Cafe TC : Turquoise Cottage Green Park of New Delhi.
Opening for the band is another outfit you may all be familiar with already, Submarine In Space. Formed in 2015, the Jazz Rock band is a creative endeavour to bring out fresh music from seemingly incongruent sources. Inspired by genres ranging from old school jazz to hindustani classical, their sound is very dynamic and cinematic. The band comprises of guitarist Abhishek Mittal, keyboardist Vatsal Bakhda, bassist Madhur Chaudhary, drummer Vaibhav Ahuja, and violinist/flautist Sayan Sinha.
___________
With Vh1 India
Venue
Cafe TC - Cafe Turquoise Cottage
A5, Sri Aurobindo Marg, Block A, Green Park Extension, Green Park, New Delhi, Delhi 110016