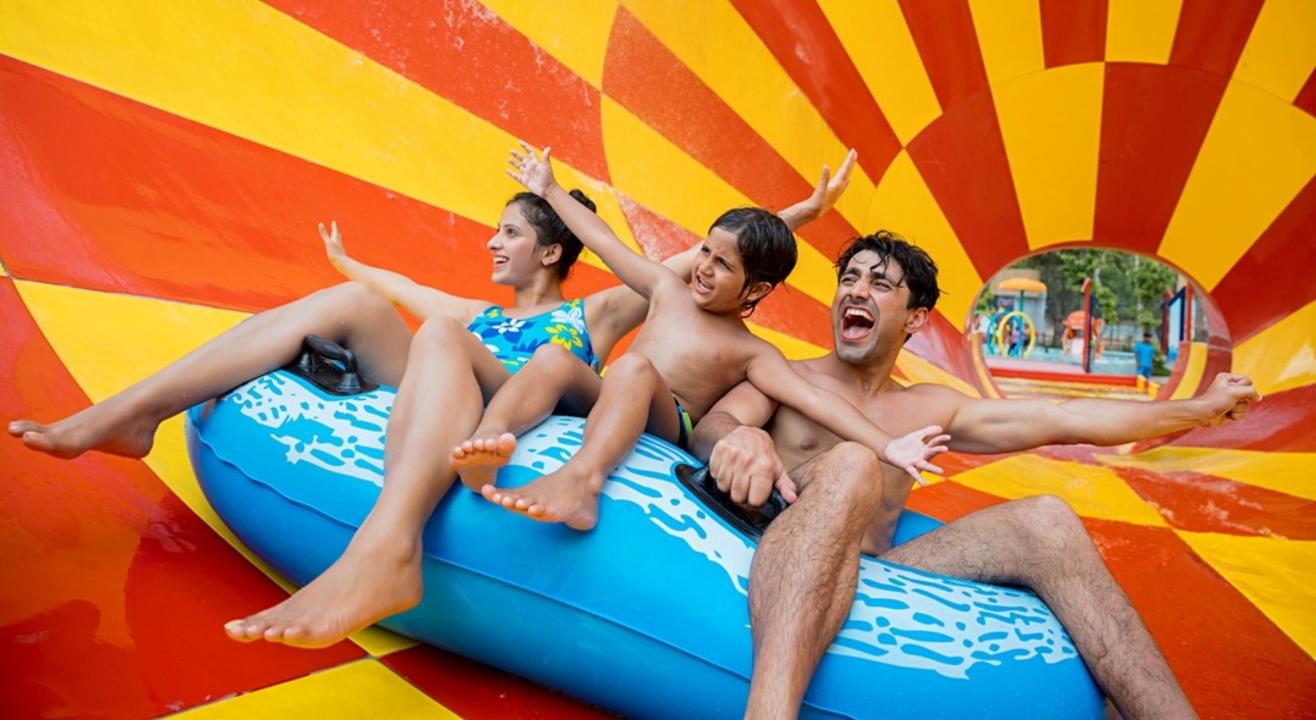 Adventure
Atlantic Water World - South Delhi's Water Paradise
Kalindi Kunj Park Parking
About
Buy 3 tickets & get 20% discount upto ₹750 Use code: APINS20 (T&C apply)
South Delhi's very own water paradise, Atlantic Water World is the first park in Delhi NCR which is surrounded by a water canal and sits on the Yamuna waterfront along the Kalindi Kunj barrage. Atlantic Water World is a world-class water park in Delhi/NCR, offering people the perfect getaway full of fun, thrill, sheer excitement, and real entertainment. Reaching the park is easy-peasy. Being in the heart of South Delhi, it has direct connectivity with the entire city. It's just 100 meters from the Kalindi Kunj Metro Station and is well served by all the cab providers. With 13 world class slides, some of which are exclusively available only at Atlantic Water World, like Aqua Funnel, Tornado - both of them, the first in North India. It is considered to be one of the cleanest, most well-maintained water parks in the country, known for its family-friendly slides and safety. Whether you're with friends or family, you are sure to have the time of your life at Atlantic Water World. All the rides and activities in the Atlantic Water World are closely monitored by a team of highly trained and skilled lifeguards.
Major Attractions
Tornado
Experience thrills & chills in this funnel-shaped slide as you zoom down 60 feet while sitting on a rubber tube, swinging side to side.
Storm Eye
Drop down an elevated chute and spin like a fusilli before splashing into a giant splash pool below. Not for the faint-hearted. Are you in the mood for a cyclone?
Wave Attack
Catch the waves and recreate the ambiance of the blue waters of the Indian Ocean. Paddle in the shallows or ride the wow-inspiring waves with flotation devices. In the end, you come away feeling refreshed.
Yippee Land
Missing Goa and Phuket? Now you can enjoy the pleasures of your very own beach in the heart of Delhi. Yes, you read it correctly – Delhi. Soak in the sun or laze around in our beautiful artificial beach.
Loopy
This one's seriously twisted! Drop down and zoom through the various twists and turns of this very loopy ride.
Gravity
This one is not for the faint-hearted. Gravity drops you down at incredible speeds. If you love thrills, you are surely going to love this!
Racer
Ready to see who's the fastest wave rider in your gang? Hop on the Racer with two of your friends and show them who's the master of speed as you race them down the slide.
Baby Cool
Why should adults have all the fun? Let your little tots enjoy their day in the sun (and the much - needed Vitamin D) as they splash about and have a gala time.
Family Pool
The family pool is the best attraction in the park for the entire family. Be it an adult or a child, swimmer or non-swimmer, you can gambol in the shallows and bond over smiles and squeals.
Slow Flow
Tired of all the fun you're having? Need a break? Then how about you hop on a rubber tube and chill out while you go around our lazy river? You can be lazy without missing out on the fun.
Atlantic Café
With two level seating and delectable multi-cuisine offerings, Atlantic Cafe is here to ensure that the foodie in you stays satiated and energy-packed all day long.
Buffet Lunch Restaurant (only on weekends)
Restaurant with a gourmet, vegetarian lunch buffet. Don't forget to check our combo offers.
FAQs
Q -What Are The Rules And Regulations Of The Water Park?
A- Please refer to the Water park Rules and Regulations for all information.
Q-Do I Need To Bring My Own Towel?
A-Towels are available on rent in the park.
Q-What Age Does My Child Have To Be To Get In FREE?
A-Children below 3 feet in height are allowed free entry.
Q-Can I Bring My Own Food And Drinks?
A-No. We have a food court from where you can purchase food and drinks as per menu and prices listed.
Q-Do I Still Pay Even If I Don't Get Into The Water Or The Rides?
A-Yes. There is an admission ticket required for all to enter the park.
Q-Do You Have Locker Facility And Changing Rooms?
A-Yes, we do
Q-Do You Have Facility/Shop To Rent Swim Suits, Towels Etc?
A-Yes
Q-Do You Allow Smoking Or Alcoholic Beverages?
A-The water park is a non-smoking facility. We do not serve alcohol.
Q-Do You Have Trained Lifeguards Manning All Attractions?
A-Yes
Q-Are There Age /Height Restrictions For Certain Rides?
A-No
Q-What Is Your Chaperone Policy?
A-We strongly suggests that minors under the age of 18 be accompanied by a parent or adult guardian. The park does not assume any responsibility or liability for unattended minors.
Q-Do You Have A Dress Code?
A-There is no dress code. However, park management will decide if the swimsuit is safe, hygienic, etc.
Q-Do You Have CCTV Cameras In The Park?
A-Yes the entire park is covered by CCTV cameras.
Q-Will You Refund Our Money If Any Ride Is Not Operational?
A-It may be possible that 1 or more than 1 ride may not be operational due to reason beyond our control, please bear with us, under no such circumstances the tickets would be refunded.