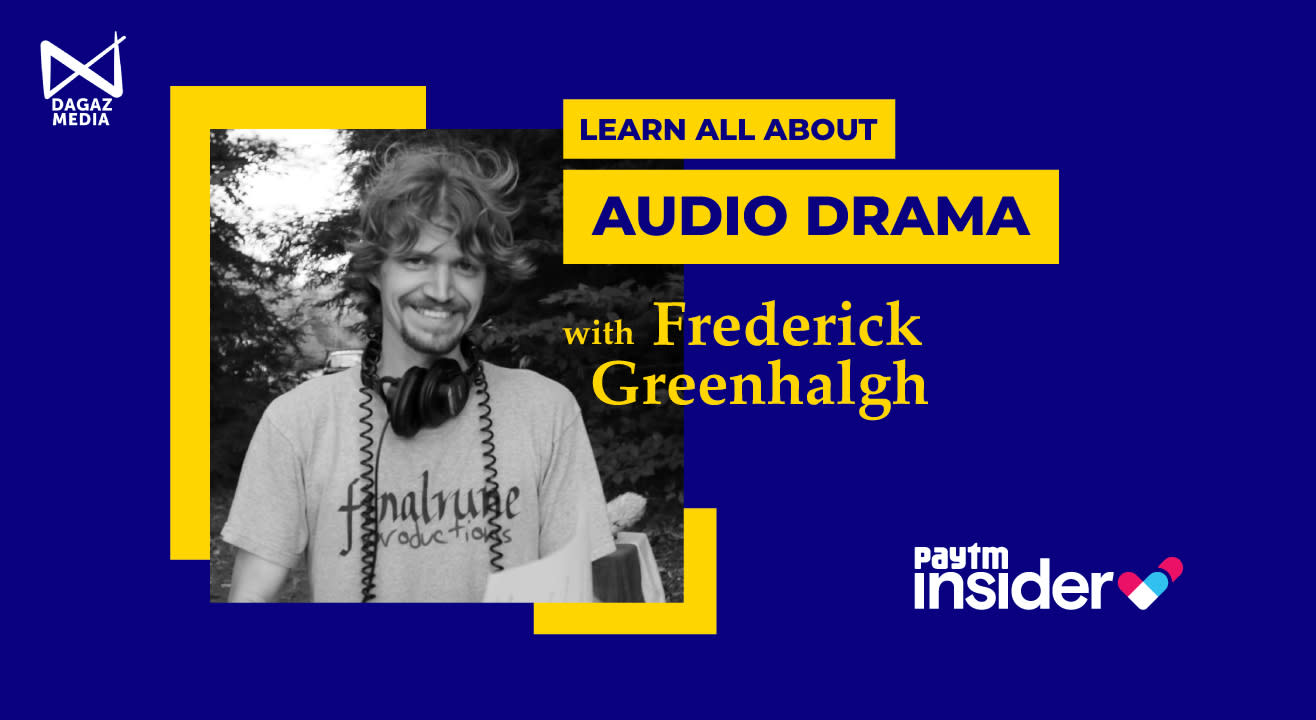 Learn all about Audio Drama with Frederick Greenhalgh
Learn about everything that goes into creating a stellar piece of audio fiction, through these online workshops featuring Frederick Greenhalgh. Master the art & learn while you do that, from the comfort of your home.
Invite your friends
and enjoy a shared experience
With live theatre, film, and other such performance arts suddenly on hold, online audio fiction podcasts are enjoying a massive renaissance. Learn the power of telling stories through sound alone in this modern online art-form, that can help you reach a global audience.
Get your tickets for Audio Drama with Frederick G:
About the online workshops:
This workshop includes a basic introduction to the art-form, as well as more advanced introductions to the aspects of writing, directing/acting, producing, and marketing audio fiction
These sessions provide you with a comprehensive guide to creating your own Audio Drama, which begins with a basic understanding of the medium and its form
You may choose to pick any one of the modules, based on your interest and skill levels, but we do recommend you take the Audio Drama - An Introduction session as well, to ensure you have a solid foundation
About Frederick Greenhalgh
Frederick Greenhalgh has brought location-recording techniques from his indie film background to the production of audio drama. His work has been featured in NPR, The New York Times, The Wall Street Journal (A4), Financial Times, The Guardian, and BBC Radio 4. Frederick's credit reel includes X-Files: Cold Cases/Stolen Lives, Locke and Key, Expeditionary Force: Homefront, and original series The Dark Tome, The Cleansed, and The Mayan Crystal.
Testimonials
(From participants that took part in the recently concluded course in the U.S.)
"Hi Thank you so much for all of these fantastic classes, it's been an utter joy to have taken part in them! I have learnt so much and I'm so excited for all the exciting audio drama I will make as a result" - Bethany

"Thank you for running your online class and for making it such a fun and collaborative and rewarding experience! I enjoyed meeting you and really appreciated your enthusiasm. As someone going to school for Film and TV production and craft, I've been so pleasantly and consistently surprised by what a force for storytelling audio fiction is -- I'm so looking forward to continuing to learn" - Claudia
"Can't thank you enough for this course - I wanted to do it as I have been entirely self taught and wanted to fathom things from someone who knew what they were doing. Really enjoyed the sessions and your teaching manor" - Sarahx
Subscribe to receive our newsletter!
Find the best experiences happening out there in your city or enjoy handpicked content while sitting comfortably at home. Paytm Insider is your go-to place to figure out what to do today!