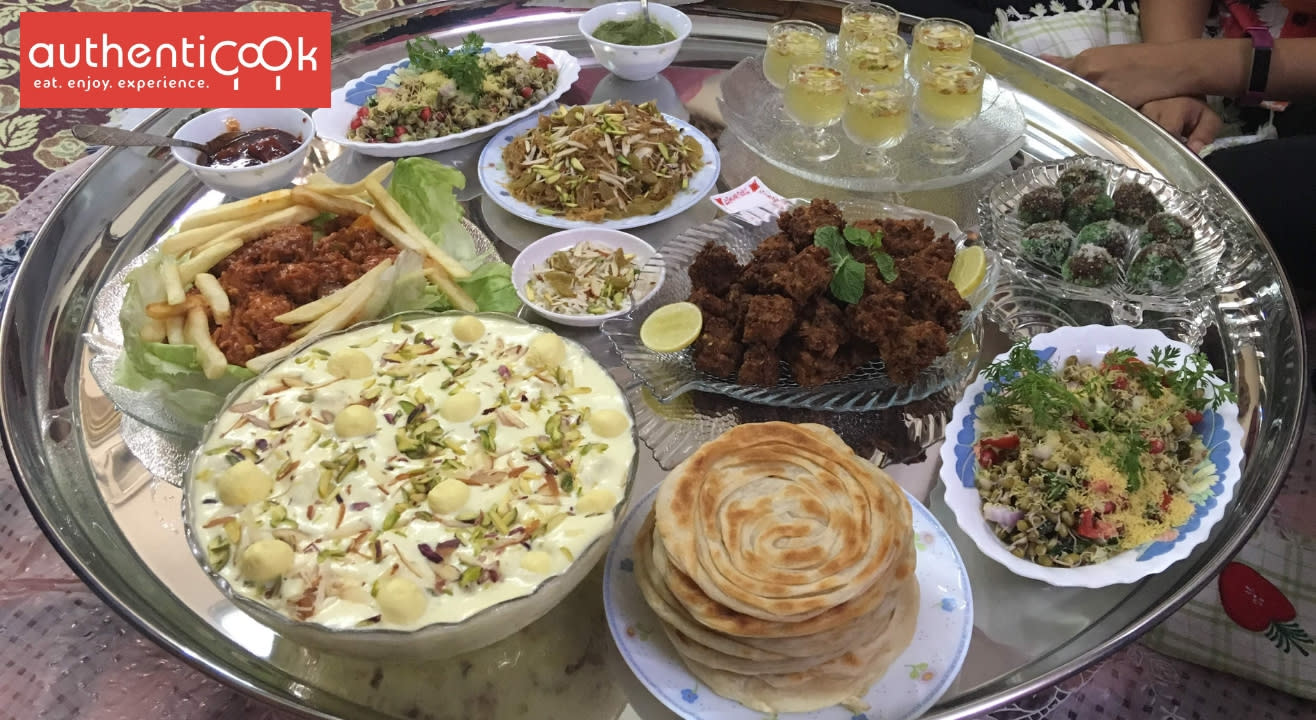 Themed Lunch
Authenticook Presents Bohri Thaal in Lokhandwala
October 6 | October 7 | 1PM
About
Situated in Lokhandwala, one of the most busiest suburbs of Mumbai, Authenticook home-chefs Layeka and Alisha welcome you to our home to dine a traditional Bohri thaal.

A Bohri thaal is all about community dining with a group of people come to enjoy a meal from one big thaal. They belong to a small community called Alavi Bohras, based mainly out of Baroda, Ahmedabad and Surat. A lot of their food, mainly non-vegetarian, has an Arab, Mughlai and Gujarati influence.

You will be comfortably seated on the floor with a big thaal (steel plate) placed in the centre. The meal begins with a pinch of salt that acts a palate cleanser. While most cuisines save the dessert for the end, a Bohri thaal begins with it - yes! The first course you will be enjoying is a sweet, or Mithaas as they call it. This will be followed by a savoury course called Kharaas and another round of the two. Enjoy homemade Bohri food like Rasmalai Trifle, home chef's signature Mutton Kebabs, Daal Gosht, Lacha Paratha and so much more! By the end of the experience, if the food hasn't drowned you in a stupor, you can always go street shopping in Lokhandwala Market!
WELCOME DRINK
MOCKTAIL
A tasting, refreshing drink to kickstart the Bohri thaal

SHERBET-E-AZAM
Shots of a special Bohri sherbet with oodles and oodles (not kidding) of dry fruits

TO START WITH
SALT
Begin the meal with some salt to open up your taste buds

SAKAN NU SODANNU
A small portion of rice, sugar and desiccated coconut, since every nice experience should begin with something sweet

SPECIAL MUTTON KEBABS
An age-old recipe of keema kebabs, deep fried to perfection

LASUN CHICKEN
Saucy, tangy and delicious chicken loaded with garlic that is finger-lickin' good

SWEET INDULGENCES
MALAI KHAJA
A Bohri favourite - puff pastry topped with some creamy malai barfi

RASMALAI TRIFLE
A desi take on a videsi dessert, filled with the goodness of cream, rasmalai and sponge cake

MAIN COURSE
NAWAABI CHICKEN
A rich chicken gravy cooked with cashews, almonds, pistachios and dollops of yoghurt and cream

DAAL GOSHT
A dish that has travelled across India – dal and mutton slow cooked with the best of spices

LACHA PARATHA
Flaky and layered flatbread

JEERA RICE
Rice cooked with whole spices and cumin seeds

ACCOMPANIMENTS
CHAAT SALAD
A chaat like chatpata salad made with sprouts, carrots, cucumbers, and peanuts

KACHUMBAR
A staple onion salad found in their home

GORKERI NU ACHAAR
A special import from Gujarat - sweet and spicy mango pickle/chutney

PAPADI
Hand-made in Baroda, these deep fried papadis are a must have with every Bohri meal

TO END WITH
MUKHWAAS
A perfect end to the meal
PAAN