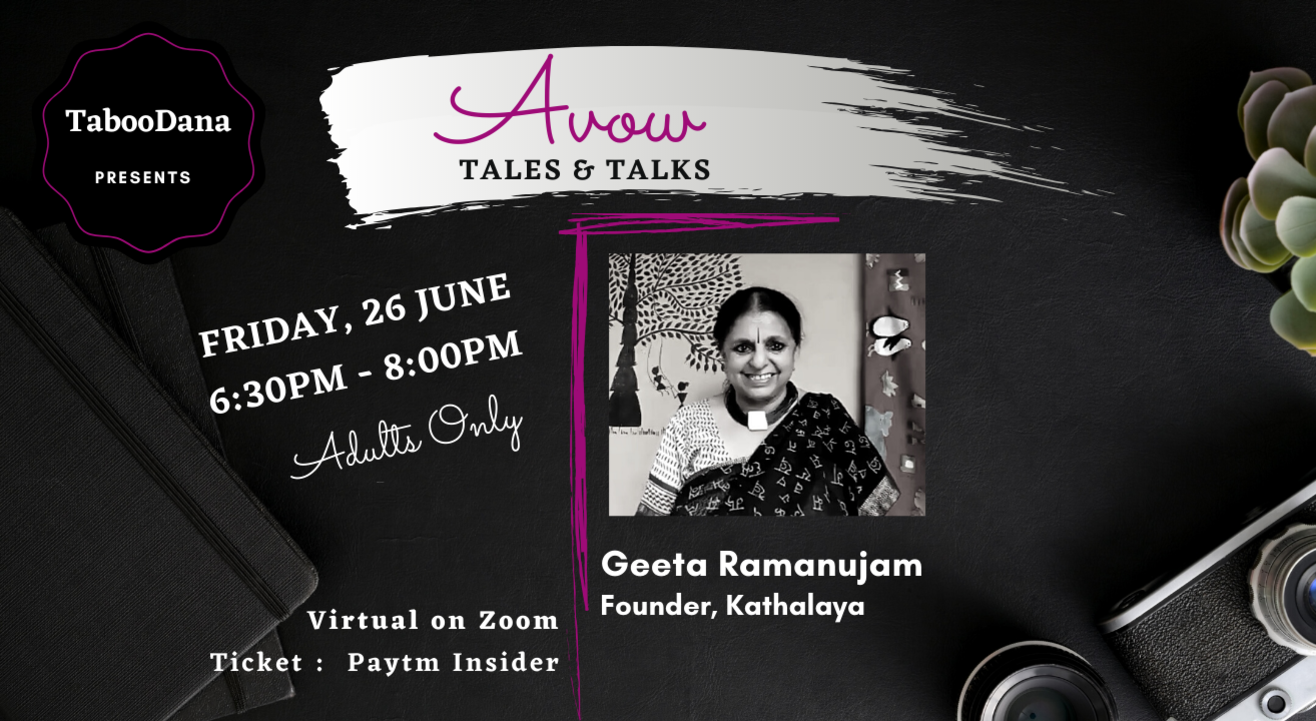 Avow - Tales & Talk by TabooDana
Invite your friends
and enjoy a shared experience
Invite your friends
and enjoy a shared experience
About the Event
TabooDana's "Avow-Tales and Talk"
A safe space to listen and express
Geeta likes to tell us in her words what the event will be about
"One after another mighty famous arrogant monarchs hanker, like bees maddened by the flowers scent to kiss the sole of these feet."
She just knows how to entice men.
Trans creating the myth from Mahabharata. The in between feelings felt by the princess sharing her desire with her friend and maid. Interested? Tune in on June 26th 6.30 p.m . I am excited to carry you through a journey of hidden emotions and feelings of men!!!!! When the woman entices him. A chance to listen to me after a very long time on TabooDana - Stories for Adults. And the opposite feeling through a Greek myth.
Geeta is an accomplished, master Story Teller. A true giver with over 25 years of experience.
She will take us on a journey with her beautiful and engaging stories. She will touch upon different varied emotions.
And opening the stage for insightful and reflective conversations among participants.
About Geeta Ramanujam
Geeta is founder of Kathalaya's International Academy of Storytelling
A well traveled woman with vast experience. She has trained over 85000 people in the art of story telling.
Follow up :
Facebook : https://www.facebook.com/taboodana/
Website : www.taboodana.com
Insta : https://www.instagram.com/taboodana/
Avow - Introduction by Geeta