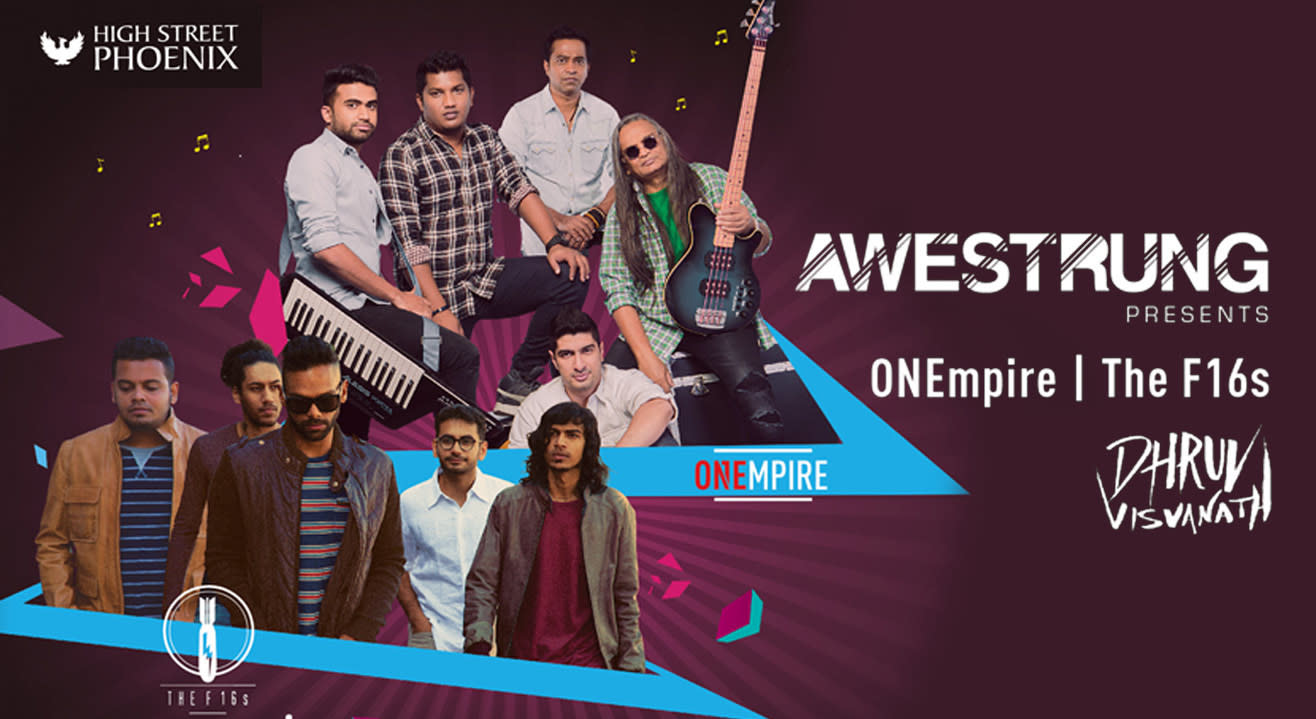 Music
Awestrung, Mumbai
Courtyard, High Street Phoenix, Mumbai
About
Are your feet chained to the rhythm? If so, groove to the music of India's biggest talents here at #Awestrung on the last Friday of every month. Block your dates and witness some magical, foot tapping performances at the Courtyard. AWESTRUNG is High Street Phoenix's big-ticket, monthly music property which aims to bring the best names in the Indian music scene closer to the music lovers.
This time leaving you in complete awe will be Mumbai's ONEmpire, Chennai's The F16s and Delhi's Dhruv Visvanath.
About the artists
Dhruv Visvanath
A multi-instrumentalist, composer, singer- songwriter and the only Indian to be mentioned in Acoustic Guitar Magazine USA's '30 Great Guitarists under 30' (2014), Dhruv has been charming audiences all over the globe with his music. Dhruv brings to the stage a unique style of percussive acoustic guitar playing, earning him the nickname 'Guitar Spanker'. In 2015, the talented New Delhi-based songwriter-singer launched his debut album Orion under Vishal Likes This (VLT)--the new music label launched by music director-singer Vishal Dadlani. He recently did a nationwide music tour - 'The Lost Cause Tour', in November 2016.
The F16s
The F16s are an alternative band hailing from Chennai, India. Their music echoes the melancholia of everyday life. Lyrically powerful, The F16s rock/electronica sound is reminiscent of artists like The Arctic Monkeys, The Strokes, Julian Casablancas+The Voidz, and Vampire Weekend. The band has a couple of prior releases attached to them: a 6-song EP released in 2013 called Kaleidoscope, and a 2-track recorded in Brooklyn, New York called Nobody's Gonna Wait. The band has now released their debut full-length album - 'Triggerpunkte', a nine-song offering that was recorded in Chennai and Mumbai for over a year. Both lyrically and musically, the album, meanders between reverb-heavy sentimentality and fast-paced assault. The outcome is a populist, experimental, healing, agitating, straightforward, highly polished, and multi-layered sound that has won them fans all over the country.
ONEmpire
Having played thousands of shows together & individually, ONEmpire is a band of 5 musicians coming together to create not just a music-oriented show, but an overall experience! ONEmpire pop – rock music band comprises of Garth (Keys), Gavin (Guitars), Loy (Bass), Atish (Drums) & Zarir (Vocals). The ONEmpire experience is not just aurally energetic but also visually enthralling. Their act includes lights, graphics and visuals coupled with a mix of popular songs along with some original compositions. They're known and loved for their performances that feature a lot of crowd interaction and a lot of energy!
Watch a video of The F16s' latest single Moonchild
Venue
Courtyard, High Street Phoenix, Mumbai
462, Senapati Bapat Marg, Mumbai, Maharashtra 400013
GET DIRECTIONS