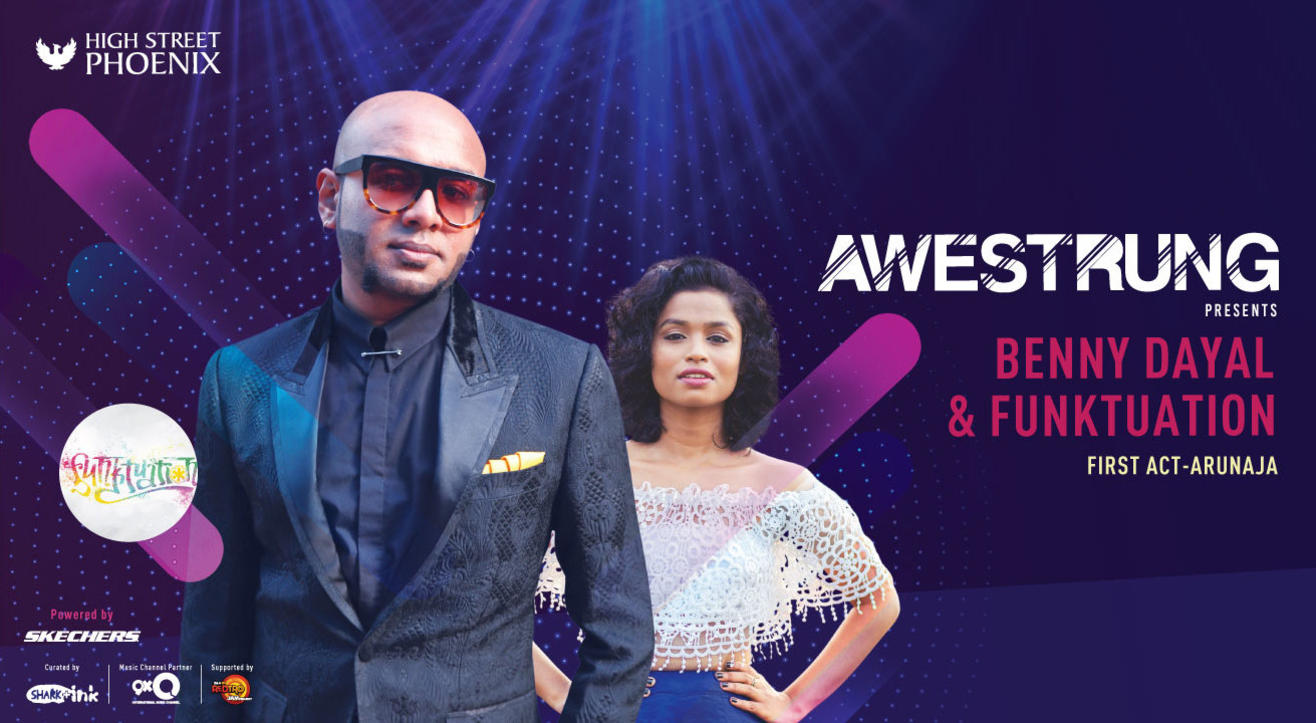 Music
Awestrung with Benny Dayal & Arunaja
Universal Square, High Street Phoenix, Mumbai
About
It's that time of the month again!! Get ready to groove to the music of India's biggest talents here at #Awestrung on the last Friday of every month. Block your dates and witness some magical performances at the Festival Square
This month on 24th November, High Street Phoenix invites you to the next edition of AWESTRUNG with Benny Dayal and Arunaja
Benny Dayal
Benny Dayal rose to fame for his Bollywood productions and since then, has been travelling all across the globe performing them with his band. After a while, the band realised the mundanity of a single sound and decided to go back to their roots - writing and playing independent music - and thus, Funktuation was born as an indie project because that's where their hearts lied. Since early 2016, Funktuation [lead by Benny Dayal] has been performing a mix of Tamil, Hindi and English music across the country, namely Todi Mill Social - Mumbai, HRC Worli - Mumbai, HRC - Bangalore, High Spirits - Pune, Sand and Sound Festival - Vizag among many others.
The band came together in 2011, playing funk covers from the 80's and 90's. Funktuation's groove heavy music is built around warped effects, punchy arpeegiators and funkadelic guitar licks. Smooth catchy vocal lines and clever lyricism meets raw emotion.

Arunaja
In a cut-throat industry like Pop/RnB Arunaja is a breath of fresh air. She exhudes energy that could blow your mind. Quality music for her comprises of vocals that settle with you giving you a sense of warmth and homeliness. Her music and talent is immensely supported by Vishal Dadlani, Ehsaan Noorani and Devraj Sanyal.
She was not only a finalist on the reality TV show 'The Stage Season 2' but also awarded as the 'National winner for Western Vocal Solo' by AIU. Arunaja and her band perform the craziest RnB and Pop runs, which have become her signature style and identity. Together they've canvassed cities like Mumbai, Pune, Bangalore and many more places in Kerala. They've performed at festivals like Sunday Soul Sante and St.Patrick's Carnival along with numerous college festivals. They became crowd favorites at venues like Raasta, High Spirits, The Irish House and Renaissance.
Venue
Universal Square, High Street Phoenix, Mumbai
462, Senapati Bapat Marg, Lower Parel West, Lower Parel, Mumbai, Maharashtra 400013