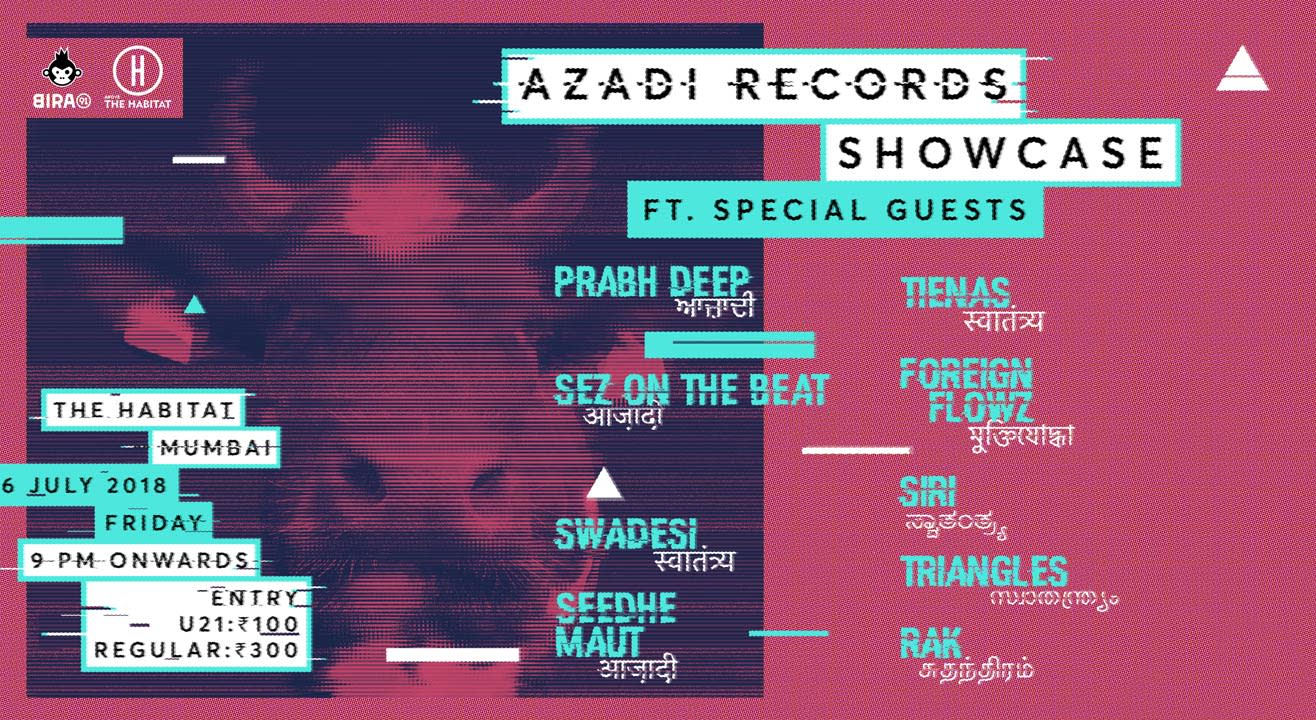 Azadi Records 2018 / 19 Roster Showcase
Above The Habitat, Mumbai
Step out and enjoy this event
Invite your friends
and enjoy a shared experience
Azadi Records 2018 / 19 Roster Showcase
Above The Habitat, Mumbai
Step out and enjoy this event
Invite your friends
and enjoy a shared experience
Invite your friends
and enjoy a shared experience
Azadi Records is proud to introduce its 2018 / 2019 roster as part of a showcase event at Above The Habitat, Mumbai.
Since the beginning, our aim has been to bring you forward-thinking music that showcases stories that are often ignored by the industry.
The love and support we've received for our work so far has been overwhelming and has given us the drive to aim to a little bit higher in the future.
We're excited to introduce you to the future faces of Azadi Records and debuting a lot of new music.
Get to know them below.
Prabh Deep // Delhi
Gifted with a unique voice that contains traces of traditional Punjabi folk singers, Prabh Deep is widely acknowledged as one of the best underground MCs in the country. Born and brought up in Tilak Nagar, Prabh's music paints a vivid picture of growing up in a locality that's reeling from high unemployment rates and the recent influx of drugs in the community.
Over the past two years, Prabh Deep has quickly made his name in India's independent music industry - performing at festivals such as Bacardi NH7 Weekender, Hip-Hop Homeland, ADE Mumbai and Crossblade alongside artists such as DJ Premier, Akala, Raja Kumari, Nucleya and more.
The critical success of his singles such as G Maane and Kal led to music streaming giant Saavn tapping him as one of the faces of their Desi Hip-Hop campaign and Apple Music featuring him as the spotlight artist of the month.

Sez On The Beat // Delhi
Born and raised in the city of Delhi, this Indian producer has experienced an explosive rise over the past couple of years - leading the country's hip-hop scene to the forefront of the flourishing independent music industry.
His work on records like Divine's 'Jungli Sher' and Naezy's 'Asal Hustle' and 'Haq Hai' has seen him win critical acclaim across the board - rising to the top of the charts and breaking streaming records in the country.

Swadesi // Mumbai
The multi-lingual Mumbai-based crew is known for their narrative exploring the socio-political landscape of the country. Their debut album, offering a fresh new sound and providing critical commentary about modern day Indian society, is set to drop later this year.

Seedhe Maut // Delhi
Seedhe Maut represent the next stage in the evolution of the capital's hip-hop sound. Having mastered the art of delivering razor sharp, combative and witty rhymes, the bi-lingual duo are following in the trailblazing footsteps of international hip-hop collectives such as Run The Jewels, Clipse, Black Hippy, Mobb Deep, Blackstar and more. 2 Ka Pahada, their debut mixtape, was released in 2017 to much fanfare and established them as one of the best new acts to emerge from Delhi's flourishing hip-hop scene.

SIRI // Bangalore
Siri emerged last year with a voice and perspective that immediately made her stand out as an artist to watch out for in the Indian hip-hop scene.

Stunnah Beatz // Guwahati
One half of the iconic Stunnah Sez Beatz production duo, Stunnah has built his reputation from scratch and established himself as one of the best producers in Asia.

Foreign Flowz // Guwahati + Shillong
Foreign Flowz is a rap duo based in North East India. The duo includes Stunnah Beatz and Banjop, formed back in 2016. Having earned recognition as one half of South Asia's premier hip-hop production duo StunnahSez Beats, Foreign Flowz is India's answer to the new age hip-hop currently taking the global music industry by storm.

Tienas // Mumbai
The Mumbai-based MC is a breath of fresh air in the city's hip-hop community - bringing to the forefront a Nujabes-inspired sonic aesthetic that hasn't been seen before in a region dominated by 'gully rap'.
Tienas' ability to craft together complex narratives on fluctuating, chaotic beats has seen him enter multiple critics' list. Look out for his debut mixtape and full-length releases later this year.

Triangles - Sharan Jayan // Kerala
Sharan Jayan aka So Fire is one of India's best-undiscovered artists. Having worked in the Tollywood industry for a while, Sharan is ready to release his debut project titled Triangles, in collaboration with Rolex Rasathi and Boka, this year. Triangles is also our first foray outside of hip-hop, with the record exploring modern-day jazz and R'n'B sounds.

Raj Rock Rak - Rak // Mumbai
Rak is a bit of an outlier in the Tamil hip-hop scene - dabbling in the horrorcore and dubstep influenced sounds explored by the likes of Danny Brown, Death Grips and others.
Above The Habitat
4th Floor, OYO Townhouse (Hotel Unicontinental), Road Number 3, Khar West, Mumbai, Maharashtra 400052
GET DIRECTIONS
Azadi Records 2018 / 19 Roster Showcase
Above The Habitat, Mumbai
Step out and enjoy this event
Invite your friends
and enjoy a shared experience