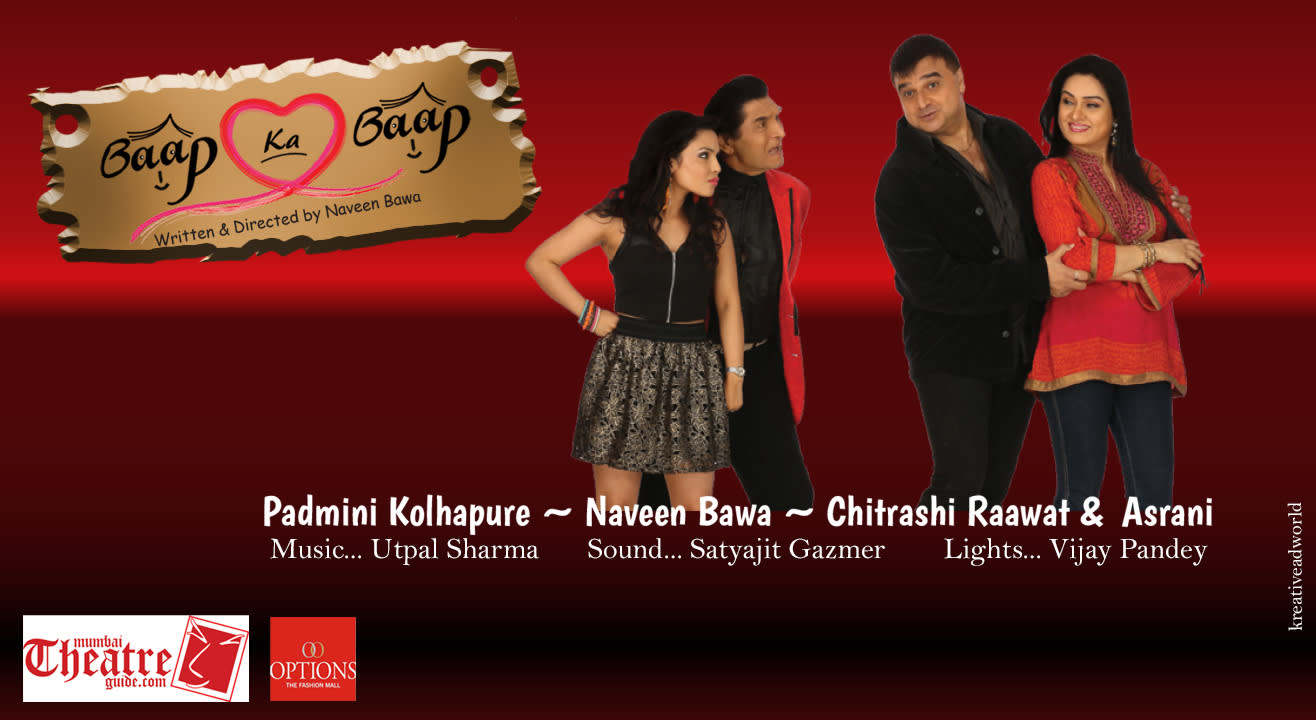 Comedy
Baap Ka Baap
Rangsharda Natyamandir, Mumbai
About
In the genre of spine chilling comic-drama that shakes up old-age stigmas and taboos comes yet another play by Naveen Bawa – Baap Ka Baap.
An edgy, thrilling, satirical and emotionally charged love story intertwined with musical outbursts of these lovable characters.
Baap ka Baap is a study in emotional relationship of JAWAN (Asrani), a doting father who raise his son BACHA (Naveen Bawa) single handedly, sacrificing his own needs of companionship and love. His only ambition is to see his son get married.
As the fate had a different design in store for Jawan that he rediscovers his youth and longing for love in a young, blossoming, sexy and seductive NRI girl, NAMKEEN (Chitrashi Rawat). And soon desire takes over duty.
While Jawan struggles to keep this awkward relationship a secret from his son Bacha and at the same time succumbing to highly testosteroned relationship with Namkeen.
This wasn't enough.
Bacha meets a widow MITHAI (Padmini Kolhapure). What attracts him to Mithai is her painful past. Living in a shell for as long as she remembers, Mithai finds comforting solace in Bacha.
Thus, begins a fiery, unusual, touching affair between both of them.
When the relationship is revealed to Jawan he takes serious objections but ultimately surrenders to tender pleas of Bacha and sympathizes with the gloomy and hapless past of Mithai and gives his consent to their marriage.
And thus starts a roller-coaster ride of a high voltage drama where four souls intertwined with one thread – love.
In their journey to sort this jigsaw, their moralities, social taboos, their love, their ambition and their duty will be challenged. Probed. And discovered.
While doing this Baap Ka Baap will become a catalyst for you to discover hidden emotional chambers of your heart.
Come, laugh, giggle, tickle, sing, cry and fall in love.
Padmini Kolhapure
Asrani
Chitrashi Rawat
Naveen Bawa
Venue
Rangsharda Natyamandir, Mumbai
Near Lilavati Hospital, KC Marg, Bandra Reclamation Flyover, ONGC Colony, Bandra West, Mumbai
GET DIRECTIONS