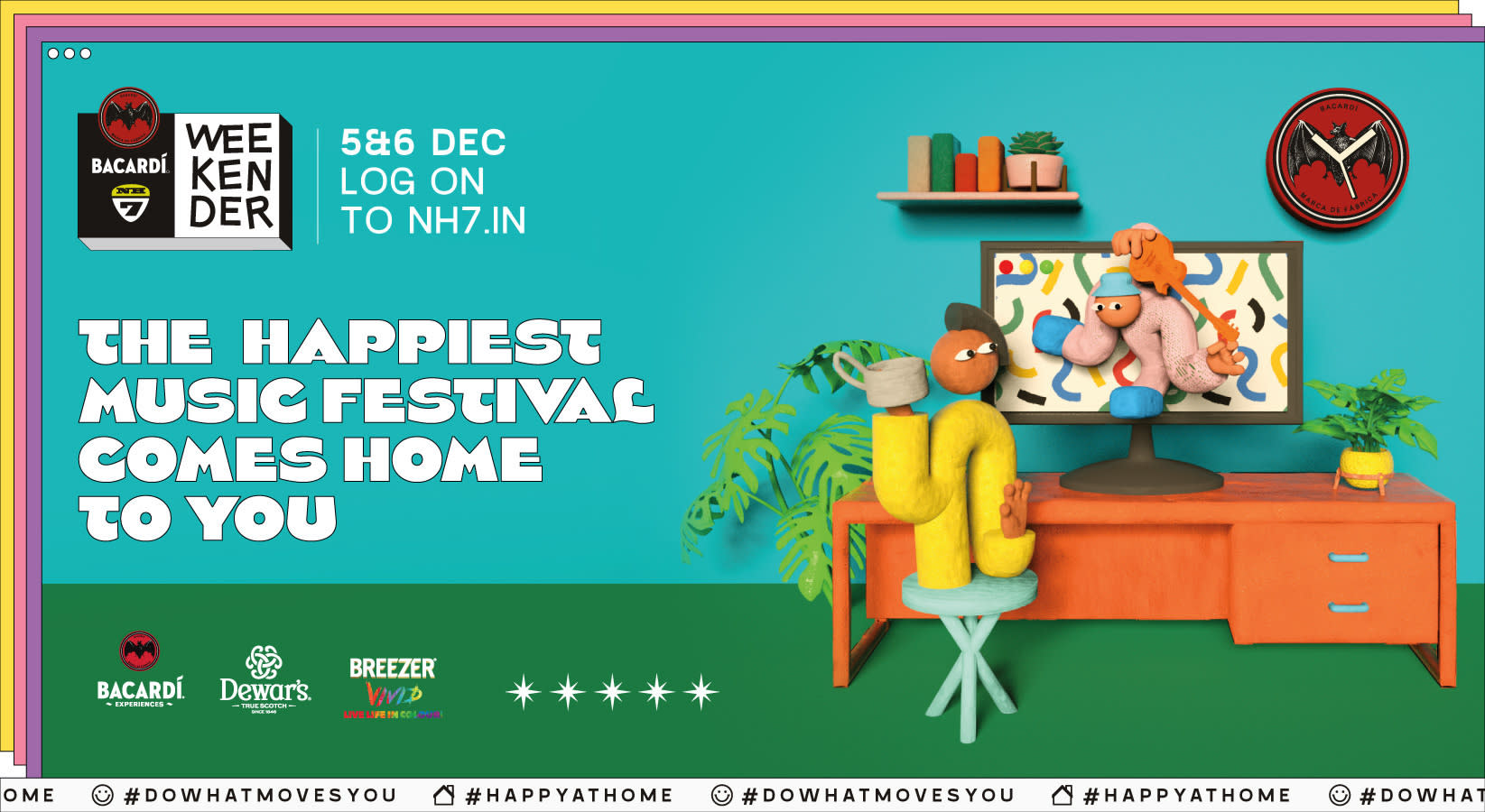 Music
BACARDI NH7 Weekender comes home to you in December!
This year, BACARDI NH7 Weekender is coming straight to your home. Mark your calendars, grab a snack and get ready to enjoy the perfect weekend!
It's festival season!
Just like every other year, the happiest music festival promises to leave you spellbound with exceptional performances from international and homegrown artists, alike. We bring to you #HappyAtHome edition - because we want you to enjoy the happiest music festival from the safety and comfort of your home.
Check out the lineup for the 2020 edition for BACARDI NH7 Weekender:
The Lumineers
Hiatus Kaiyote
Shruti Haasan ft. Murthovic & Karan Parikh
Prateek Kuhad
Raja Kumari
Vidya Vox
Aavrutti + Guests
Anuv Jain
Duckwrth
FINK
Fopchu
Hashbass
Kalamkaar Showcase
Lifafa
Nothing Anonymous
Oddisee & Good Compny
Phum Viphurit
Rashmeet Kaur
Seasonal Affected Beats
Taba Chake
Till Apes
When Chai Met Toast
Yung Raja
Throwback to BACARDI NH7 Weekender 2019 (sigh)
The previous edition of BACARDI NH7 Weekender was a big one for us! We made magical memories celebrating a decade of turning 10. Over the years, the event has witnessed some of the most renowned international artists, stellar names from the Indian music industry and brilliant comedians.
After 10 years of wonderful music, we can't wait for the 11th edition.
So, what can we expect from this year's edition of the festival?
The two-day digital edition titled will feature over 24 artists, both international and homegrown, performing across three stages — the Bacardi Arena, The Doer's Club and Breezer Vivid — clocking 16+ hours of programming. Amongst several exciting interactive features, fans will be able to host virtual parties during the festival stream, take pictures in a virtual photo-booth, and even chat with the artists performing.
Dec 5 & 6 - Mark your calendars and get ready to experience the new digital edition of BACARDI NH7 Weekender!
BACARDI NH7 Weekender 2020:
Subscribe to receive our newsletter!
Find the best experiences happening out there in your city or enjoy handpicked content while sitting comfortably at home. Paytm Insider is your go-to place to figure out what to do today!