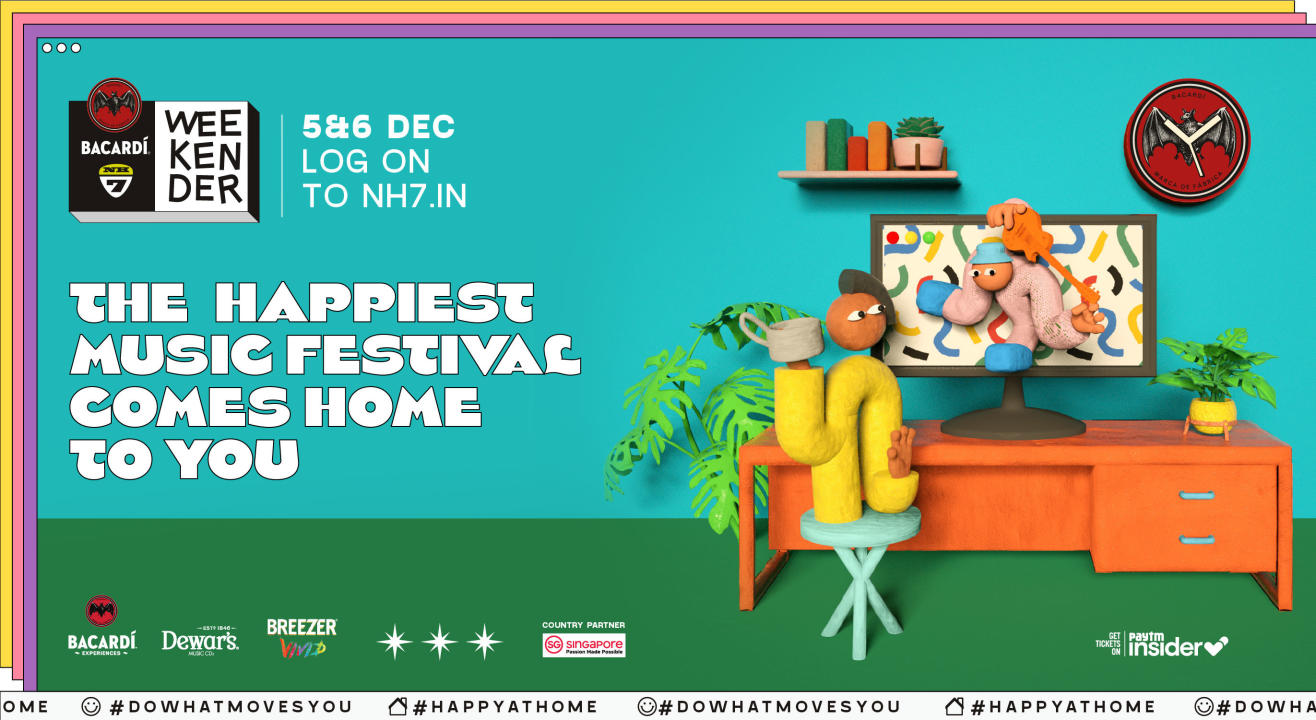 Bacardi NH7 Weekender 2020
Enjoy this event from your home
Event Guide
Digital Event
Live On Insider
Interactive show
Be a part of the show
Invite your friends
and enjoy a shared experience
Event Guide
Digital Event
Live On Insider
Interactive show
Be a part of the show
About the Event
Use Paytm UPI and get 100% cashback in your Paytm wallet
For over a decade, Bacardi NH7 Weekender have delivered spectacular experiences for an audience comprised of discerning fans with multi-genre sensibilities.
Indian audiences have witnessed once in a lifetime performances by world-renowned artists like Steven Wilson, Flying Lotus and Steve Vai. But the festival programming has also made sure to consistently celebrate homegrown talent like Prateek Kuhad, Divine and Parikrama, to name a few.
Now in its 11th year, Bacardi NH7 Weekender is adapting to the need of the hour by going entirely digital, with 24 international and homegrown artists performing never-before-seen sets for fans. In true Weekender fashion, the festival will stream multiple stages simultaneously — the Bacardi Stage, Dewar's Stage, Breezer Vivid Stage and the Insider Comedy Stage
To provide fans with a truly one-of a kind experience, OML and Paytm Insider have designed a brand-new virtual platform with a litany of interactive features. Audience members will be able to host virtual parties during the stream, play virtual games, take pictures in a photo-booth, and say hi to some of the performing artists through the chat feature. The Spotlight feature even enables audience members to share a 15 second clip of themselves, for a chance to get featured on the Weekender spotlight.
Adding to the engagement factor of the digital festival experience, this year's tickets come with exciting perks. One can avail a whopping discount on next year's edition of the event, along with thoughtfully-curated Weekender memorabilia that anyone who's a fan of the festival would love.
Book your tickets now!
Artist Lineup
The Lumineers || Hiatus Kaiyote || CAS || Shruti Haasan ft. Murthovic & Karan Parikh || Prateek Kuhad || Raja Kumari || Vidya Vox || Aavrutti + Guests || Anuv Jain || Duckwrth || Fink || Fopchu || Hashbass || Kalamkaar Showcase || Lifafa || Nothing Anonymous || Oddissee & Good Compny || Phum Viphurit || Rashmeet Kaur || Seasonal Affected Beats || Taba Chake || Till Apes || When Chai Met Toast || Yung Raja


FAQs
CAN I TRANSFER MY TICKET TO SOMEONE ELSE?
Sorry, as this year's edition of the festival is digital, tickets are non transferable.
CAN I CANCEL MY TICKET?
Sorry, no takesies backsies here. We will not be able to cancel or refund tickets.
HOW DO I ACCESS THE FESTIVAL STREAM?
Once you've bought your e-ticket, all you have to do is click the 'Join Now' button, which will lead you to the stream on the day of the event.
This stream is only accessible to individuals residing in Asian Countries. However, if you happen to buy tickets to the festival we will be refunding the amount and cancel your ticket
CAN I STREAM THE FESTIVAL FROM MULTIPLE DEVICES AT ONCE?
Nope, unfortunately you can only stream from one device at a time.
WHAT TIME DOES THE EVENT START AND END EACH DAY?
The website will always be accessible, but we'll be sharing the festival stream schedule soon!
Also, don't forget to tune in for our surprise act on Friday, 4th December, for which entry is free of charge!
WHAT'S THE OFFICIAL HASHTAG?
Use #bacardinh7 #happyathome #dowhatmovesyou on Instagram, Twitter and Facebook, and we might holla at you!
HOW MANY STAGES ARE THERE?
There are 4 stages over 2 days. The Bacardi stage, Dewar's stage Breezer Vivid stage and the Insider Comedy Stage.
WHAT WILL I GET TO SEE AT BACARDÍ NH7 WEEKENDER?
In terms of music genres, expect indie rock, folk rock, electronica, hindustani classical music and dance music to name a few. There's definitely something for everyone!
THE FAQS HAVEN'T ANSWERED MY QUESTION. HOW DO I CONTACT YOU GUYS?
Write to us at nh7help@oml.in
WHAT IF I MISS MY FAVOURITE ARTIST'S SET?
Grab yourself a schedule and make sure you've got an eye on your screen, because all acts will be one-time performances only!
HOW SHOULD I PREPARE FOR THE FESTIVAL?
Step 1: Once you've bought your e-ticket, all you have to do is click the 'Join Now' button, which will lead you to the stream on the day of the event.
Step 2: The best viewing experience is on your television with the help of an HDMI, smart tv, ChromeCast, Google Home, or streaming device. If you don't have access to any of the above, your laptop or hand-held device should do fine.
Step 2: Sort out your beverage of choice, and don't forget snacks!
WHAT'S IN MY #HAPPYATHOME KIT?
Your #HappyAtHome Kit will include a festival graphic tee, badges, a wristband, and a nostalgic Weekender mug.
HOW DO I REDEEM MY PRE-BUY OF RS. 999 OFF ON TICKETS TO THE NEXT EDITION OF THE FESTIVAL?
We'll be sending out detailed communication before ticket sales go live next edition, which will include the required steps to help access your ticket.
HOW DO I REDEEM MY COMPLIMENTARY EARLY BIRD TICKET TO THE NEXT EDITION OF THE FESTIVAL?
We'll be sending out Early Bird tickets before next year's event goes live. Rest assured that your ticket will reach you without you needing to worry about it.
HOW LONG WILL MY #HAPPYATHOME KITS TAKE TO REACH ME?
The kits may take up to 3 weeks to reach you, subject to COVID-19 mandates set by the government. While we'll be doing our best to get your kits to you as soon as possible, we can't make promises when it comes to logistical eventualities. The earlier you buy your kit, the greater your chances are of experiencing the festival with it.
HOW DO I THROW MY OWN VIRTUAL PARTY?
Once you're on a particular stage, you'll see a panel on the left that says 'Start A Party', and alongside it will be 'Join A Party. Share the code that you receive with your friends, or ask them for their code, if they're asking you to join their party.
HOW MANY PEOPLE CAN I INVITE TO MY VIRTUAL PARTY?
There are 6 people to every virtual party, so you can invite 5 of your friends to join! Yay!
I'M A REALLY BIG FAN OF AN ARTIST - ANY CHANCE OF BEING ABLE TO INTERACT WITH THEM?
A few of our artists will be in the chatroom watching the performances along with you - if you're lucky you might get to interact with them!
HOW DO I TOGGLE BETWEEN STAGES?
Once you're on a particular stage, you'll see a button in the center, featuring the name of your stage on it. Click on the button for a drop-down that will offer you options for other stages.
WHAT IS THE SPOTLIGHT FEATURE AND HOW CAN I USE IT DURING THE STREAM?
The Weekender Spotlight is a special place for your talents to shine! Upload a 15 second clip of yourself and get featured on the Weekender spotlight.
WHAT'S THE LAST DATE TO BUY TICKETS?
All category tickets can be purchased until 30 minutes before the festival. However, the #HappyAtHome kits with the Weekender Warrior and Weekender Forever tickets will take at least 2-3 weeks to deliver.
So if you want to enjoy the festival while sipping a cocktail from your nostalgic Weekender mug, you might want to place your order ASAP.
HOW DO I KNOW WHAT SIZE OF T-SHIRT TO BUY?
Here's a handy size chart for you to refer to:
Size Chest Length
XXS – 34 / 25
XS – 36 / 26
S - 38 / 27
M – 40 / 28
L – 42 / 29
XL – 45 / 30
XXL – 47 / 31
Bacardi NH7 Weekender 2020